Buddy Secor
Not all trails are made the same — and when it comes to the Trust's 13 battlefield trails you'll find that each serves as a gateway to the past. Situated upon battlefield land that the organization has worked tirelessly to protect, these unique paths bring hikers through the same terrain that Civil War soldiers would've traversed themselves. The experience can go beyond interpretive signage found along the trails, as the Trust has Battle App® guides available at several of the applicable sites, including Brandy Station, Chancellorsville, Fredericksburg, Gettysburg and Petersburg. Your curiosity for America's decisive history will not be disappointed as you hit the trails.
No matter the site you visit, always make sure to stay on the marked trail and watch out for creatures big and small. Without restrooms and water fountains on site, please prepare accordingly!
Consider bringing these items along on your battlefield hiking adventure:
An ample supply of water
Sunscreen
Insect repellent (to fend off pesky, small creatures)
Binoculars (for safe wildlife observation)
Proper footwear

1. Buford's Knoll, Brandy Station Battlefield (Brandy Station, Va.)
The Buford's Knoll trail is a seven-stop, 2.12-mile out-and-back hike that will guide you through the fighting that occurred at Buford's Knoll and Beverly Ford Road, in Culpeper County, Virginia. This trail is one of three that explores the multidimensional battlefield at Brandy Station. It is lightly trafficked and composed of both grassy sections and a gravel road. For a full experience, we advise putting aside two hours to walk and read the interpretative signage.
2. Fleetwood Hill, Brandy Station Battlefield (Brandy Station, Va.)
The Fleetwood Hill trail provides a ten-stop, 0.26-mile out-and-back hike that will guide you through the actions that took place atop Fleetwood. Joining two other trails at the Brandy Station Battlefield, this lightly trafficked trail is the shortest of the options — only requiring approximately 30 minutes to walk and take in interpretive offerings.
3. St. James Church, Brandy Station Battlefield (Brandy Station, Va.)
The St. James Church trail is a 0.72-mile loop at the Brandy Station Battlefield that takes you past four wayside signs interpreting the 1863 fight at the once-standing structure, along with the 1863–1864 winter encampments. The trail consists of a lightly trafficked, mown walking surface that is great for all skill levels. 90 minutes should allow you enough time to wander down this trail and read along with its context-building signage.
4. Cedar Mountain, Cedar Mountain Battlefield (Rapidan, Va.)
The Cedar Mountain trail is a seven-stop, 1.22-mile loop that brings you through the actions of the 1862 Battle of Cedar Mountain. Along the battlefield trail, there are options to branch off and extend your hike. If you follow the traditional loop, it should take roughly one hour to walk and read along with signage. A moderately trafficked trail that is fit for all skill levels, it is also unshaded — so come prepared on a sunny day!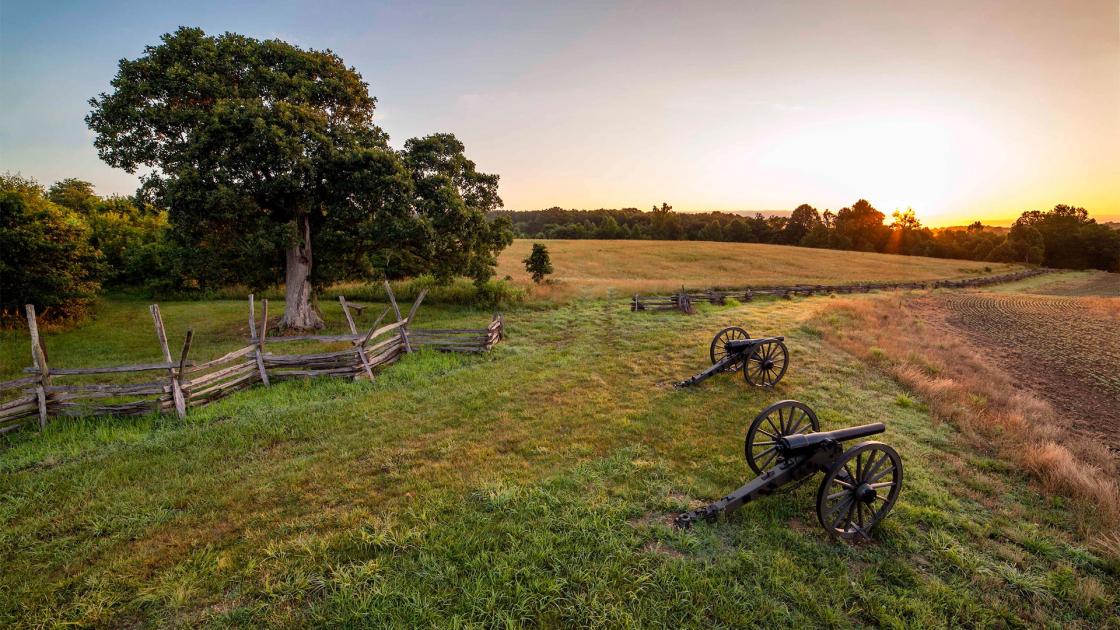 5. First Day's Battle at Chancellorsville, Chancellorsville Battlefield (Spotsylvania Courthouse, Va.)
The First Day's Battle at Chancellorsville trail is a 12-stop, 3.48-mile half-loop trail that unravels the story of the opening stages of the Battle at Chancellorsville. Partially grassy, partially gravel, flat and unshaded — it's a smart idea to bring a hat and sunscreen if you plan on hitting this trail during those warm months! We recommend two hours to completely cover the trail. But note there are two cut-through paths that can shorten your journey if need-be.
6. Slaughter Pen Farm, Fredericksburg Battlefield (Fredericksburg, Va.)
The Slaughter Pen Farm trail provides you with an eight-stop, 1.66-mile walking tour, guiding you through the struggle at the heart of the Fredericksburg Battlefield. Inserting you directly into this formative conflict, the trail crosses the field where Maj. Gen. George Meade's division briefly penetrated Confederate Gen. "Stonewall" Jackson's line on December 13, 1862. Another opportunity to bring out your best sun hat, the trail is unshaded — yet great for all skill levels. We advise setting aside an hour to walk the trail and review the informative signage.
7. Lee's Headquarters, Gettysburg Battlefield (Gettysburg, Pa.)
At this site, you'll encounter the Mary Thompson house — that served as Gen. Robert E. Lee's headquarters — and hallowed ground that played a pivotal role during the Battle of Gettysburg. After restoring the home and surrounding lands to their wartime appearance, the Trust installed a short, self-guided trail. So, if you find yourself at the Gettysburg Battlefield, take a 30-minute stop to stroll around and learn more about the property — as a consequential part of the first day's battlefield and a landmark preservation project — on the trail! While all skill levels are welcomed, do take caution when crossing Buford Avenue.

8. McDowell, McDowell Battlefield (McDowell, Va.)
The McDowell trail serves as a 2.6-mile out-and-back hike that will take you to the battlefield on top of Sitlington's Hill — the scene of heavy fighting on May 8, 1862. Sitlington's Hill is a spur of Bull Pasture Mountain, so the climb is very steep and rocky. Make sure to wear appropriate footwear and know that cell phone service is limited —so, be prepared in the event of an emergency! To allow adequate time to carefully navigate this trail and study trailside interpretation, we recommend allotting two hours for this venture.
9. Payne's Farm, Mine Run Battlefield (Locust Grove, Va.)
The Payne's Farm trail is an eight-stop, 1.5-mile loop that guides you through an early clash in the Battle of Mine Run. Allow at least one hour to walk the entire trail and read the interpretive material. With plenty of trees along this trail, you'll find apt shade. The trail is suited for all skill levels but do be careful at the road crossing.
10. Hatcher's Run, Hatcher's Run Battlefield (Petersburg, Va.)
The Hatcher's Run trail is a six-stop, 1.39-mile out-and-back path that follows the movements of the Union Army's sixth and seventh offensives at Petersburg. The trail is at the heart of both engagements and features some of the best-preserved field fortifications in the country. The majority of the hike falls on level terrain, so consider allowing one hour to complete your journey at Hatcher's Run. For added adventure, there is an optional trail that can extend your hike — though, at certain times, this trail may be inaccessible due to the flooding of Hatcher's Run.
11. Reams Station, Reams Station Battlefield (Petersburg, Va.)
The Reams Station trail entails a four-stop, 0.63-mile out-and-back hike that guides visitors through the actions of the 1864 Battle of Reams Station. Along the route, you can view a pre-war structure and gravesite that the soldiers would've witnessed themselves. It's best to allow at least 30 minutes to take in all that this didactive trail has to offer.
12. The Breakthrough, Petersburg Battlefield (Petersburg, Va.)
The Breakthrough trail is a 3.81-mile out-and-back path that connects Petersburg National Battlefield to Pamplin Historical Park. The trail takes you over the land on which one of the most decisive attacks of the entire Civil War took place on April 2, 1865. Additionally, enjoy the scenic vista from Fort Welsh — created when the Trust undertook a $453,000 restoration project to transform the battlefield to its 1864 appearance. We advise sparing two and a half hours to fully experience this trail.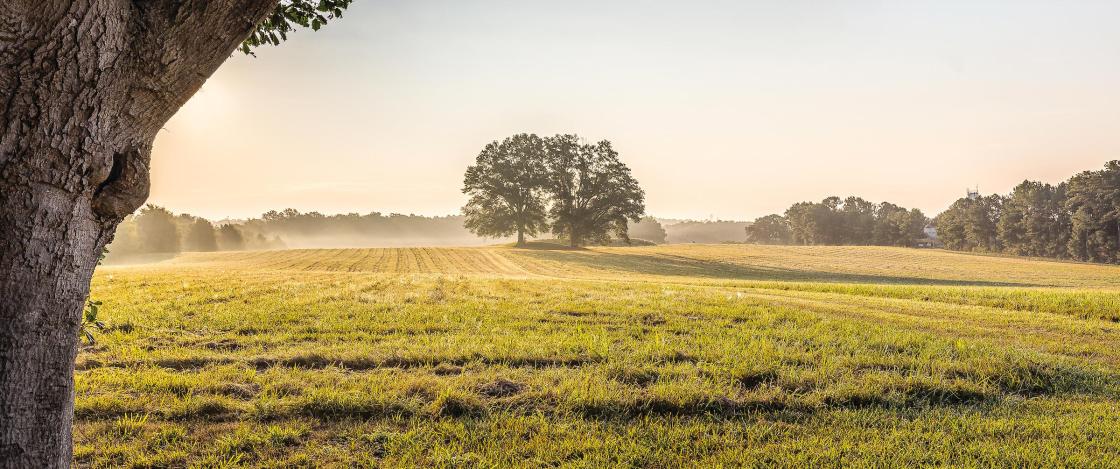 13. White Oak Road, White Oak Road Battlefield (Petersburg, Va.)
The White Oak Road trail makes for a 0.64-mile out-and-back hike that takes you past six wayside signs narrating the actions that led to the Union's 1865 victory at White Oak Road. Along the way, see the remnants of Confederate earthworks and two well-preserved artillery emplacements. The trail is conveniently shaded by tree canopy and takes about one hour to traverse.
Preserve 15 Acres at Gettysburg – Willoughby's Run
The Opportunity The American Battlefield Trust is launching a multi-year campaign to save this essential — and highly threatened — "First Blood at...
Related Battles
Battle Facts
Culpeper County, VA | June 9, 1863
Result: Inconclusive
Estimated Casualties
1,299
Battle Facts
Culpeper County, VA | August 9, 1862
Result: Confederate Victory
Estimated Casualties
3,691
Battle Facts
Spotsylvania County, VA | April 30, 1863
Result: Confederate Victory
Estimated Casualties
30,764
Battle Facts
Stafford and Spotsylvania, VA | December 11, 1862
Result: Confederate Victory
Estimated Casualties
18,500
Battle Facts
Adams County, PA | July 1, 1863
Result: Union Victory
Estimated Casualties
51,112
Battle Facts
Orange County, VA | November 27, 1863
Result: Inconclusive
Estimated Casualties
1,952
Battle Facts
Dinwiddie County, VA | February 5, 1865
Result: Inconclusive
Estimated Casualties
2,539
Battle Facts
Dinwiddie County, VA | August 25, 1864
Result: Confederate Victory
Estimated Casualties
3,561
Battle Facts
Petersburg, VA | April 2, 1865
Result: Union Victory
Estimated Casualties
7,750
Battle Facts
Dinwiddie County, VA | March 31, 1865
Result: Union Victory
Estimated Casualties
2,670