Post War Lives
Civil War Milestones into Headstones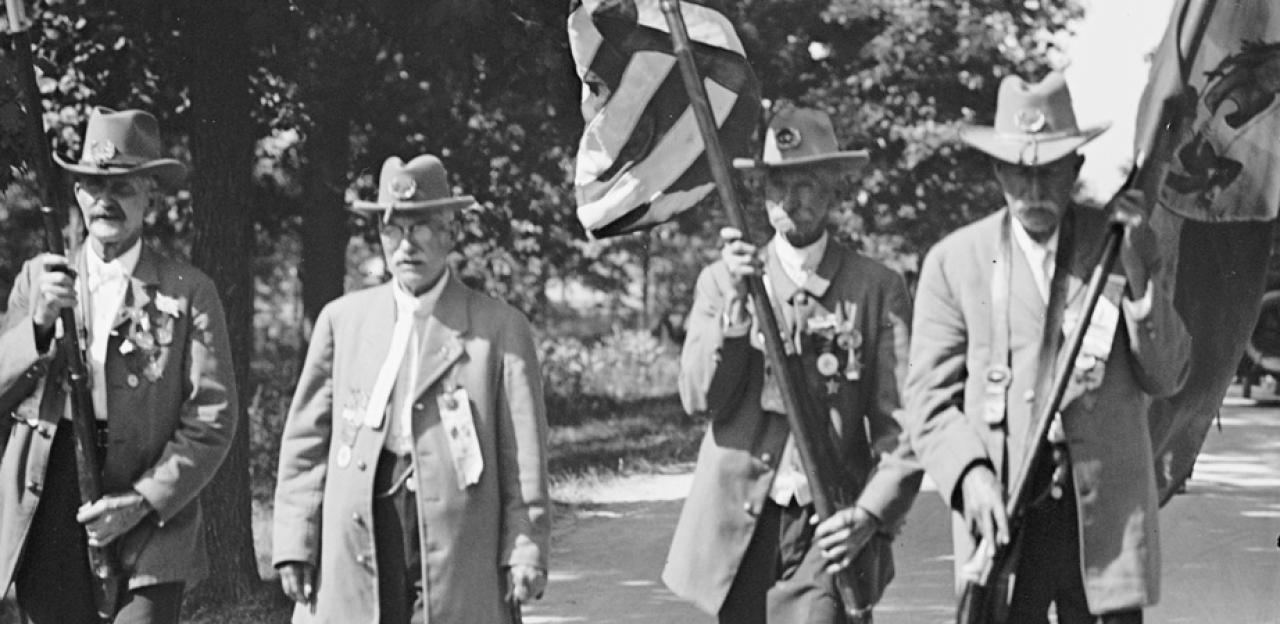 The post war lives of many great Civil War figures can be fascinating. These were unique individuals with a violent past. Take a look at how they rounded out the remainder of their extraordinary lives.
 
---

John Bell Hood (1831-1879)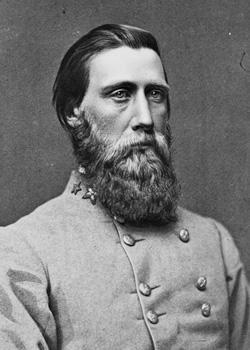 A graduate of West Point, Hood  distinguished himself at the Battle of Gaines' Mill on June 27, 1862 when he led his famous Texas Brigade in a charge that helped break the Union line. Eventually rising to division command, Hood lost the use of his arm as a result of a wound at Gettysburg. In September 1863,  he lost a leg at Chickamauga. The following summer, Hood was appointed to lead the Army of Tennessee. After the loss of Atlanta, he led his men in a disastrous campaign into Tennessee which culminated in December at Nashville.  
At the end of the war, Hood moved to Louisiana and worked in the insurance business and as a cotton broker. The wounds he suffered at Gettysburg and Chickamauga would cause him chronic pain for the remainder of his life. In 1868 he married Anna Marie Hennen and together they had 11 children (including three pairs of twins). Hood, Anna and their eldest child perished in the yellow fever epidemic that swept New Orleans in 1879. Hood's remaining children were adopted by families across the country. Hood is buried in Metairie Cemetery in New Orleans.

James Longstreet (1821-1904)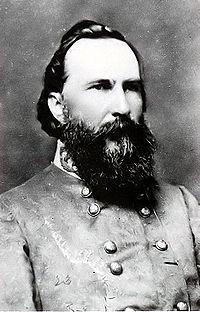 Called  "My Old War Horse" by Robert E. Lee, Longstreet spent much of the war as a wing and corps commander in the Army of Northern Virginia.  At the Battle of Fredericksburg in December 1862, Longstreet took advantage of the terrain to create an almost impenetrable defense along Marye's Heights.  The following July he played a pivotal role in the Battle of Gettysburg. That autumn, Longstreet was sent west to the aid of the beleaguered Braxton Bragg.  His troops arrived on September 20, just in time to take part at Chickamauga. After a difficult winter–and an abortive attempt at independent command in East Tennessee–Longstreet and his men were happy to returned to Virginia in April 1864.
Following the war, Longstreet settled in New Orleans, became president of the Great Southern and Western Fire, Marine and Accident Insurance Company and entered a cotton brokerage partnership. His rights of citizenship were restored in 1868 under President Ulysses S. Grant. Longstreet was the only senior Confederate officer to join the Republican Party during the Reconstruction period and endorsed Grant for president.
Longstreet also converted to Catholicism and roundly and openly criticized Robert E. Lee, blaming the Confederacy's loss of the war on Lee's tactics at Gettysburg. These factors alienated Longstreet from many of his former comrades. During the fall of 1874, Longstreet, at the head of integrated militia engaged the Crescent City White League. Longstreet was wounded and briefly captured during the fight. He left New Orleans in 1875, served briefly as deputy collector of internal revenue and as postmaster of Gainesville, Georgia and as a U.S. Marshal from 1881 to 1884. Under President Rutherford B. Hayes he served as Ambassador to the Ottoman Empire. From 1897 to 1904 Longstreet served as U.S. Commissioner of Railroads. For much of his post- Civil War life he lived on a 65-acre farm near Gainesville, where he raised turkeys and planted orchards and vineyards on terraced ground that his neighbors referred to jokingly as "Gettysburg." A fire broke out on April 9, 1889 destroying his house and many of his personal possessions, including his Civil War documents. After the death of his wife in 1889, Longstreet married Helen Dortch in 1897. She was 34 and outlived him by 58 years, dying in 1962. Longstreet died in January 1904 and is buried  in Gainesville.
Nathan Bedford Forrest (1821-1877)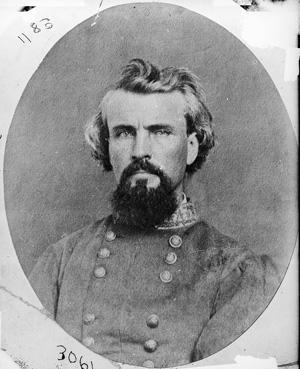 At the outbreak of the Civil War, Forrest volunteered as a private before deciding to raise and equip an entire unit at his own expense. He was a millionaire by the time the war began making his fortune in cotton and slaves.  He was commissioned lieutenant colonel, and issued this call to arms in June, 1861:
"I wish none but those who desire to be actively engaged.  COME ON BOYS, IF YOU WANT A HEAP OF FUN AND TO KILL SOME YANKEES"
Forrest fought at Fort Donelson, Shiloh, Tupelo, Brice's Crossroads and the Tennessee Campaign. His lightning raids earned the sobriquet, "that Devil Forrest" from Maj. Gen. William T. Sherman.
One of the most controversial figures to emerge from the shadows of the Civil War as a result of the Battle of Fort Pillow, Forrest worked as lumber merchant, planter, and was the President of the Selma, Marion and Memphis Railroad. He also founded the Ku Klux Klan. After the failure of his railroad business in 1874, Forrest sold off many of his possessions and served as the overseer of a prison labor camp. Forrest died in October 1877 and is buried with his wife under an equestrian statue on Union Street in Memphis, Tennessee. 
Nathan Bedford Forrest's Full Bio »
Joseph E. Johnston (1807-1891)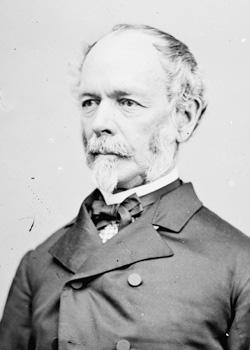 A veteran of the Mexican-American and Seminole Wars, Johnston was promoted to full general in the Confedeate army in August 1861. Johnston was the original commander of the Army of Northern Virginia, then known as Army of the Potomac and was wounded at the Battle of Seven Pines on May 31, 1862.    
Following his recovery, Johnston transferred to the Western Theater and participated in the Vicksburg Campaign. Early in 1864, he was appointed to command the Army of Tennessee and opposed Maj. Gen. William T. Sherman in the Atlanta Campaign. He was relieved that summer by President Jefferson Davis for his cautious tactics, only to be recalled in February 1865 to engage Sherman as he marched through the Carolinas. Johnston surrendered to Sherman outside Durham, North Carolina on April 26, 1865.
Johnston and his wife, Lydia struggled financially in the years following the surrender at Appomattox. From 1866-1867, Johnston served as President of the Alabama and Tennessee River Rail Road Company, and he renamed it the Selma, Rome and Dalton Railroad. Johnston was restless with the position and the company failed due to lack of capital and investment.  In 1868 he started an insurance company in Savannah, Georgia, acting as an agent for the Liverpool and London and Globe Insurance Company and within four years had a network of more than 120 agents across the Deep South. This allowed him to accrue enough income so that he could devote the remaining year of his life towards writing reflections on the Civil War. In 1874 he published his memoir, Narrative of Military Operations.  He later served a term in Congress and during the Presidency of Grover Cleveland, was a commissioner of railroads. 
Following the death of his wife in 1887, Johnston embarked on the lecture circuit and traveled to veterans' meetings and reunions. Johnston also remained on good terms with his former adversary Sherman. The two maintained a cordial relationship. In a moving gesture of  admiration, Johnson served as an honorary pallbearer at Sherman's funeral. As a sign of respect, Johnston did not wear a hat, despite the cold weather. When asked Johnston remarked, "If I were in his place and he were standing here in mine, he would not put on his hat." Johnston subsequently contracted pneumonia and passed away on March 21, 1891. Johnston is buried in Baltimore, Maryland.
Joseph E. Johnston's Full Bio »
John Singleton Mosby (1833-1916)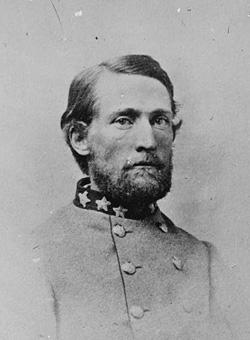 When the Civil War began, Mosby spoke out against secession, but joined the Confederate army as a private and fought at the Battle of First Manassas (Bull Run).  In early 1862, Mosby was promoted to First Lieutenant and assigned to J.E.B. Stuart's cavalry. Mosby impressed Stuart with his reconnaissance missions and gathering intelligence.
In January of 1863, Stuart placed Mosby in command of the 43rd Battalion of Virginia Cavalry, which operated as a partisan unit. "Mosby's Rangers" conducted lightning raids on Union supply lines. The fame of the unit grew with each success and because of his ability to seemingly appear and disappear at will, Mosby became known as "The Gray Ghost."
Mosby was an active member of the Republican Party after the war, and became the presidential campaign manager for Ulysses S. Grant in Virginia. As a way of thanks, Grant appointed Mosby as consul to Hong Kong (1878-1885). Mosby used his legal skills as a lawyer for the Southern Pacific Railroad in San Francisco, and later with the Department of the Interior and the Department of Justice. Mosby died in Washington D.C. in 1916 and is buried in Warrenton Cemetery in Warrenton, Virginia.
John Singleton Mosby's Full Bio »
Robert E. Lee (1807-1870)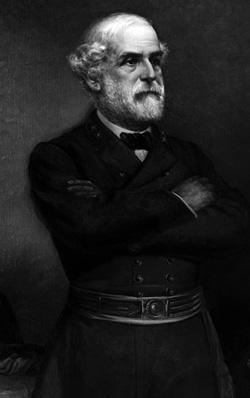 From 1852 to 1855, Lee served as superintendent of West Point, and was responsible for the education many of the men who would later serve under him - and those who would oppose him - on the battlefields of the Civil War. As an officer in the 2nd U.S. Cavalry in 1859, Lee captured abolitionist John Brown during his raid at Harpers Ferry.
Due to his reputation as one of the finest officers in the United States Army, Abraham Lincoln offered Lee the command of  Federal forces in April 1861. Lee declined and tendered his resignation from the army when Virginia seceded on April 17, arguing that he could not fight against his own people.  Instead, he accepted a general's commission in the newly formed Confederate Army. He served as military adviser to President Jefferson Davis until June 1862 when he was given command of the wounded General Joseph E. Johnston's embattled army outside Richmond. At the end of the month, Lee attacked Maj. Gen. George McClellan's Army of the Potomac and durng the Seven Days' Battles pushed the Federals back to the James River. The engagements relieved the threat to the Confederate capital. Late that summer, Lee won another victory at Second Manassas and invaded Union soil for the first time only to be turned back in September at Antietam (Sharpsburg). His leadership at Fredericksburg led to the most lopsided Confederate victories of the war.  Lee's reputation as a brilliant field commander was secured in May 1863 as a result of his victory at Chancellorsville. After his defeat at Gettysburg he offered his resignation to President Jefferson Davis who refused it. Lee remained in command of his Army of Northern Virginia for the duration of the war. He engaged Lt. Gen. Ulysses S. Grant forces in the Overland Campaign during the spring of 1864. The series of battles eventually forced Lee to defend Richmond and Petersburg in a nine month siege. Union infantry broke through the lines at Petersburg on April 2, 1865. Lee surrendered a week a later at Appomattox Court House.
Following his capitulation, Lee lost his right to vote as well as his property at Arlington, which was turned into a cemetery for Union War dead, and became the nucleus of Arlington National Cemetery. Unknown Union dead are buried beneath a sarcophagus which is located in the middle of Lee's wife, Mary's, rose garden, her favorite place on the grounds. He signed an Amnesty Oath, but his citizenship was never restored in his lifetime. In 1874 surviving members of the Lee Family sued the government of the United States for the loss of their Arlington Estate and in Lee vs. the United States. The Supreme Court ruled in favor of the Lee Family though they never returned to reclaim their property and eventually sold the property to the United States.
Lee supported President Andrew Johnson's Reconstruction program but joined with Democrats instead of the Radical Republicans who wanted more punitive measures to be levied against former Confederates. Shortly after the war was over he was offered the Presidency of the small liberal arts school, Washington College (now Washington and Lee University) in Lexington, Virginia and served in that capacity from October 1865 until his death from a heart attack in 1870. Lee is buried in a family crypt on the lower level of the Lee Chapel on the campus of Washington and Lee University. His home, Arlington House: The Robert E. Lee Memorial is a national historic site and a unit of the National Park Service. It received this status in honor of Lee's work to heal the nation after the war. 
Joseph Wheeler (1836-1906)
Born in Georgia, Wheeler graduated from West Point in 1859. Wheeler fought at the Battle of Shiloh with the 19th Alabama Infantry. Transferred to the cavarly several weeks later, Wheeler eventually rose to the rank of Major General. He fought in the Kentucky Campaigan, Stones River, Chickamauga, Chattanooga and in the Atlanta Campaign.
After the war Wheeler served in the United States House of Representatives. Upon the outbreak of hostilities and war with Spain in 1898, he was appointed by President William McKinley as a Brigadier General of U.S. Volunteers. Wheeler subsequently directed cavalry during the Santiago Campaign in Cuba. He passed away in 1906 and is  buried in Arlington National Cemetery.

Stand Watie (1806-1871)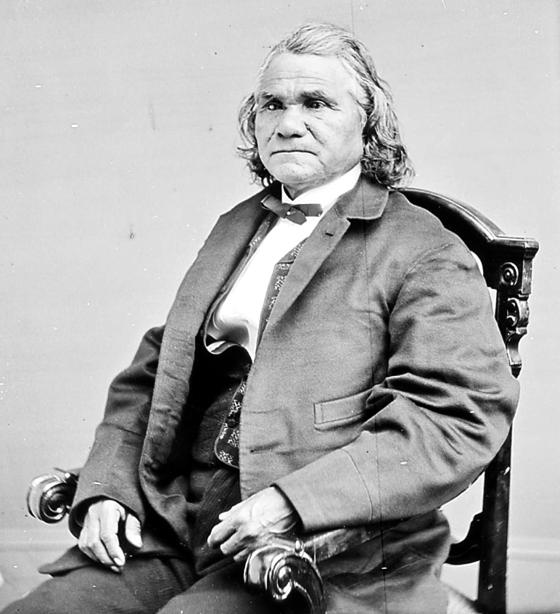 A member of the Cherokee tribe, Stand Watie was the  last Confederate to surrender an army in the field. At the beginning of the war, Watie formed the 1st Cherokee Mounted Rifles. His unit fought at Wilson's Creek and Pea Ridge. On May 6, 1864 he was promoted to Brigadier General.
After the Civil War, Watie returned to his people's homeland, Oklahoma and resumed his life as a planter. He passed away on September 9, 1871 and is buried at the Old Ridge Cemetery in Delaware County.
Daniel E. Sickles (1819-1914)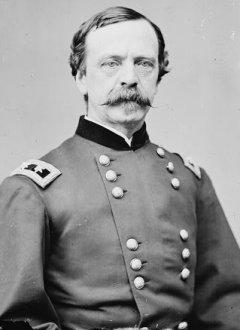 Defined by one of his biographer's as an "American Scoundrel" Dan Sickles led a colored and checkered life. His self-motivated actions on and off the battlefield have been debated by historians and buffs to this day. Even his date of birth elicits controversy. Daniel Sickles was supposedly born in New York City on October 20, 1819—although it is quite possible he was born on October 20, 1825.
In 1856, Sickles was elected to the United States House of Representatives. Along with his young wife, Teresa Bagioli Sickles, lived a lavish Washington D.C. lifestyle. The two leased a mansion at Lafayette Square, just across from the White House. The couple hosted grand dinner parties for the upper crust of Washington society. It was well-known within the Washington social circles that the couple were less than faithful in the marital vows. 
On February 25, 1859,  Sickles shot and killed his wife's lover, Philip Barton Key, son of Francis Scott Key.  Future Secretary of War Edwin Stanton represented Sickles in what would be the first successful use of the "temporary insanity" defense in the United States.
Sickles began his military career serving as Colonel for the 70th New York Infantry before being appointed Brigadier General of volunteers, commanding New York's Excelsior Brigade.  In November 1862 he was promoted to major general.  
Sickles fought in the Peninsula Campaign, Fredericksburg, Chancellorsville and Gettysburg.  There, on July 2, 1863, Sickles exceeded his orders to cover the Union left, which resulted in the near destruction of his III Corps. Sickles lost his right leg in the disaster. His amputated limb is now on display at the National Medical Musuem in Washington, D.C. Despite the fiasco Sickles was awarded the Medal of Honor for his actions at Gettysburg.
During Reconstruction, Sickles commanded the Department of South Carolina, the Department of the Carolinas, the Department of the South, and the Second Military District. In 1866, he was appointed colonel of the 42nd U.S. Infantry (Veteran Reserve Corps). He later served as U.S. Minister to Spain. In 1888, Sickles became president of the New York State Board of Civil Service Commissioners and later served as sheriff of New York. Ever loyal to the Democratic Party, Sickles served as a member of the House of Representative from 1893 to 1895. An important "founding father" of the Civil War Battlefield Preservation Movement, Sickles was a chairman of the New York Monuments Commission, but he was forced out when $27,000 was found to have been embezzled. Sickles passed away in May 1914 and is buried in Arlington National Cemetery.

Charles Redmond Douglass (1844-1920)
Charles Redmond Douglass, the third and youngest son of abolitionist, Frederick Douglass, served with distinction in the 54th Massachusetts Volunteer Infantry and was involved in the famous assault at Fort Wagner, South Carolina.
After the war, Douglass worked for the Freedman's Bureau and later in the Treasury Department. Douglass was appointed by President Ulysses S. Grant as consult to Puerto Plata, Santo Domingo. From 1875-1879 Douglass worked as a clerk in the U.S. consulate in Santo Domingo, returning to America upon his wife's death. In 1882, Douglass moved back to Washington to work in the United States Pension Bureau. Douglass also served the District of Columbia schools as their secretary and treasurer . During this tenure he secured the employment of the first African American teachers in the nation's schools and was an advocate of equal pay for African American teachers. Interested in and promoting the intellectual life of African Americans, Douglass served as president of the Bethel Literary and Historical Association, a cultural and literary institution. Douglass also joined the District of Columbia's branch for the National Association for the Advancement of Colored People. He died at the age of 76.
Joshua Lawrence Chamberlain (1828-1914)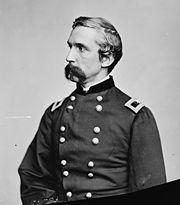 Though present at Antietam, Chamberlain and his regiment , the 20th Maine, saw their first trial by fire in one of the doomed assaults on Marye's Heights at Fredericksburg. Chamberlain commanded his regiment at the Battle of Gettysburg, where his actions on July 2, 1863 would earn him a Medal of Honor.
Chamberlain returned to Maine a hero after the Civil War living in pain and sometimes ill health due to the severe wound he sustained at Petersburg. A member of the Republican Party, Chamberlain served as Governor of Maine for four, one year terms 1866-1869 then served as President of Bowdoin College. He spoke at the dedication of the 20th Maine Monument on Little Round Top in 1888 famously saying, "On great fields something abides, on great fields something remains," a quote often invoked in the Civil War battlefield preservation movement. Chamberlain died in 1914 at the age of 85. He is buried in Pine Grove Cemetery in Brunswick, Maine.
Joshua Lawrence Chamberlain's Full Bio »
Emory Upton (1839-1881)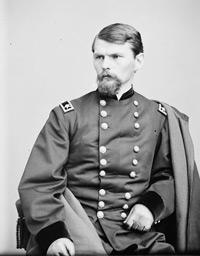 A graduate of West Point in the Class of 1861, Upton was the only officer in the Union army who commanded all three major combat branches during the war. 
Upton fought at Bull Run, in the Peninsula Campaign, and Antietam. After Antietam he was promoted to Colonel of the 121st New York. The regiment was heavily engaged at Salem Church during the Chancellorsville Campaign. He is famously remembered for  leading an assault on the Mule Shoe Salient at Spotsylvania Court House. Wounded at Third Winchester, Upton commanded a cavalry division under James Wilson and fought at Selma.
After the war, Upton became a leading tactical innovator. He wrote A New System of Infantry Tactics, The Armies of Asia and Europe, and The Military Policy of the United States from 1775.  These and other writings, drawn from his experiences in the Civil War—as well as his own personal observations of foreign military practices—advocated dramatic changes in the United States Army including advanced military education and improved promotion protocols.  Upton's works were widely read in military circles and were later published by Secretary of War Elihu Root. Throughout his life Upton struggled with health issues and on March 15, 1881, while commanding the 4th Artillery in San Francisco, he wrote out his resignation from the Army and promptly took his own life.  Upton is buried in Fort Hill Cemetery in Auburn, New York.

Grenville Dodge (1831-1916)
Appointed by the Governor of Iowa as the Commander of the 4th Iowa, Dodge served in the Western Theater. He led troops at the Battle of Pea Ridge and  in the Atlanta Campaign. Named Commander of the Department of the Missouri which, at the end of the war included Kansas, Nebraska, and Utah, Dodge helped bring an end to the American frontier. In 1866, Dodge resigned from the U.S. Army and became the Chief Engineer of the Union Pacific Railroad. He was a principle character in overseeing the construction of the Transcontinental Railroad. 
Dodge also served as a Republican member of the United States House of representatives from Iowa. After he left Congress, Dodge became a prolific businessman in the railroad industry and relocated to New York City. In this capacity he served as either President or Chief Engineer of numerous railroad companies.  Dodge died in Council Bluffs, Iowa in 1916 and is buried there in Walnut Hill Cemetery. His home is a National Historic Landmark in Council Bluffs, Iowa.
William T. Sherman (1820-1891)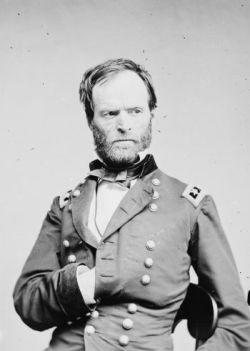 William T. Sherman saw service in the Union Army from the first battle at Bull Run until the war ended. Sherman spent most of the war in the Western Theater and his troops were involved in most of the major campaigns from Shiloh, to Vicksburg, Chattanooga, and the Atlanta Campaign. He is best known in Civil War annals for his famous March to the Sea.  His September 1864 capture of Atlanta helped win Abraham Lincoln a second term as President.
After the war, William T. Sherman remained in the army, serving as General-in-Chief of the army from 1869 to 1883. Sherman assumed the rank of full General when U.S. Grant was elected President in 1868. During his tenure the Nation saw rapid growth west of peoples carried there by the burgeoning railroad system as well as the systematic decimation of the buffalo in an effort to force Indian nomadic tribes to give up their way of life. Sherman oversaw the realignment of Army posts (forts) to reflect the changes made in the westward movement. In dealing with the Indians, Sherman gave wide latitude to his subordinates, such as Phillip Sheridan to wage a hard war on the Indian tribes  but was equally as hard in meriting justice to white speculators and corrupt Indian Affairs personnel who took advantage of Indians for personal gain. In spite of his attempts to reduce tension on the frontier he sustained much criticism from humanitarians who supported the cause of Indians and their rights.
Sherman retired to New York City where he passed away in 1891. His remains were transferred by rail to St. Louis, Missouri where he is buried in Calvary Catholic Cemetery. 
William T. Sherman's Full Bio »
George Henry Thomas (1816-1870)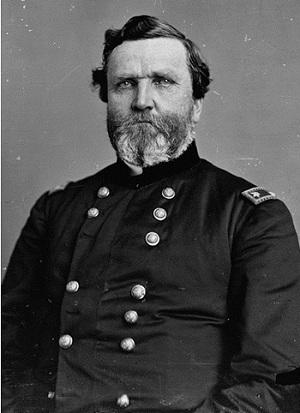 A Virginian by birth, George Henry Thomas remained loyal to the government of the United States after Virginia seceded and was disowned by his family. At the Battle of Chickamauga, Thomas covered the retreat of the Army of the Cumberland, earning the sobriquet, the "Rock of Chickamauga". Thomas eventually took over command of the Army of the Cumberland and participated in the Atlanta Campaign. Dispatched by William T. Sherman to defend Tennessee in the fall of 1864, Thomas soundly defeated John Bell Hood at Nashville that December. 
When the Civil War ended, Thomas commanded the Department of the Cumberland in Kentucky and Tennessee, and at times also West Virginia and parts of Georgia, Mississippi and Alabama, where he worked to uphold the rights of freedmen against abuses.
In 1869, Thomas was appointed to the Military District of the Pacific taking up residency in San Francisco at the Presidio. During his post war career he spent much time anguishing over his reputation as being somewhat slow, hence the nickname of Old Slow Trot given to him by cadets at West Point which then carried over during the war. Many historians in his defense argue that Thomas was not slow, merely methodical in his planning and execution. National Park Service Historian Emeritus, Ed Bearss, once said, "Thomas knew when he was going to hit you and he was going to hit you hard."
Ever sensitive about his reputation, Thomas died of an apparent attack of apoplexy in 1870.  Thomas was interred in Oakwood Cemetery in Troy, New York, the home of his wife, Frances. Unforgiven by his family, no blood relatives attended his funeral. 10,000 mourners attended Thomas's burial including President Grant and his Cabinet, Generals Meade, Hooker, Sheridan, Sherman, Rosecrans, and Schofield. 
Phillip Sheridan (1831-1888)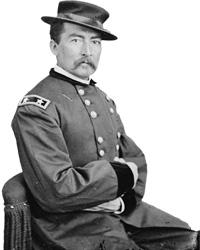 An infantry commander early in the war, Sheridan fought in the Army of the Cumberland and played a critical role at Stones River. At Chattanooga, his troops assaulted Confederate positions atop Missionary Ridge. His actions caught the eye of Ulysses S. Grant who brought Sheridan east with him to the Eastern Theater. In Virginia, Sheridan took over as the head of the Army of the Potomac's cavalry corps. Eventually elevated to army command, Sheridan defeated Lt. Gen. Jubaly Early in the Shenandoah Valley Campaign of 1864.
During Reconstruction, Sheridan was appointed to be the military governor of Texas and Louisiana (the Fifth Military District). He later headed the Military Division of the Missouri. Sheridan became the Commanding General of the United States Army on November 1, 1883, and on June 1, 1888, he was promoted to General of the Army of the United States – the same rank achieved by Ulysses S. Grant and William Tecumseh Sherman.  
In August 1888, Sheridan died after a series of massive heart attacks.  He was buried at Arlington National Cemetery. His horse, Rienzi is on display at the Smithsonian Institute's Museum of American History.
George B. McClellan (1826-1885)
In 1864, George B. McClellan ran as the Democrat Party candidate against Abraham Lincoln.  McClellan ran on an anti-war platform, promising that he would negotiate peace terms with the Confederacy to help end the war as soon as possible.  But by November of 1864, a string of Union successes had convinced many that the war was in its final phase.  McClellan was defeated and  Lincoln was elected to a second term. After the war, McClellan, a railroad man before the conflict, served as an administrator for a number of engineering firms and in 1878 was elected Governor of New Jersey. McClelan is buried in Trenton, New Jersey at Riverview Cemetery.
George B. McClellan's Full Bio »
George Armstrong Custer (1839-1876)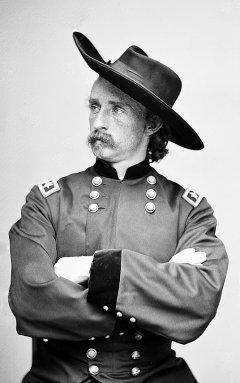 George Armstrong Custer is better known for his post-bellum exploits rather than his Civil War career.  His success, however, in the Union army was due in large part to his dual characteristics of bravery and audacity.  Described as aggressive, gallant, reckless, and foolhardy, Custer has become one of the most celebrated and controversial figures of the Civil War.
Born in New Rumley, Ohio on December 5, 1839, son of Emanuel and Maria, Custer was nicknamed "Autie" because of his mispronunciation of his middle name as a small child. George had four younger siblings, Thomas, Margaret, Nevin, and Boston, as well as several older half-siblings from his mother's first marriage to Israel Kirkpatrick, who died in 1835. 
During much of his boyhood George lived with his half-sister and brother-in-law in Monroe, Michigan, where he attended McNeely Normal School. Upon graduation, he taught school for two years before being admitted to the U.S. Military Academy, where he graduated in the Class of June 1861, ranked last out of 34 cadets.  Ever a trickster, multiple demerits for pulling practical jokes on his classmates brought him close to expulsion several times. Custer was commissioned a second lieutenant in the 2nd U.S. Cavalry.
Custer distinguished himself as a risk-taker early in the war. During the Peninsula Campaign when Maj. Gen. John G. Barnard stopped at the Chickahominy River, debating where to cross based on the depth of the water, Custer took action and promptly rode his horse out to the middle of the river so as to determine if it was passable. The act gained him notoriety among important high-ranking officers.  He subsequently served on the staffs of Generals George B. McClellan and Alfred Pleasanton with the temporary rank of captain.
On June 29, 1863 Custer was promoted to brigadier general and assigned to command a brigade in Judson Kilpatrick's division. While in this position he led his men in the Battle of Gettysburg where he participated in the fighting on what became known as East Cavalry Field.
Throughout the war Custer continued to distinguishing himself as fearless, aggressive, and ostentatious.  His personalized uniform, complete with a red cravatt could be somewhat alienating, but he was successful in gaining the respect of his men with his willingness to lead attacks from the front rather than the rear.
During the Overland Campaign, Custer led the decisive attack at the Battle of Yellow Tavern where one of his troopers mortally wounded J.E.B. Stuart. Custer played a major role in the Shenandoah Valley Campaign of 1864 at Third Winchester and Cedar Creek. On April 8, 1865 Custer's troopers closed off Robert E. Lee's line of retreat at Appomattox.
In 1866, Custer was commissioned lieutenant colonel of the newly created 7th U.S. Cavalry and assigned to command the cavalry in the west.  The following year he took part in Winfield Hancock's expedition against the Southern Cheyenne in 1867.  After a court-martial and suspension from duty, Custer was restored to command by Philip Sheridan. 
After Reconstruction duty in the south, Custer and his regiment guarded survey parties from the Northern Pacific Railroad on the 1873 Yellowstone Expedition. The following summer he led the Seventh into the Black Hills, an event that precipitated the Great Sioux War.  In May 1876, Custer marched west with Brig. Gen. Alfred Terry's Dakota column from Fort Abraham Lincoln. Attempting to locate a combined Sioux and Cheyenne village led by Sitting Bull, Terry dispatched Custer as part of a two pronged offensive on June 22. Three days later, Custer located the village and in the ensuing battle, his battalion of five companies was annihilated. Custer buried in the cemetery at West Point.
George Armstrong Custer's Full Bio »
Ulysses S. Grant (1822-1885)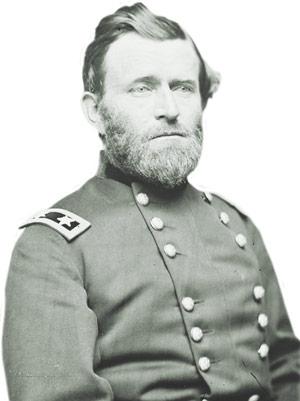 Arguably the most famous Union general of war,  Forts Henry and Donelson, Shiloh, and Vicksburg put Grant on the national stage. Appointed General-in-Chief with the rank of Lieutenant General in the early spring of 1864, Grant directed United States forces to victory the following year. 
In 1868, Grant was elected eighteenth President of the United States. He served two terms, directing Reconstruction efforts and protecting the civil rights of former slaves. At the end of his Presidency, Grant and his wife Julia engaged on a world tour.
In 1884, Grant lost his savings in a business venture. To make up some of his losses, he wrote about his war experiences for Century Magazine. They proved so popular that he was inspired to write his excellent autobiography, Personal Memoirs of U.S. Grant, finishing the two-volume set only a few days before dying of cancer at the age of sixty-three. Mark Twain provided valuable assistance in helping Grant to complete his memoirs and get it published. Ulysses S. Grant is buried in New York City, overlooking the Hudson River.

Edward Ferrero (1831-1899)
Ferrero served under Ambrose Burnside as a brigade commander during the Roanoke Expedition. He went on lead troops at Second Manassas and at Fredericksburg. Ferrero also saw action  at Vicksburg and Knoxville. In 1864 he returned to Virginia and commanded a division of USCTs in the Overland Campaign. Ferrero's men sustained heavy losses at the Crater during the Petersburg Campaign.
Following the debacle at Petersburg, Ferrero left the army and returned to New York City. He was an active member of the Grand Army of the Republic, the Loyal Legion, and became a Freemason. As a writer Ferrero wrote two books related to the art of dancing. Ferrero passed away in 1899 and is buried in Brooklyn's Green-Wood Cemetery.
Learn More About Civil War Veterans