Joseph E. Johnston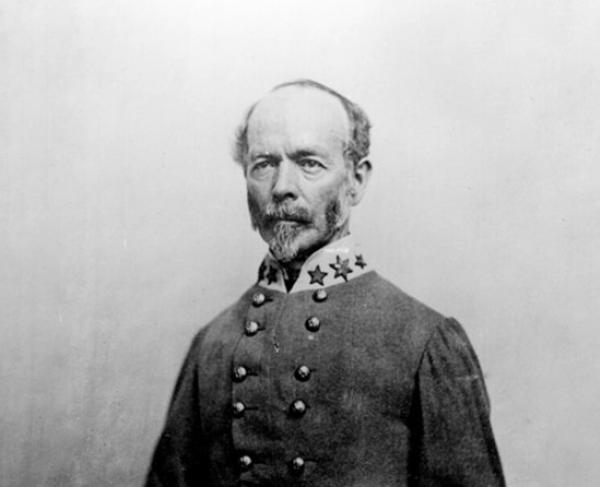 TitleGeneral
War & AffiliationCivil War / Confederate
Date of Birth - DeathFebruary 3, 1807 – March 21, 1891
Joseph Eggleston Johnston was born in Farmville, Virginia in 1807. He attended and graduated from West Point in 1829 ranked 13th of 46 cadets, and was then appointed to second lieutenant in the 4th U.S. Artillery.  After several years he resigned from the Army to study civil engineering and was a topographer for a war ship in the Second Seminole War, where action there convinced him to rejoin the army.  He served with honors in the Mexican-American War, the Seminole Wars, and as a quartermaster general in California in 1860.
When Virginia seceded, Johnston was the highest-ranking U.S. Army officer to resign his commission.  He was appointed brigadier general, and relieved Thomas "Stonewall" Jackson of his post at Harpers Ferry in May of 1861, and then organized the Army of the Shenandoah in July of that same year. Johnston contributed to the successes at First Manassas, but it is documented that the more junior PGT Beauregard was more responsible for the actions there.
In August, Johnston was promoted to full general—what is called a four-star general in the modern U.S. Army—but was not pleased that three other men he had outranked in the "old army" now outranked him. Only Beauregard was placed behind Johnston on the list of five new generals, thus creating a tension between Johnston and Davis that would last throughout the war. 
Johnston was the original commander of the Army of Northern Virginia, then known as Army of the Potomac.  From this position he would defend Richmond from invading Union general George B. McClellan in the Peninsula Campaign.  Cornered, Johnston finally attacked in the Battle of Seven Pines on May 31, 1862.  The battle was a draw, but prevented McClellan from advancing on Richmond.  Johnston was wounded at the battle, providing Davis with the opportunity to appoint Robert E. Lee to command in Johnston's stead; Lee held this position for the remainder of the war. 
After recovering from his wounds, Johnston went on to command in the western theater, and was involved but not fully in control of the conflicts at Vicksburg and Chattanooga.  Johnston employed his withdrawal strategies to defend against Union general Sherman's advance from Chattanooga to Atlanta, and defeated Sherman at the Battle of Kennesaw Mountain. 
Johnston's weak offensive strategy and caution caused Davis to remove him from command in July of 1864.  After much public clamor, Davis reinstated him as commander of a loosely collected department of South Carolina, Georgia, and Florida.  They were undermanned and under-supplied, but still had some short lived success at Bentonville.  After many retreats and withdrawals, Johnston finally surrendered the Army of Tennessee and all remaining forces still active in his department to Sherman in April of 1865.  It was the largest single surrender of war at 89,270 soldiers.  
Post war, Johnston served in many business ventures, and later as a U.S. Congressman before dying of pneumonia in 1891, which was contracted at Sherman's funeral for which he was a pallbearer. He is buried in Baltimore, Maryland.