Philip Sheridan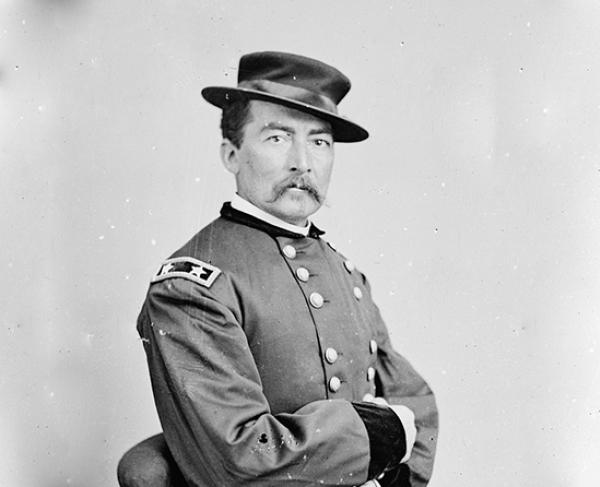 TitleGeneral
War & AffiliationCivil War / Union
Date of Birth - DeathMarch 6, 1831 – August 5, 1888
Philip Henry Sheridan was once described by Abraham Lincoln as "A brown, chunky little chap, with a long body, short legs, not enough neck to hang him, and such long arms that if his ankles itch he can scratch them without stooping."  Still, "Little Phil" rose to tremendous power and fame before his untimely death of a heart attack at age 57.
He is most famous for his destruction of the Shenandoah Valley in 1864, called "The Burning" by its residents.  He was also the subject of an extremely popular poem entitled "Sheridan's Ride", in which he (and his famous horse, Rienzi) save the day by arriving just in time for the Battle of Cedar Creek.
Like Patrick Cleburne, Sheridan rose very quickly in rank.  In the fall of 1861, Sheridan was a staff officer for Maj. Gen. Henry Halleck.  He later became quartermaster general in the Army of Southwest Missouri.  With the help of influential friends he was appointed Colonel of the 2nd Michigan Cavalry in May, 1862.  His first battle, Booneville, MS, impressed Brig. Gen. William S. Rosecrans so much that he himself was promoted to Brigadier General.  After Stones River he was promoted to Major General. 
Sheridan's men were part of the forces which captured Missionary Ridge (near Chattanooga) in 1863.  When Ulysses S. Grant was promoted to General-in-Chief of the Union armies, he made Sheridan the commander of the Army of the Potomac's Cavalry Corps.  This moved him from the Western Theater to the Eastern Theater of operations.  At first, Sheridan's Corps was used for reconnaissance.  His men were sent on a strategic raiding mission toward Richmond in May 1864.  Then he fought with mixed success in Grant's 1864 Overland Campaign. 
During the Civil War, Virginia's Shenandoah Valley was a vital resource to the Confederacy.  Not only did it serve as the Confederate "breadbasket", it was an important transportation route.  The region had witnessed two large-scale campaigns already when Gen. Ulysses S. Grant decided to visit the Valley once again in 1864.  He sent Philip Sheridan on a mission to make the Shenandoah Valley a "barren waste". 
In September, Sheridan defeated Jubal Early's smaller force at Third Winchester, and again at Fisher's Hill.  Then he began "The Burning" – destroying barns, mills, railroads, factories – destroying resources for which the Confederacy had a dire need.  He made over 400 square miles of the Valley uninhabitable.  "The Burning" foreshadowed William Tecumseh Sherman's "March to the Sea":  another campaign to deny resources to the Confederacy as well as bring the war home to its civilians. 
In October, however, Jubal Early caught Sheridan off guard.  Early launched a surprise attack at Cedar Creek on the 19th.  Sheridan, however, was ten miles away in Winchester, Virginia.  Upon hearing the sound of artillery fire, Sheridan raced to rejoin his forces.  He arrived just in time to rally his troops.  Early's men, however, were suffering from hunger and began to loot the abandoned Union camps.  The actions of Sheridan (and Maj. Gen. Horatio Wright) stopped the Union retreat and dealt a severe blow to Early's army. 
For his actions at Cedar Creek, Sheridan was promoted to Major General in the regular army.  He also received a letter of gratitude from President Abraham Lincoln.  The general took great pleasure in Thomas Buchanan Read's poem, "Sheridan's Ride" – so much so that he renamed his horse "Winchester".  The Union victories in the Shenandoah Valley came just in time for Abraham Lincoln and helped the Republicans defeat Democratic candidate George B. McClellan in the election of 1864.
During the spring of 1865, Sheridan pursued Lee's army with dogged determination.   He trapped Early's army in March.  In April, Gen. Lee was forced to evacuate Petersburg when Sheridan cut off his lines of support at Five Forks.  And, at Sayler's Creek, he captured almost one quarter of Lee's army.    Finally at Appomattox, Lee was forced to surrender the Army of Northern Virginia when Sheridan's forces blocked Lee's escape route.
At war's end, Phil Sheridan was a hero to many Northerners.  Gen. Grant held him in the highest esteem.  Still, Sheridan was not without his faults.  He had pushed Grant's orders to the limit.  He also removed Gettysburg hero Gouverneur Warren from command.  It was later ruled that Warren's removal was unwarranted and unjustified.
During Reconstruction, Sheridan was appointed to be the military governor of Texas and Louisiana (the Fifth Military District).  Because of the severity of his administration there, President Andrew Johnson declared that Sheridan was a tyrant and had him removed. 
In 1867, Ulysses S. Grant charged Sheridan with pacifying the Great Plains, where warfare with Native Americans was wreaking havoc.  In an effort to force the Plains people onto reservations, Sheridan used the same tactics he used in the Shenandoah Valley:  he attacked several tribes in their winter quarters, and he promoted the widespread slaughter of American bison, their primary source of food.  
In 1871, the general oversaw military relief efforts during the Great Chicago Fire.  He became the Commanding General of the United States Army on November 1, 1883, and on June 1, 1888, he was promoted to General of the Army of the United States – the same rank achieved by Ulysses S. Grant and William Tecumseh Sherman. 
Sheridan is also largely responsible for the establishment of Yellowstone National Park – saving it from being sold to developers. 
In August 1888, Sheridan died after a series of massive heart attacks.  He was buried at Arlington National Cemetery.