George Armstrong Custer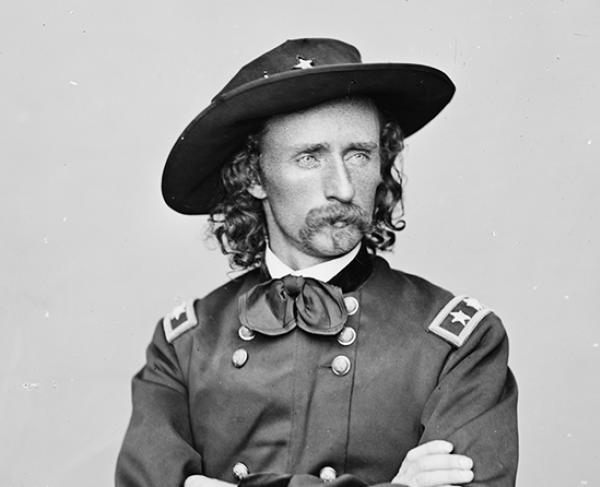 TitleMajor General
War & AffiliationCivil War / Union
Date of Birth - DeathDecember 5, 1839- June 25, 1876
George Armstrong Custer is better known for his post-bellum exploits rather than his Civil War career.  His success, however, in the Union army was due in large part to his dual characteristics of bravery and audacity.  Described as aggressive, gallant, reckless, and foolhardy, Custer has become one of the most celebrated and controversial figures of the Civil War.
Born in New Rumley, Ohio on December 5, 1839, son of Emanuel and Maria, Custer was nicknamed "Autie" because of his mispronunciation of his middle name as a small child. George had four younger siblings, Thomas, Margaret, Nevin, and Boston, as well as several older half-siblings from his mother's first marriage to Israel Kirkpatrick, who died in 1835. 
During much of his boyhood George lived with his half-sister and brother-in-law in Monroe, Michigan, where he attended McNeely Normal School. Upon graduation, he taught school for two years before being admitted to the U.S. Military Academy, where he graduated in the Class of June 1861, ranked last out of 34 cadets.  Ever a trickster, multiple demerits for pulling practical jokes on his classmates brought him close to expulsion several times. Custer was commissioned a second lieutenant in the 2nd U.S. Cavalry.
Custer was able to distinguish himself as a risk-taker early in the war. During the Peninsula Campaign when Maj. Gen. John G. Barnard stopped at the Chickahominy River, debating where to cross based on the depth of the water, Custer took action and promptly rode his horse out to the middle of the river so as to determine if it was passable. The act gained him notoriety among important high-ranking officers.  He subsequently served on the staffs of Generals George B. McClellan and Alfred Pleasanton with the temporary rank of captain.
On June 29, 1863 Custer was promoted to brigadier general and assigned to command a brigade in Judson Kilpatrick's division. While in this position he led his men in the Battle of Gettysburg where he participated in the fighting on what became known as East Cavalry Field.
Throughout the war Custer continued to distinguishing himself as fearless, aggressive, and ostentatious.  His personalized uniform, complete with a red cravatt could be somewhat alienating, but he was successful in gaining the respect of his men with his willingness to lead attacks from the front rather than the rear.
During the Overland Campaign, Custer led the decisive attack at the Battle of Yellow Tavern where one of his troopers mortally wounded J.E.B. Stuart. Custer played a major role in the Shenandoah Valley Campaign of 1864 at Third Winchester and Cedar Creek. On April 8, 1865 Custer's troopers closed off Robert E. Lee's line of retreat at Appomattox.
In 1866, Custer was commissioned lieutenant colonel of the newly created 7th U.S. Cavalry and assigned to command the cavalry in the west.  The following year he took part in Winfield Hancock's expedition against the Southern Cheyenne in 1867.  After a court-martial and suspension from duty, Custer was restored to command by Philip Sheridan. 
After Reconstruction duty in the south, Custer and his regiment guarded survey parties from the Northern Pacific Railroad on the 1873 Yellowstone Expedition. The following summer he led the Seventh into the Black Hills, an event that precipitated the Great Sioux War.  In May 1876, Custer marched west with Brig. Gen. Alfred Terry's Dakota column from Fort Abraham Lincoln. Attempting to locate a combined Sioux and Cheyenne village led by Sitting Bull, Terry dispatched Custer as part of a two pronged offensive on June 22. Three days later, Custer located the village and in the ensuing battle, his battalion of five companies was annihilated. Custer buried in the cemetery at West Point.