John Hunt Morgan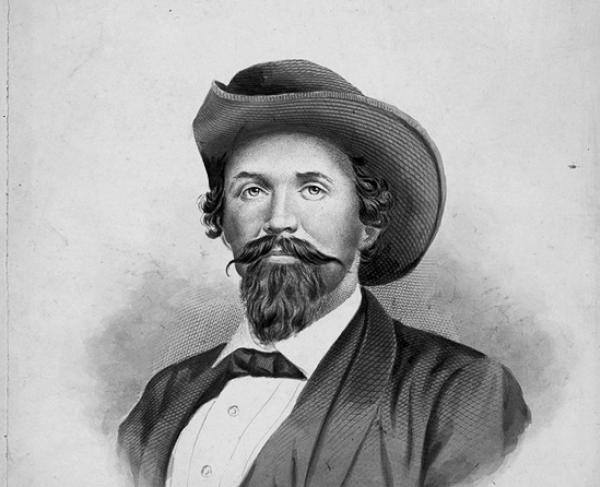 TitleBrigadier General
War & AffiliationCivil War / Confederate
Date of Birth - DeathJune 1, 1825 – September 4, 1864
John Hunt Morgan – known as the 'Thunderbolt of the Confederacy' and remembered as the ideal of the romantic Southern cavalryman — was born June 1, 1825 in Huntsville, Alabama, but is thoroughly identified with his mother's home state of Kentucky. Morgan moved to the Bluegrass State as a boy and briefly attended Transylvania College in Lexington before he was expelled for bad behavior. He enlisted in the 1st Kentucky Cavalry at the outbreak of the Mexican War and served under Zachary Taylor, distinguishing himself at the Battle of Buena Vista.  After the war, back in his beloved Kentucky, Morgan became a successful hemp manufacturer and equipped a militia company, known as the 'Lexington Rifles,' out of his own pocket.
During the secession crisis, Morgan did not share the hesitation of his state and immediately threw in his lot with the new Southern Confederacy, and led his 'Lexington Rifles' to Bowling Green to join forces with Gen. Buckner. Morgan was made colonel in April 1862, and took part in the Battle of Shiloh before being attached to Joseph Wheeler's division in Gen. Braxton Bragg's Army of Tennessee. Morgan was far from 'attached,' however. That summer, Morgan began to lead the kind of swift, daring raids that characterized Confederate cavalry leaders during the war.
On July 4, 1862, Morgan set out on a thousand-mile ride through Kentucky — destroying railroad and telegraph lines, seizing supplies, taking prisoners and generally wreaking havoc in the Union rear. His raid made national headlines and helped cement the fearsome reputation of the Southern cavalryman.  Morgan led equally successful endeavors in October and December, which eventually forced some 20,000 Union troops to be detached from the front to guard communication and supply lines.
The following year, in July 1863, as the Confederacy was reeling from the dual losses of Vicksburg and Gettysburg, Morgan began his most ambitious raid of the war.  Against Bragg's explicit orders, Morgan and 2,400 men crossed the Ohio and rode over one thousand miles along the north bank of the river.  For three weeks Morgan terrorized the local defenses of southern Indiana and Ohio before he was captured at West Point by Union cavalry under Gen. Edward H. Hobson and sent to the Ohio State Penitentiary in Columbus. Incredibly, on November 26, 1863, the same day Gen. Patrick Cleburne was doggedly defending Ringgold Gap in northern Georgia, Morgan escaped from prison and made his way back into Confederate lines.
Morgan was appointed head of the Dept. of Southwestern Virginia in April, 1864, and determined to attack Knoxville, Tennessee, a city with a largely pro-Union citizenry. While bivouacked in Greeneville, Tennessee on September 3, Morgan was caught in a surprise attack and shot and killed by a Union private who had once served under him.
Morgan is often included amongst John S. Mosby, Jeb Stuart and Nathan Bedford Forrest in 'Lost Cause' memory as an example of the superior fighting qualities of the Southern cavalryman.  He is buried in Lexington.