Patrick R. Cleburne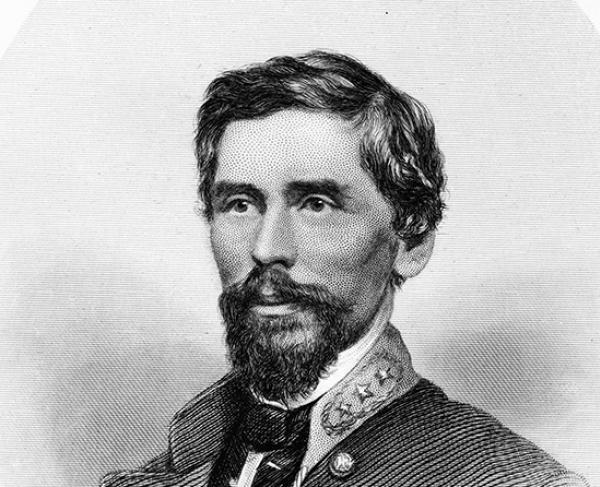 TitleMajor General
War & AffiliationCivil War / Confederate
Date of Birth - DeathMarch 17, 1828 – November 30, 1864
Called the "Stonewall of the West" Patrick Ronayne Cleburne was one of the Confederacy's finest commanders in the Western theatre.  Born on St. Patrick's Day, this native Irishman was nevertheless extremely loyal to his adopted country, saying, "if this [Confederacy] that is so dear to my heart is doomed to fail, I pray heaven may let me fall with it, while my face is toward the enemy and my arm battling for that which I know to be right."  Sadly, Cleburne would have his wish. 
Cleburne began his military career in an unlikely manner.  When he failed the entrance exam at Trinity College, Dublin, he could not face his family.  He enlisted in the 41st Foot in the British army.  In 1849 he purchased his discharge and left for America eventually settling in Helena, Arkansas in June 1850 and earning his citizenship in 1855.  Cleburne loved his new country, taking part in many community projects, and even being one of the few volunteers to care for the sick during a yellow fever outbreak.
In January 1861 he joined the Yell Rifles.  By fall of 1861 he had risen to command the 2nd Brigade, Hardee's Division, in the Army of Central Kentucky.  His first major battle was at Shiloh, April 6-7, 1862.  At the Battle of Richmond, Kentucky, Cleburne was wounded in the mouth (August 1862) and lost several of his teeth.  Still, he earned the thanks of the Confederate Congress for his actions there.  During the October 1862 battle at Perryville he was wounded again – twice, yet stayed in command during the battle.  In December he was promoted to Major General.
At the December 1862 battle of Murfreesboro (Stones River) Cleburne and his division earned the praise of General Braxton Bragg for their incredible skill and valor.  Cleburne's actions and character played a large role in his men's determination during battle.
In 1863 Cleburne faced off against Union General George H. Thomas at Chickamauga. Cleburne's and General John C. Breckinridge's assaults forced Gen. Thomas to call repeatedly for reinforcements.  In November 1863 the Confederate army was forced to retreat after the battle of Chattanooga.  However, Cleburne had defeated every assault against his men eventually charging his attackers.  After the battle, Cleburne and his men were charged with covering the retreat. 
On January 2, 1864, Cleburne made his most controversial decision ever.  He gathered the corps and division commanders in the Army of Tennessee to present his proposal.  The Confederacy was unable to fill its ranks due to a lack of manpower.  He stated that slavery was their "most vulnerable point, a continued embarrassment, and in some respects an insidious weakness."  Cleburne's proposed solution was for the Confederacy to arm slaves to fight in the army.  In time, these soldiers would receive their freedom.  The proposal was not well received at all.  In fact, Jefferson Davis directed that the proposal be suppressed. 
In the spring of 1864 the Army of Tennessee moved towards Atlanta, Georgia.  Cleburne and his men fought at Dalton, Tunnel Hill, Resaca, Pickett's Mill, Ringgold and Kennesaw.   The Atlanta Campaign began in the summer and lasted until September, when General Hood evacuated Atlanta.    Hood had taken command from General Joseph E. Johnston, which Cleburne felt to be a disaster for the Confederacy.
General Hood hoped to stop Union General Schofield and his men before they could reach Nashville to reinforce General Thomas.  Due to poor communications and nightfall Schofield slipped past the Army of Tennessee into Franklin. 
The November 30, 1864 Battle of Franklin was a tragic loss for the Confederacy.  Hood threw his men into well-fortified Union troops.  The results were disastrous.  About 6,000 men were killed or wounded including six generals who were killed or mortally wounded.  Cleburne was one of these six, killed while attacking Union breastworks.
Cleburne was buried at St. John's Church, Mount Pleasant, Tennessee.  In 1870 he was reburied in Helena, Arkansas.