J. E. B. Stuart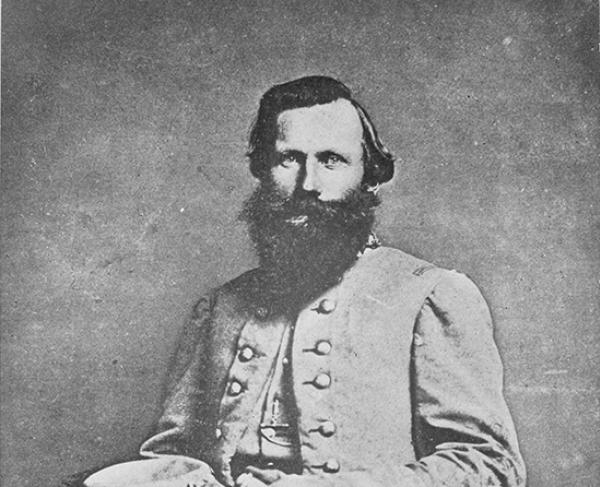 TitleMajor General
War & AffiliationCivil War / Confederate
Date of Birth - DeathFebruary 6, 1833 – May 12, 1864
James Ewell Brown Stuart, known to friends and fellow servicemen as Jeb, came from an acclaimed military lineage.  His great grandfather, Major Alexander Stuart, commanded a regiment in the Revolutionary War, and his father Archibald Stuart fought in the War of 1812 before serving as a Commonwealth and U.S. Representative.  He attended Emory and Henry College and then West Point, where he graduated 13th of 46 in 1854. West Point was also where he first met and befriended Robert E. Lee. 
In his U.S. service, Stuart was involved in several Indian conflicts, the "Bleeding Kansas" incident at the Kansas-Missouri border, and was sent by Lee to crush John Brown's raid at Harpers Ferry. 
Stuart resigned from the United States army in May of 1861 to join the Confederacy following Virginia's secession, despite his father in law choosing to remain in the US Army for the engagement.  He was assigned to report to Thomas "Stonewall" Jackson, who promoted him to Colonel early on and assigned him to command cavalry units of the Army of the Shenandoah.  He led his regiment in the First Battle of Bull Run, where the Union Army's early success was undone in part because of Stuart's routing, forcing their retreat back to Washington DC.  Soon thereafter, he began commanding all the cavalry brigades for the Army of Northern Virginia in March of 1862. 
Stuart was a master of reconnaissance missions, and twice made daring exploits, first in the Peninsula Campaign and again at Antietam.  In the Northern Virginia Campaign, he was promoted to major general after he executed successful raids at Catlett's Station and Rappahannock River, and then performed great defensive strategy at the Battle of Fredericksburg.  After the mortal wounding Jackson during the battle of Chancellorsville, Stuart temporarily assumed command of Jackson's Second Corps and was influential in exploiting the success of his predecessor's famous flank attack.   
In spite of Stuart's brilliant reputation (or perhaps because of it), his performance during the Gettysburg Campaign has been the subject much debate and controversy.  Prior to 1863 the Federal mounted arm had been repeatedly embarrassed by Stuart's seemingly invincible cavaliers.  But as the war entered its third summer, that perception would begin to change.  At Brandy Station, despite holding the field for the South, Stuart failed to detect the movements of the Union cavalry that would eventually instigate the attack.  Just a month later, Stuart's cavalry fell out of touch with headquarters in the days leading up to Gettysburg, and left Lee and his fellow commanding officers with little to no intelligence in unfamiliar enemy territory. Stuart finally arrived late on the second day and the following day was repulsed by Union cavalry gaining no ground there.   
Stuart fought his final battle on the outskirts of Richmond on May 11, 1864.  The Confederate cavalry was working feverishly to deny Gen. Philip Sheridan's Federal horsemen from gaining entry into the Confederate capital.  Stuart's men were able to check the Yankee advance but at a terrible cost.  The Confederate cavalry chief was shot by a dismounted Michigan trooper with a pistol, and the wound proved fatal.  He died the day after the battle, May 12, 1864 and was buried at Hollywood Cemetery in Richmond.