Edward Henry Hobson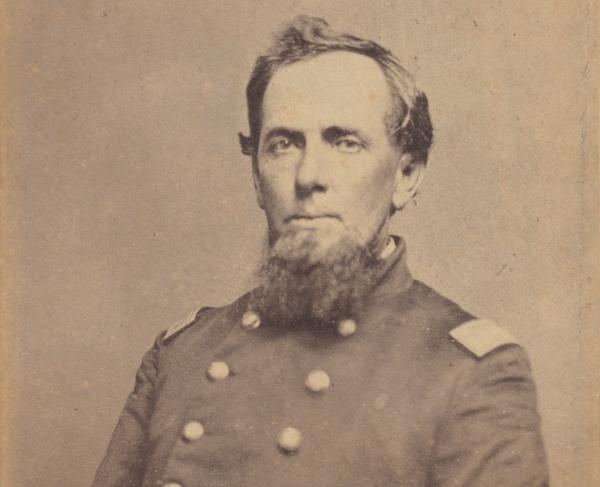 TitleBrigadier General
War & AffiliationCivil War / Union
Date of Birth - DeathJuly 11, 1825 - September 14, 1901
Edward Henry Hobson was born on July 11, 1825, in Greensburg, Kentucky. As a young man, Hobson helped with his father's steamboat business. In 1846, Hobson enlisted in the 2nd Kentucky Volunteer Infantry Regiment to fight in the Mexican War. He was promoted to the rank of first lieutenant at the Battle of Buena Vista. Hobson was mustered out of service in June of 1847 and returned home to Greensburg. By 1853, Hobson was the director of the Bank of Kentucky's Greensburg branch and was the bank's president from 1857 to 1861.
In 1861, Hobson helped organize the 13th Kentucky Infantry and served under Major General Don Carlos Buell in February of 1862. Hobson was noted for his leadership skills at the Battle of Shiloh, and President Abraham Lincoln promoted Hobson to Brigadier General soon after the battle. Hobson also fought at the Battles of Corinth and Perryville. After his promotion to brigadier general, Hobson was placed in charge of defending Kentucky from Brigadier General John Hunt Morgan. In July of 1863, Hobson was tasked by Major General Ambrose Burnside to pursue and eliminate Morgan. Culminating the Battle of Buffington Island, Hobson successfully defeated Morgan and captured over 1,000 Confederate soldiers. On July 26, 1863, Hobson captured John Morgan. Following Hobson's success against John Morgan, Hobson was placed in charge of halting other Confederate raids in Kentucky. In June of 1864, ironically, Hobson and his men were captured by John Morgan's men near Cynthiana, Kentucky. After negotiating for his release, Hobson led a brigade at the Battle of Saltville. In August of 1865, Hobson mustered out of service and became a companion of the Ohio Commandery of the Military Order of the Loyal Legion of the United States.
Following Hobson's Civil War service, Hobson returned home and returned to his businesses. Hobson, however, tried running for public office twice, but was unsuccessful. After supporting Ulysses S. Grant's candidacy for President, Grant appointed him as the district collector at the Internal Revenue Service. In 1887, Hobson became the president of the Chesapeake and Ohio Railway. In his later years, Hobson became very involved with the Grand Army of the Republic. On September 14, 1901, at age 76, Edward Henry Hobson passed away in Cleveland, Ohio at a Grand Army of the Republic encampment.
Save 184 Tennessee Western Theater Acres at Shiloh and Stones River
Help preserve 184 acres of hallowed ground at two of the most important battles of the Western Theater, and two of the bloodiest battles of the entire...
Related Battles
Battle Facts
Hardin County, TN | April 6, 1862
Result: Union Victory
Estimated Casualties
23,746
Battle Facts
Alcorn County, MS | October 3, 1862
Result: Union Victory
Estimated Casualties
7,197
Battle Facts
Boyle County, KY | October 8, 1862
Result: Union Victory
Estimated Casualties
7,612
Battle Facts
Smyth County, VA | October 2, 1864
Result: Confederate Victory