Braxton Bragg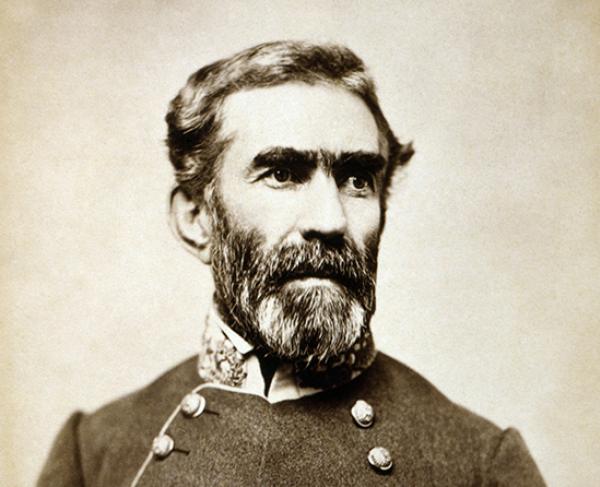 TitleGeneral
War & AffiliationCivil War / Confederate
Date of Birth - DeathMarch 22, 1817 – September 27, 1876
One of the most controversial figures of the Confederate army, Braxton Bragg, was born on March 22, 1817, in Warrenton, North Carolina.  Bragg's father, a successful carpenter, determined to send his son to the United States Military Academy.  Thanks to the political connections of his older brother, Bragg received his appointment at age 16 and graduated fifth in the class of 1837, ahead of Jubal Early, John Sedgwick, John C. Pemberton, Joe Hooker, and others. 
Bragg served in the Second Seminole War and commanded Fort Marion in Florida, displaying a penchant for strict discipline and the first hints of an argumentative personality.  In spite of this reputation, Bragg won promotions for bravery during the Mexican War, where the timely arrival of his artillery at the Battle of Buena Vista, helped the Americans repel the numerically superior Mexican force.  This action earned him nationwide fame and the undying gratitude of the commander of a Mississippi regiment, Jefferson Davis.  Bragg resigned from the Army in 1856 when he and his wife purchased a sugar plantation in Louisiana.
Though some sources suggest he was opposed to secession, Bragg organized Louisiana troops during the secession crisis and seized the Federal arsenal at Baton Rouge on January 11, 1861. After Louisiana's secession, Bragg was appointed major general commanding the state's forces before joining the Confederate army in March.  In September, Bragg assumed command of the Department of West Florida and supervised the instruction of troops there.  In February 1862, Bragg requested that he and his 10,000 troops be transferred to Albert Sidney Johnston's command in Corinth, Mississippi, where he believed they would be of more use.  By that spring, Bragg commanded a corps in Johnston's army and led it at the Battle of Shiloh, where he received a promotion to full general for his leadership. 
Following the loss of Corinth, Mississippi, Bragg replaced Beauregard as commander of the Confederate Army of Mississippi, later renamed the Army of Tennessee. Under Bragg the army scored partial victories—at places like Perryville, Stones River, and Chickamauga—but never delivered the finishing blow.  This infuriated his subordinates, who were already frustrated with Bragg's poor temper and combative personality. Many advocated for Bragg's removal, but Davis' support for his old friend was unwavering.  Only after Bragg's defeat at Chattanooga in November 1863, did Davis accept Bragg's resignation as army commander. Bragg, however, remained active in the Confederate army for the duration of the war, serving as military advisor to President Davis and as a corps commander under Joseph E. Johnston at the Battle of Bentonville in 1865.  Bragg attended the final cabinet meeting of the Confederate government and was captured on May 9 in Georgia. 
The U.S. Government confiscated Bragg's prewar home during the war, forcing him and his wife to relocate to Alabama after his parole in 1865.  He worked in a number of fields, including a brief stint an agent in a life insurance company and railroad inspector.  Bragg collapsed in Galveston, Texas on September 27, 1876, and died fifteen minutes later at age of 59.