Albert Sidney Johnston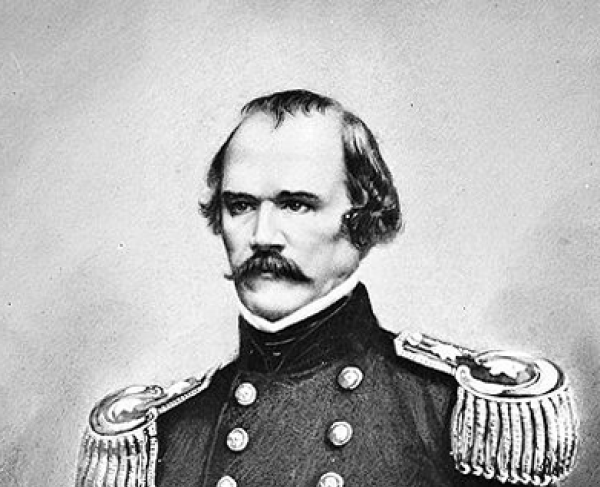 TitleGeneral
War & AffiliationCivil War / Confederate
Date of Birth - DeathFebruary 2, 1803 – April 6, 1862
In 1837, Albert Sidney Johnston survived a duel against Texas Brigadier General Felix Huston. Unfortunately, the effects of his wound probably contributed to his death at the Battle of Shiloh in 1862.  Johnston has the unfortunate distinction of being the highest ranking general – on either side – killed during the Civil War. 
Johnston already had an eventful military career by the time his home state seceded from the Union.  He fought in the Black Hawk War, the Texas Revolution, and the Mexican-American War, and in actions against the Mormons in Utah and Native Americans in northern Texas.
On December 21, 1860, Johnston took command of the Department of the Pacific.  He resigned on April 9, 1861, when his home state of Texas seceded from the Union.  Still, he stayed at his post until his successor arrived.  Accompanied by the Los Angeles Mounted Rifles, Johnston began a lengthy, dangerous journey across the desert in June.  He arrived in Richmond in September, and his long-time friend, Jefferson Davis, made him a full general and commander of the Western Department.
He held a line of defense from Kentucky's Cumberland Gap to the town of Columbus.  In February 1862, US Gen. Ulysses S. Grant and Flag Officer A.H. Foote captured Fort Henry (on the Tennessee River).  Grant then proceeded to capture Fort Donelson (on the Cumberland River).  As such, the Union controlled both rivers and Johnston's defensive line became impossible to hold.  His forces moved to Corinth, MS, where they joined General P.G.T. Beauregard.
Meanwhile, Grant's army was stationed at Pittsburg Landing.  Johnston intended to attack Grant on April 5, 1862, but he was held back by heavy rains.  His Army attacked on April 6, near Shiloh Church.  He was successful, at first, in pushing Gen. William T. Sherman's men back to an area called the Crossroads.  The Hornet's Nest, just north of this point, saw the bloodiest fighting.
Johnston was shot in the leg when he rode too far ahead of his troops.  Because he'd suffered nerve damage from his dueling wound, he didn't realize the severity of his injury until his boot filled with blood.  He quickly bled to death on the battlefield.  It is said that he had a tourniquet in his pocket when he died. 
Johnston was buried temporarily in New Orleans.  His journey finally ended in 1867 when his remains were taken to the State Cemetery in Austin, Texas.