Today, Ohio is known for the Rock and Roll Hall of Fame, the Coney hot dog, Cedar Point amusement park and the first-in-flight Wright brothers, but the Buckeye State is also referred to as the "Mother of Presidents." Seven U.S. Presidents were born in the state and another, Virginia-born William Henry Harrison, eventually called it home. Next to Virginia, it's the top producer of the nation's commanders in chief.  
We know their stories in the White House, but five of Ohio's future U.S. Presidents fought in the Civil War before heading to 1600 Pennsylvania Avenue.  
During the Civil War, Ohio was the site of no major skirmishes save for the battles of Buffington Island and Salineville. However, Ohio offered up about 60% of her military-age sons for service in the war — the highest percentage of any state in the Union! Among them: Ulysses S. Grant, Rutherford B. Hayes, James A. Garfield, Benjamin Harrison and William McKinley.  
Before they led a nation, what were their lives like as they navigated this long and winding conflict? 
Ulysses S. Grant, 18th President of the United States 
Born: Point Pleasant, Ohio 
Education: U.S. Military Academy at West Point 
Occupation: military officer, farmer, politician 
A West Point graduate and veteran of the Mexican American War, U.S. Grant had been living as a civilian for six years prior to the Civil War. But this didn't stop him from volunteering for service in the Union army upon the war's outbreak. First made colonel of the 21st Illinois Infantry, Grant was promptly promoted to brigadier general in July 1861. That November at Belmont (Mo.), where the American Battlefield Trust is currently on a mission to save just over one acre of battlefield land, the legendary general faced an early test as a field commander, learning valuable lessons from the battle's inconclusive ending.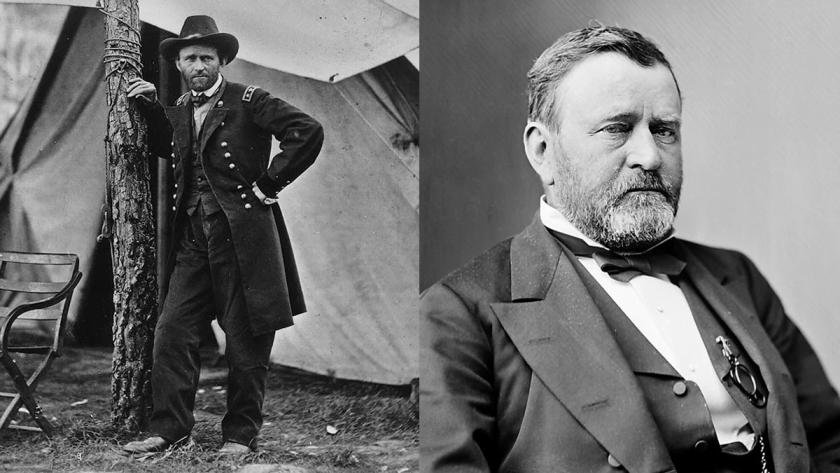 His 1862 triumphs at Fort Henry and Fort Donelson in western Tennessee won him the nickname "Unconditional Surrender" Grant, putting him on the radar of President Lincoln. He went on to be victorious at Shiloh, Vicksburg and Chattanooga. In March 1864, Grant was elevated to the rank of lieutenant general and named general-in-chief of the Armies of the United States. Despite his high-casualty Overland Campaign, the subsequent Siege of Petersburg delivered a crushing blow to the Confederates, ultimately leading to the fall of Richmond and Lee's surrender at Appomattox Court House.  
After the war, Grant was named Secretary of War by President Andrew Johnson. And, in 1868, he defeated Democrat Horatio Seymour to become 18th President of the United States. 
Rutherford B. Hayes, 19th President of the United States 
Born: Delaware, Ohio 
Education: Kenyon College, Harvard Law School 
Occupation: lawyer, soldier, politician  
Upon President Lincoln's call for volunteers, Hayes was quick to join a company of home guards. Later offering his services to Ohio Gov. William Dennison, he was appointed a major in the newly formed 23rd Ohio Volunteer Infantry regiment, which was organized at Camp Chase in Columbus, Ohio, and mustered into service on June 11, 1861. His first time in combat was at Carnifex Ferry, W.Va., in August 1861, after which he was promoted to lieutenant colonel in October. During the Maryland Campaign, Hayes's leadership played a critical role in the Union-won Battle of South Mountain. Wounded near Fox's Gap, Hayes and his regiment received great praise from officers for their bravery under heavy fire. Following, the regiment saw action at Antietam. Hayes was elevated to colonel of the regiment in October 1862 and referred to by his men as one of the "good colonels." As Confederate Brig. Gen. John Hunt Morgan attempted to flee Ohio after leading a 13-day raid in July 1863, Hayes and his men were present when the raiders were confronted at Buffington Island — where 117 acres are currently being targeted for preservation by the Trust.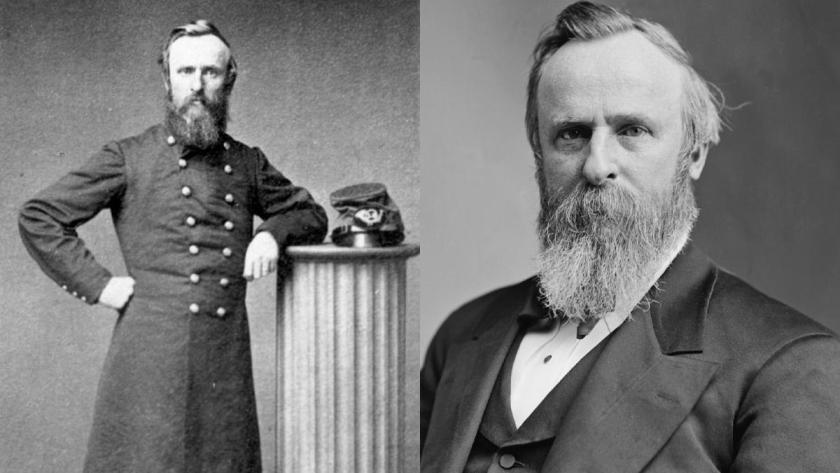 During the Shenandoah Valley Campaign of 1864, Hayes and his men witnessed heavy fighting, participating in battles at Lynchburg, Third Winchester, Berryville,  Fisher's Hill and Cedar Creek. At Cedar Creek, a wounded Hayes helped to rally routed Federals before participating in a successful afternoon counterattack. For his gallant actions during the campaign, Hayes was promoted to brigadier general of volunteers on January 3, 1865. And on March 13, 1865, he was brevetted major general of volunteers.  
Although Hayes had secured a seat in Congress in the 1864 elections he did not leave the military until the war's end. This put him on the path to becoming the 19th U.S President.
James A. Garfield, 20th President of the United States 
Born: Moreland Hills, Ohio 
Education: Williams College 
Occupation: farmer, teacher, preacher, college professor-turned-president, soldier, politician 
After waiting several months to receive a military commission from Ohio's governor, ardent anti-secessionist James A. Garfield was offered the lieutenant colonelcy of the 42nd Ohio Volunteer Infantry. He accepted and, in mid-August 1861, successfully filled the regiment — many of the soldiers were former students of his from Western Reserve Eclectic Institute. Within only a few weeks, Garfield rose to the rank of full colonel. And despite his lack of military experience, he was a quick and resourceful study.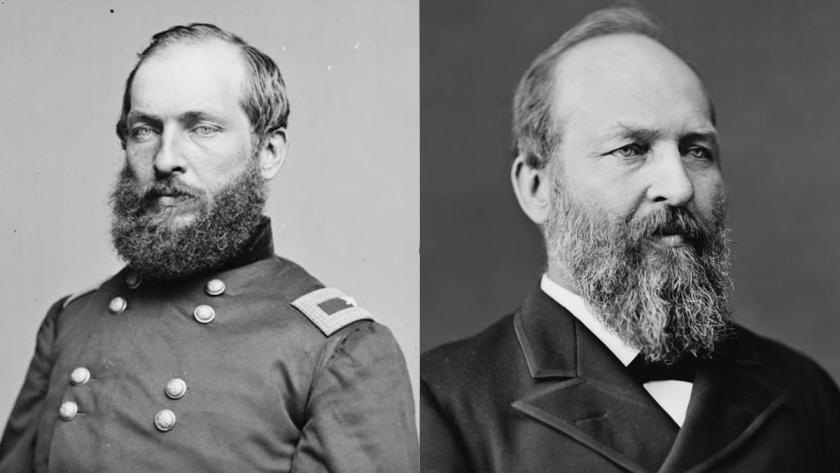 Garfield first garnered distinction at the Battle of Middle Creek in January 1862, where his vastly outnumbered brigade defeated Confederate forces and cleared the way for Union control in eastern Kentucky. Due to his accomplishments, he was promoted to brigadier general and given command of the 20th Brigade in Tennessee. Leading the 20th, Garfield and his men saw action on the second day at Shiloh. Following, he succumbed to camp fever and dysentery, forcing the ambitious officer to take leave to recuperate. It was then that Garfield's name was brought forth as a candidate for the U.S. House of Representatives, a race that he won on the Republican ticket. By September 1863, then-Maj. Gen. James Garfield was back in the saddle at Chickamauga where he undertook a bold ride under enemy fire.  
After serving as chief of staff for Maj. Gen. William S. Rosecrans, then-commander of the Army of the Cumberland, Garfield resigned from military service in December 1863 to take his seat in Congress — beginning his journey to the White House.
Benjamin Harrison, 23rd President of the United States 
Born: North Bend, Ohio 
Education: Farmer's College, Miami University 
Occupation: lawyer, soldier, politician 
The grandson of 9th U.S. President William Henry Harrison, Benjamin Harrison was living and practicing law in Indiana upon the outbreak of the Civil War. A year following the bombardment of Fort Sumter, Lincoln called for an additional 300,000 Union soldiers, and 18 Union-supporting governors pledged to aid in the recruitment. Indiana Governor Oliver Morton was having great difficulty filling his state's quota of troops when Harrison visited the governor's office on business. Recently elected reporter of the Indiana Supreme Court and a young family man, Harrison felt sympathetic to the cause but hesitant to seek command. But Governor Morton asked Harrison to raise a regiment, and that he did. Although he didn't wish to lead, Harrison had no intention of recruiting soldiers for the war while he stayed home — he was to stand alongside these men that became the 70th Indiana.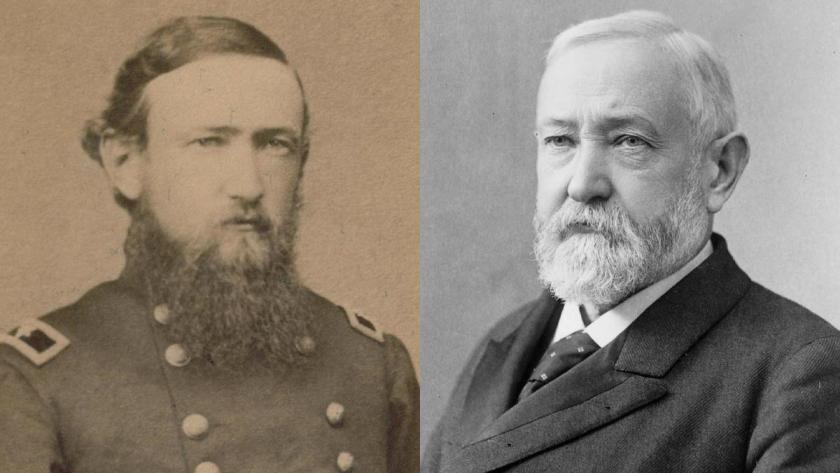 At first, Harrison was given a commission as second lieutenant, but within two weeks he was promoted to captain. Beyond that — by August 8, 1862 — the newly appointed Colonel Harrison had raised 1000 recruits. He went on to become a strong leader and gained the respect of the men under his command. First assigned to guard Tennessee railroads until February 1863, the 70th Indiana shifted to Nashville to guard trains to Chattanooga in August 1863. In the spring of 1864, the regiment participated in the Atlanta Campaign with the Army of the Cumberland. During the campaign, Harrison impressed at the battles of Resaca and Peachtree Creek, for which he was promoted to brigadier general. Harrison and the 70th Indiana were mustered out of service on June 8, 1865, but the high-achieving man didn't forget his fellow Civil War veterans when he climbed the political ladder — he frequented Civil War reunions and championed pensions for Union veterans during his presidency.  
In the words of William T. Sherman, Harrison served with "foresight, discipline and a fighting spirit . . ." 
William McKinley, 25th President of the United States 
Born: Niles, Ohio 
Education: Allegheny College, Mount Union College, Albany Law School 
Occupation: postal clerk, teacher, soldier, lawyer, politician 
Eighteen-year-old William McKinley was teaching in a country school when the Civil War began. It wasn't long before he volunteered as a private with the Poland (Ohio) Guards, which was soon after consolidated into the 23rd Ohio Volunteer Infantry. Ironically, he served beside another future president, Rutherford B. Hayes, who became a mentor to the young McKinley. By April 1862, he was promoted to commissary sergeant, which came with the responsibility of supplying rations to the regiment.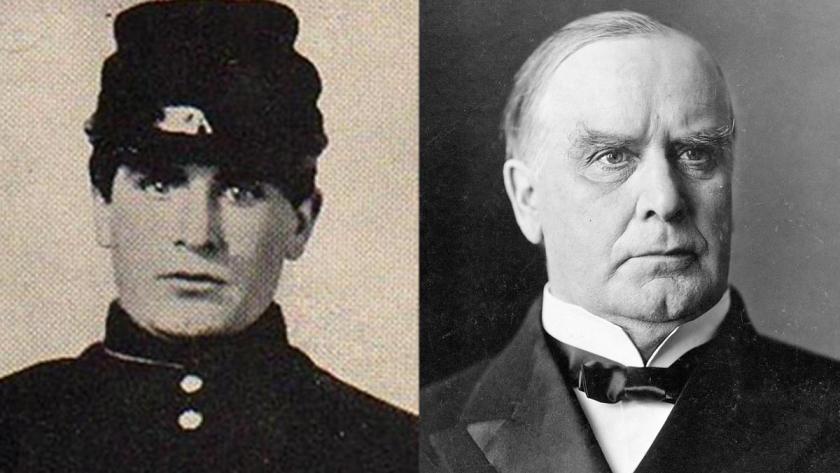 In battle, McKinley proved a selfless and upright soldier. At the bloody Battle of Antietam, his regiment was pinned down near Burnside's Bridge. Despite the daunting shower of bullets aimed in his direction, McKinley recognized his regiment's hunger, thirst and dwindling spirit, and saw to it that "every man in the regiment was served with hot coffee and warm meats.... He passed under fire and delivered, with his own hands, these things, so essential for the men for whom he was laboring." Rutherford B. Hayes's admiration shines brightly in these words — he even recommended McKinley for promotion based on these actions. In 1903, a monument to McKinley and his heroic deeds was dedicated at the Antietam National Battlefield.
Elevated to second lieutenant, the motivated youngster served on Colonel Hayes's staff as assistant quartermaster. He served in the role throughout the Shenandoah Valley Campaign of 1864, earning commendation from superiors and the rank of captain. By the war's end, McKinley was brevetted a major. When he returned from service, he sought out law and, later, politics.  
---

There is no doubt of the dedication that Ohioans displayed during the Civil War and, further, the important role the state has played within our American story. It is also set to become the 25th state in which the American Battlefield Trust has worked to preserve precious pieces of our past.  
In its latest fundraising campaign, the Trust aims to save 311 Civil War acres across four battlefields, each within a different state. In Ohio, the 117-acre Buffington Island property marks the very location that Brig. Gen. John Hunt Morgan and his raiders advanced during the battle on July 19, 1863. The 1,700 Confederates were met by 3,000 Union artillery, infantry and cavalry, plus navy gunboats. Of these Union forces were the 23rd Ohio, which included Col. Rutherford B. Hayes and 2nd Lt. William McKinley. 
We can deliver new meaning to the stories rooted in this soil. Just think of the many footsteps — some presidential — that fell upon these grounds!  Help us save history by visiting https://www.battlefields.org/save311. 
More Head-Tilting History