Rutherford B. Hayes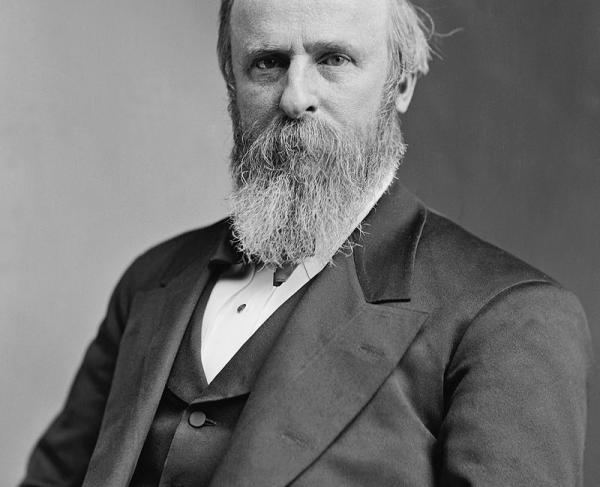 Title19th President of the United States
War & AffiliationCivil War / Union
Date of Birth - DeathOctober 4, 1822 - January 17, 1893
The legacy of President Rutherford B. Hayes remains disputed among historians. For while Hayes entered the White House during a time of discord and crisis, he laid the groundwork for positive changes and harmony in the country. He became president as the result of a corrupt compromise; however, Hayes is often credited with returning a sense of honesty and integrity back into the Presidency.
Rutherford Birchard Hayes was born in Ohio in 1822 to a single mother after his father had died 10 weeks prior. He graduated from Kenyon College in Ohio as valedictorian of his class before attending Harvard Law School. After graduating from law school in 1845, Hayes returned to Ohio to open a law office in Fremont before moving to Cincinnati. He married Lucy Webb, a Methodist, and abolitionist who practiced abstinence from alcohol. Hayes shared his wife's abolitionist views and he often legally defended escaped slaves who had come to Ohio in search of freedom.
During the Civil War, Hayes joined the Union army and served bravely, quickly rising in rank, eventually becoming brevetted Major General. Hayes was a Republican and was elected to serve Ohio in the House of Representatives in 1864. Although his Republican views were deemed more moderate, he often aligned himself with the Radical Republicans on the pressing issues of Black rights, voting to pass the Fourteenth and Fifteenth Amendments as well as the Reconstruction Acts. Following his term in the House, he served three terms as the Governor of Ohio. During his first two campaigns for governor, Hayes ran on a platform advocating for Black suffrage. Once elected, he ratified the Fifteenth Amendment in Ohio, granting voting rights to Blacks.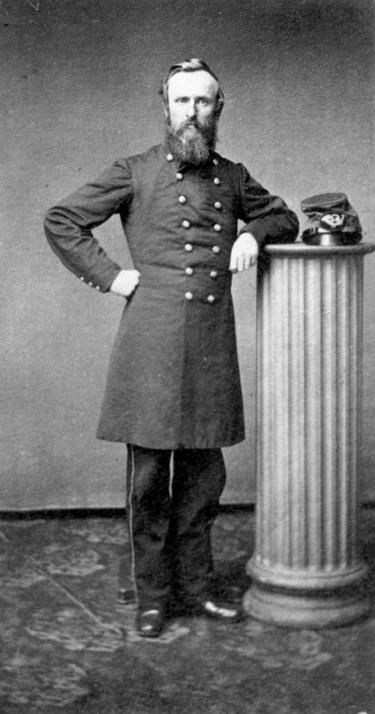 In 1876, the Republican National Convention settled on Rutherford B. Hayes as their nominee for President of the United States, running against the Democratic candidate, Samuel J. Tilden. The election of 1876 proved to be highly controversial and is remembered for its corruption. In the election, Democratic candidate Tilden won the popular vote, however, the electoral votes of Louisiana, South Carolina, and Florida were disputed, with both parties claiming them as their own. For months, the issue of these votes was argued, before being resolved in the Compromise of 1877. This compromise between the Republicans and the Democrats awarded the Presidency to Rutherford B. Hayes, contingent on the agreement that Hayes would remove the military troops from the South and allow for Democratic governments in Louisiana, South Carolina, and Florida. This compromise marked the end of the period of Reconstruction. Following his appointment to the Presidency by these controversial means, Hayes promised to limit his Presidency to one term. He took the oath of office in March 1877.
Throughout his term as President, Hayes sought to restore integrity to the government. His predecessor, Ulysses S. Grant had a presidency that was plagued by corruption and caused many citizens to distrust the government. Hayes and his wife Lucy maintained even a sober White House, prohibiting the serving of alcohol on the premises. Aiming for government-wide honesty and integrity, Hayes was an advocate of civil service reform. He believed in meritocracy, the idea that positions, especially in civil service and government, should be earned based on merit, rather than through connections or other means. He wanted to abolish the spoils system, a system by which friends, relatives, and supporters of the elected political party were appointed to civil service offices. He was met with great opposition from Congress on this matter, especially from New York Senator Roscoe Conkling and his supporters. Because the Democrats dominated Congress, they would not abolish the spoils system; however, Hayes issued an executive order that forbade civil officials from taking part in party politics. He then fired two officials who refused to accept the executive order, one of whom was future President Chester A. Arthur, a supporter of Roscoe Conkling. Hayes also fought to stop corruption in the postal service. Although he was unable to pass significant civil service reform legislation, his attempts served as the precedent for future reforms.
Hayes was also met with pushback from Congress on the subject of Black rights. He was an abolitionist and believed in rights for Blacks; however, because the Democrats held power both in Congress and in the South, his Presidential efforts for equality were to no avail as the rise of Jim Crow and racism grew rampant in the South. However, after he left office, Hayes continued to fight for Black rights and seek solutions for racial issues until his death.
Because his Presidency began in the wake of the Panic of 1873, a transatlantic depression that affected both North America and Europe, Hayes was confronted with economic and currency issues. He opposed inflation and favored the gold standard over paper money. Hayes, alongside Congress, passed laws that retired most paper money, and over time, created improvements in the economy. Hayes was also forced to deal with the Great Railroad Strike of 1877, when laborers began protesting and rioting in response to decreased wages after the Panic of 1873. After multiple state governors called for presidential intervention, he deployed troops in order to suppress the riots.
During Hayes' Presidency, he tried to find solutions for controversial foreign policies, including the congressional Chinese Exclusion Act. Recovering from the Panic of 1873, many American laborers, especially in California, blamed the unrestricted flow of Chinese immigrant laborers as the cause of their reduced wages. When anti-Chinese riots broke out in 1877, Congress passed the Chinese Exclusion Act, which would prohibit Chinese immigration and repeal previous compromises made with China regarding trade and immigration. However, President Hayes vetoed the act, instead authorizing new negotiations with China that would suspend new immigration but protect the rights of the immigrants already in the United States. Hayes was also embroiled in conflict after passing a policy that promoted American Indian assimilation into white culture and divided Indian land among individual households. While Hayes sought to give the American Indians control over their reservations, conflict arose when acculturation was enforced and when they were forced to move. After uprisings broke out among the American Indians, he sought to remedy all conflict and compromise with them. Another significant foreign policy that Hayes was involved in was in 1878, when he was the arbitrator of a territorial dispute between Paraguay and Argentina. He also worked with Porfirio Díaz, the President of Mexico, to resolve the problem of bandits fleeing between the border of the countries during the 1870s.
Keeping his promise and exercising his final act of integrity while in office, Hayes refused to seek reelection, and finished his presidential term in 1880. After returning home to Ohio, he was elected to the Military Order of the Loyal Legion of the United States. He served as both a member and later, as the national President of the League. Hayes was an advocate for education and pushed for legislation that would provide federal aid for education, although his efforts to appeal to Congress were unsuccessful. He was affiliated with the Slater Fund, a charity giving financial aid to Blacks, and encouraged Black students to apply to the charity for educational scholarships. Hayes also believed that the public should be made aware of governmental activity so as to remedy corruption within the government. He was an advocate for integrity and transparency until his death in 1893.
Further Reading: