American Battlefield Trust
Today, revered as the United States' highest award for military valor in action, the Medal of Honor began with a more modest vision. Iowa Senator James W. Grimes sought to present "medals of honor" to enlisted seaman and marines who "distinguish[ed] themselves by gallantry in action and other seamanlike qualities" during the Civil War. This led to the creation of the Navy's Medal of Honor in December 1861, followed by an Army version for "non-commissioned officers and privates as shall most distinguish themselves by their gallantry in action, and other soldier-like qualities" in July 1862. By March 1863, Army officers were also made eligible, but Naval and Marine Corps officers had to wait until 1915. The first Medals of Honor were presented by Secretary of War Edwin Stanton to a group of six soldiers on March 25, 1863 – a date that officially became National Medal of Honor Day in 1990.
However, qualifications for awarding the Medal of Honor have not been straight-forward from the get-go! For an in-depth explanation, you can read on here. It is also important to note that the post-Civil War creation of other awards, such as the Distinguished Service Cross, Navy Cross and Silver Star, enabled other options for commending military heroism. Of the Medal of Honor regulations that have been in frequent flux, the time limit for making a recommendation for the award is notable. In 1897, a new standard required the recommendation to be submitted within one year of the valorous action. As of now, recommendations for the medal should be made within three years of the action, BUT a Member of Congress can request consideration for the honor when not previously recommended in a timely manner. The longest look-back windows to date have been for both Cpl. Andrew Jackson Smith and 1st Lt. Alonzo Cushing – who fought for the Union in the American Civil War.
Through family and community efforts to recognize their acts of true heroism, Smith and Cushing posthumously received the Medal of Honor more than 100 years after their above-and-beyond actions at Honey Hill and Gettysburg, respectively.
Andrew Jackson Smith, Battle of Honey Hill (November 30, 1864)
The Last Black Civil War Soldier to be Awarded the Medal of Honor
Initially nominated for the Medal of Honor in 1916 by a white surgeon who served with him in the 55th Massachusetts, Andrew Jackson Smith was denied the honor in January 1917 after the War Department performed a meager two weeks of research. But Smith's daughter, Caruth Smith Washington, never forgot her father's legacy, which she shared with her nephew – Smith's grandson – Andrew Bowman.
After escaping slavery in Kentucky during the rise of the Civil War, Smith happened upon a military path – first as an unarmed body servant with the 41st Illinois at the Battle of Shiloh, where he was struck while trying to deliver a horse to the major he served. Upon healing – and President Lincoln's announcement of the preliminary emancipation proclamation – Smith was determined to travel to Boston to enlist in the 54th Massachusetts Volunteer Infantry Regiment, the first unit of Black soldiers to be raised in the North. While he didn't arrive in time for a place in the "Glory"-bound 54th, he joined up with its sister regiment, the 55th Massachusetts. And by the summer of 1864, Smith was in combat in South Carolina. But his bravery in battle met its peak during the November 30, 1864, Battle of Honey Hill:
"Forced into a narrow gorge crossing a swamp in the face of the enemy positions, the 55th's Color-Sergeant was killed by an exploding shell, and Corporal Smith took the Regimental Colors from his hand and carried them through heavy grape and canister fire. Although half of the officers and a third of the enlisted men engaged in the fight were killed or wounded, Corporal Smith continued to expose himself to the enemy fire by carrying the colors throughout the battle. Through his actions, the Regimental Colors of the 55th Infantry Regiment were not lost to the enemy."
These details – text from Smith's Medal of Honor citation – were largely pieced together through the efforts of his grandson, Andrew Bowman. Traveling to battlefields, museums, courthouses and historical societies, Bowman spent years gathering a slew of testimonies to prove Smith's heroics – including two 1865 orders from Smith's commanding officers commending and promoting him because of his bravery at Honey Hill. So, with a military historian's help, Smith was again nominated for the Medal of Honor, with U.S. Rep. Thomas W. Ewing (R-IL) reviving the effort in Washington. In 2000, Congress passed a bill that allowed Smith to be awarded the honor, removing the statutory time limit in certain cases. On January 16, 2001, President Bill Clinton posthumously presented Smith's Medal of Honor to Andrew Bowman and Caruth Smith Washington, stating "sometimes it takes this country a while, but we nearly always get it right in the end."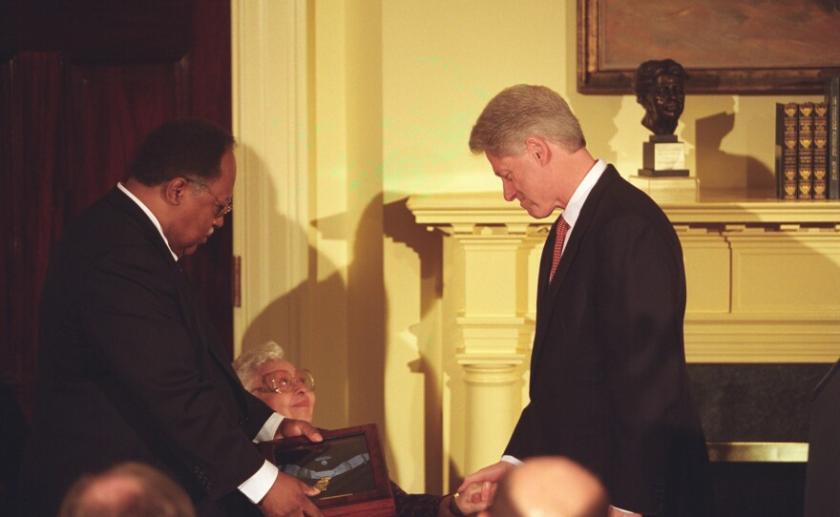 Today, you can see Smith's Medal of Honor on display at the Abraham Lincoln Presidential Library and Museum in Springfield, Ill. You can also find the 55th Massachusetts's regimental colors at the Concord Museum in Concord, Mass.
Alonzo Cushing, Battle of Gettysburg (July 3, 1863) 
The Last Civil War Soldier to be Awarded the Medal of Honor
In 1987, Margaret Zerwekh began a long journey to recognize the above-and-beyond valor of Alonzo Cushing during the famous Pickett's Charge at Gettysburg. Though not related by blood, Zerwekh was a historian from Cushing's hometown of Delafield, Wis., who became invested in his story after discovering that she was living on property once owned by the family. 
However, six years after his birth, Alonzo and family moved from Delafield, Wis., to Fredonia, N.Y. He graduated from West Point in 1861 and naturally entered into service for the Union, becoming a skilled artillery officer in the Army of the Potomac. Cushing saw action at First Manassas, Fredericksburg and Chancellorsville before his final battle at Gettysburg. On the third day of the battle, July 3, 1863, Cushing commanded 126 men and six cannons positioned on Cemetery Ridge.
"...First Lieutenant Cushing directed fire for his own artillery battery. He refused to leave the battlefield after being struck in the shoulder by a shell fragment. As he continued to direct fire, he was struck again, this time suffering grievous damage to his abdomen... he boldly stood tall in the face of Major General George E. Pickett's charge and continued to direct devastating fire into oncoming forces. As the Confederate Forces closed in, First Lieutenant Cushing was struck in the mouth by an enemy bullet and fell dead beside his gun. His gallant stand and fearless leadership inflicted severe casualties upon Confederate Forces and opened wide gaps in their lines, directly impacting the Union Forces' ability to repel Pickett's Charge."
Cushing was a mere 22 years old when he died on the field, supported by Sgt. Frederick Fuger who held him upright and relayed his orders during battle. Despite the passage of time, Zerwekh couldn't let Cushing's bravery go without recognition, and through a decades-long campaign appealing to local, state and federal officials – and even Hollywood – she finally got the attention of U.S. Sen. Russ Fiengold (D-WI). On November 6, 2014, President Obama posthumously presented Cushing's Medal of Honor to his cousin twice removed, Helen Loring Ensign. The above text is drawn directly from the citation for the honor.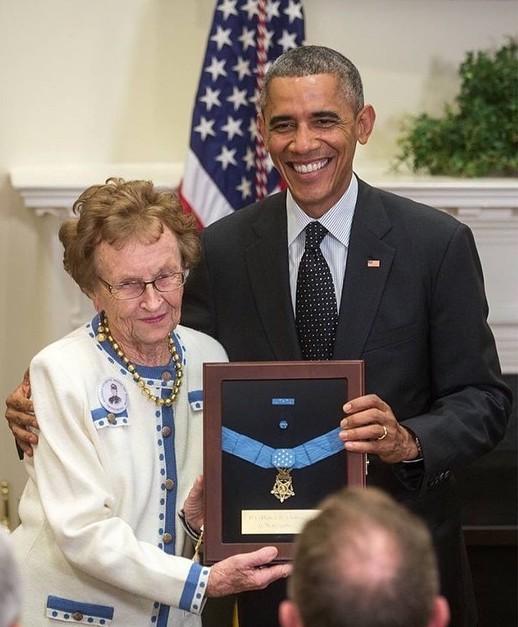 You can visit the National Civil War Museum in Harrisburg, Pa., to see the blood-splattered belt Cushing wore at Gettysburg. As an alternative, take a look at this video from the Trust highlighting the belt, and its journey back to the spot where its wearer fell. 
More Head-Tilting History