Keith Rocco
Saved: Three 1863 Battlefields
Chancellorsville. Champion Hill. Brandy Station. 156 years after this series of conflicts preceding the Battle of Gettysburg and the fall of Vicksburg, generous guardians of American history like you have preserved 74 hallowed acres at the sites of these three pivotal battles.
The Tracts
Trust supporters saved 4 acres hallowed in the Battle of Chancellorsville, Virginia. This tract witnessed Confederate General Thomas "Stonewall" Jackson's famous 12-mile flank attack, which caught Union General Joseph Hooker unawares and sent the Union right flank reeling into disarray. Military historians still talk about the daring feat 156 years later, but Jackson had precious little time to enjoy the success as he was mortally wounded that fateful May 2nd and died eight days later.
That same May of 1863, Union General Ulysses Grant was working diligently to take control of Vicksburg and with it the Mississippi River. His efforts came to a head at Champion Hill, Mississippi, on May 16th. Of the 68 acres preserved in this campaign, historian Terry Winschel has this to say: "Seldom has the opportunity to save such a large and significant portion of the core area of a battlefield been presented. The tract encompasses almost two-thirds of [Confederate General John C.] Pemberton's line of deployment and is from where the Confederate counterattack began. The area has changed little since that bloody day in 1863. Thus, its integrity is largely intact. What a remarkable acquisition this is! Great work!"
Back east less than a month later, General Hooker anticipated a raid by Confederate cavalry and ordered General Alfred Pleasonton to attack first. The Union's surprise advance at 4:30 a.m. on June 9th at Brandy Station in Virginia spurred the largest cavalry battle on the North American continent. Much of the fighting swirled around the two acres you saved in this campaign, often called the St. James Church tract for the small church that stood on the property at the time. Here's more detail from historian Clark "Bud" Hall.
The two-story church—made of red brick fired on-site by slave labor—stood 40 by 40 feet. Consecrated in 1842 as St. James Episcopal Church, by 1860, the congregation boasted 28 communicants, with 40 to 50 black and white souls attending weekly services. A cemetery was laid out and all races were interred therein, with the same lovely periwinkle covering the quiet ground.
But this tranquil scene drastically changed as the Civil War arrived, and St. James was soon to be the first Culpeper County house of worship to experience total destruction.  By the thousands, Blue and Gray combatants tramped and fought about St. James. On June 9, 1863, fighting raged in front of St. James as Jeb Stuart's legions beat back Federal charges. Several Rebel soldiers killed nearby rest today in St. James's burial ground.
The History
Want to learn more about the important history Trust supporters have secured?
Your Victory
74
ACRES TARGETED
Donation Match
$2.53-to-$1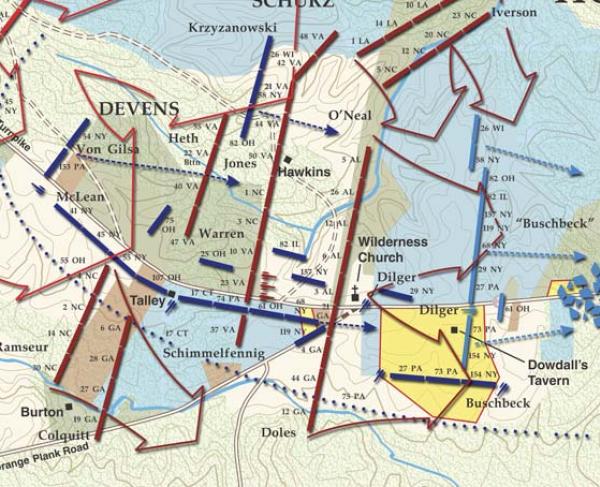 BATTLE MAP | American Battlefield Trust's maps of Jackson's Flank Attack at the Battle of Chancellorsville, Virginia on May 2, 1863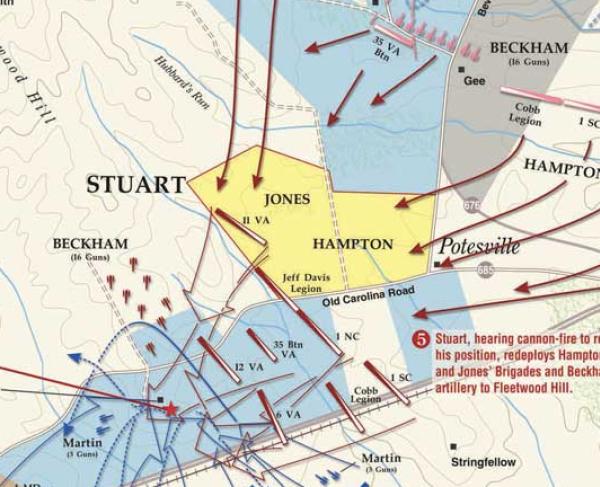 BATTLE MAP | American Battlefield Trust's map of the Battle of Brandy Station on June 9, 1863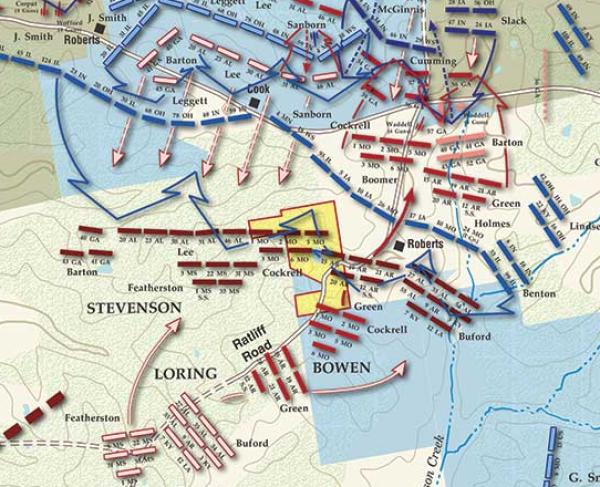 BATTLE MAP | American Battlefield Trust's map of the Battle of Champion Hill, Mississippi on May 16, 1863