Joseph Hooker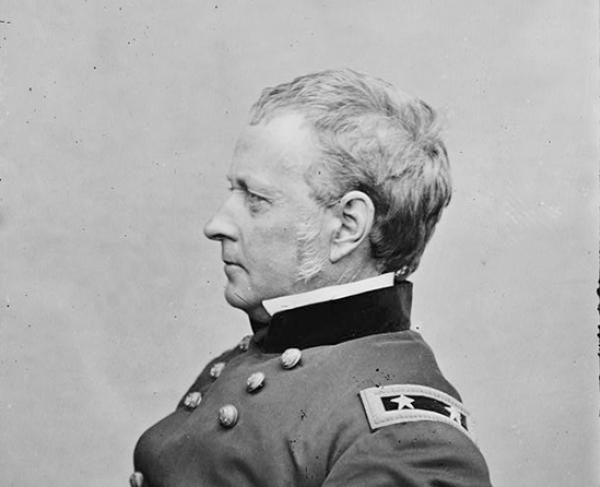 TitleMajor General
War & AffiliationCivil War / Union
Date of Birth - DeathNovember 13, 1814 – October 31, 1879
A career United States Army officer and Mexican-American War veteran, Hooker was appointed in 1861 as a brigadier general of the Union Army. Hooker began the war commanding a division of the Army of the Potomac around Washington DC under Major General George McClellan.
In 1862 Hooker commanded the 2nd Division of the III Corps in the Peninsula Campaign. During this time Hooker earned the reputation of an aggressive leader who cared for the welfare of his men.  Hooker led the First Corps at Antietam under McClellan where he was injured in the foot. When McClellan failed to pursue Lee's army after Antietam, Lincoln replaced "Little Mac" with Major General Ambrose Burnside.  Following a loss at Fredericksburg and a series of poor decisions Lincoln removed Burnside, promoting Hooker to the commander of the Army of the Potomac in early 1863.
As commander of the Army of the Potomac, Hooker improved conditions for the soldiers including food, medical care, and leave.  However, disagreements with his staff and commanders along with a loss to, Confederate commander, General Robert E. Lee at Chancellorsville, Virginia led to Hooker's resignation as the commander of the Army of the Potomac.
Hooker continued his career in the United States Army and in the summer of 1863 transferred with the XI and XII Corps to the Western Theater with the Army of the Cumberland.  Hooker enjoyed success at the Battle of Chattanooga and the Battle of Lookout Mountain.  He was also successful in the 1864 Atlanta Campaign under the command of General William Tecumseh Sherman. From October 1864 until the war's conclusion Hooker commanded the Northern Department from headquarters in Cincinnati, Ohio.
Mustered out of service in 1866, he retired from the Army in 1868, and is buried in Cincinnati, Ohio.