Federico Fernández Cavada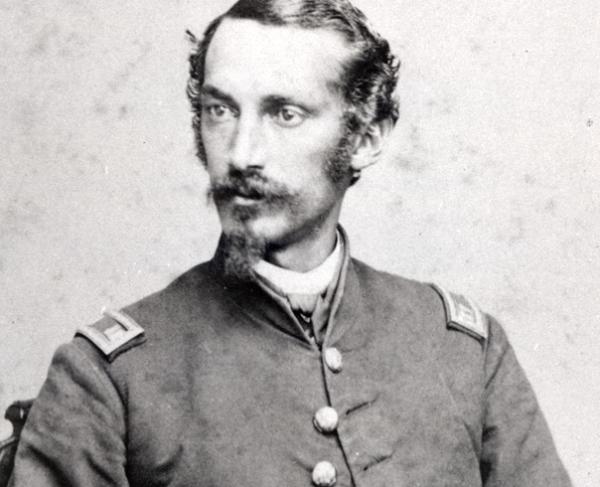 TitleLieutenant Colonel
War & AffiliationCivil War / Union
Date of Birth - DeathJuly 8, 1831 - July 1, 1871
Federico Fernández Cavada was born in Cienfuegos, Cuba on July 8, 1831 to Isidoro Fernández Cavada, a Spaniard, and Emily (Gatier) Cavada, a native of Philadelphia. When he, and brothers Emilio and Adolfo, were mere boys, their father passed, leaving their mother to seek a new life for her young family by returning to her hometown.
Fernández Cavada enlisted as a Captain in the 23rd Pennsylvania Infantry in August 1861, but rather than fight alongside his company men, he was detailed for duty as an engineer due to his knowledge of topography and talent as a sketch artist — skills that were refined by a surveying expedition to Panama prior to the war. His work would often coincide with the army's use of hydrogen balloons, which he would ride in to sketch Confederate positions during the Peninsula Campaign. He was with the 23rd Pennsylvania until July of 1862, when he resigned to accept a commission as Major in the 114th Infantry Regiment of Pennsylvania Volunteers.
While first mustered in as a Major in the 114th Pennsylvania in August 1862, he rose to Lieutenant Colonel the very next month. The regiment officially joined the Army of the Potomac after the Battle of Antietam and they didn't see fighting until December 1862, at Fredericksburg, Virginia. They partook in Gen. Ambrose Burnside's disastrous "Mud March" in late January 1863. By early May, they were in battle at Chancellorsville, Virginia. And when the 114th Pennsylvania entered into the fighting at Gettysburg, Pennsylvania on July 1st, Fernández Cavada was in command. However, his time in battle would be cut short when he was captured on July 2, 1863. He was placed in Richmond's notorious Libby Prison — and would remain there until January 1864. Fernández Cavada often spent his time in Libby writing about and illustrating the brutal prison experience, which was input in his 1864 book, titled "Libby Life: Experiences of a Prisoner of War in Richmond, Virginia, 1863-64."
Following his time in Libby, Fernández Cavada was emaciated but eventually returned to service, only to resign in June 1864. Passionate about his native Cuba, he was later appointed Consul for the United States at Trinidad, Cuba — a role he held until February 1869. He resigned to serve as General for the District of Trinidad alongside the Cuban revolutionaries in a conflict that became known as Cuba's Ten Years' War (1868 – 1878).  As the war progressed, he eventually became Commander-in-Chief of all Cuban forces. While Fernández Cavada and the unaided Cubans kept the Spanish at bay, they were ill-equipped to change the tides of war. In 1871, he was captured by the Spanish gunboat Neptuno, put on trial, found guilty, and executed. 
Preserve 15 Acres at Gettysburg – Willoughby's Run
The Opportunity The American Battlefield Trust is launching a multi-year campaign to save this essential — and highly threatened — "First Blood at...
Related Battles
Battle Facts
Stafford and Spotsylvania, VA | December 11, 1862
Result: Confederate Victory
Estimated Casualties
18,500
Battle Facts
Spotsylvania County, VA | April 30, 1863
Result: Confederate Victory
Estimated Casualties
30,764
Battle Facts
Adams County, PA | July 1, 1863
Result: Union Victory
Estimated Casualties
51,112