Adolfo Fernández Cavada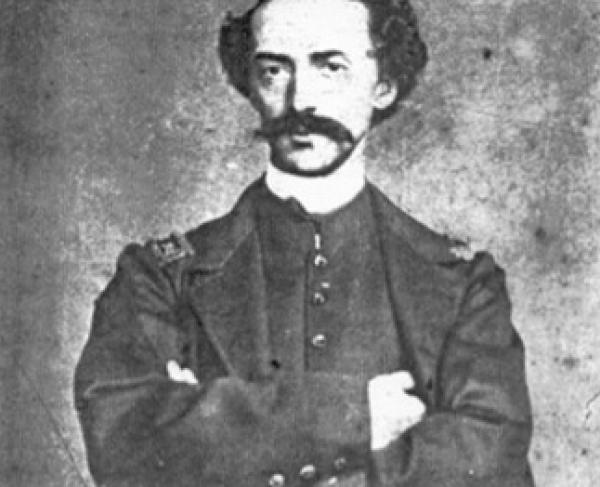 TitleLieutenant Colonel
War & AffiliationCivil War / Union
Date of Birth - DeathMay 17, 1832 - December 18, 1871
Adolfo Fernández Cavada was born in Cienfuegos, Cuba on May 17, 1832 to Spaniard Isidoro Fernández Cavada, and American Emily (Gatier) Cavada. He, and brothers Emilio and Federico, were young boys when their father died in 1838. Their widowed mother was left to take care of the young family and resolved to move them to her hometown of Philadelphia.
Raised in a city that embodied northern ideals, Fernández Cavada was swept away by the Union cause and followed in the footsteps of his brother, Federico. He joined the 23rd Pennsylvania Infantry in August of 1861, serving as a Captain in Company C. As part of this regiment, he would fight at Manassas, the Siege of Yorktown, Williamsburg, Seven Pines, Glendale, and Malvern Hill – all within Virginia in 1862.
Mustering out of the 23rd Pennsylvania Infantry on July 15, 1862, Fernández Cavada rose to the rank of Major and served as an aide to Gen. A. A. Humphreys. With the Army of the Potomac, he served at Fredericksburg in December 1862 and also at the renowned Gettysburg in July 1863. On March 13, 1865, he rose to the rank of Lieutenant Colonel.
Following the Civil War, he yet again mirrored the life of older brother, Federico, when he was appointed Consul of Cienfuegos in Cuba. Drawn to the cause of the Cuban revolutionaries, he joined in the conflict that came to be known as Cuba's Ten Years' War, and first served as Commander of the District of Cienfuegos. He went on to succeed Federico as Commander-in-Chief of the Cinco Villas. His fate truly seemed to be tied to that of his brother's, when he was killed months after Federico on December 18, 1871 near Santiago de Cuba.
Preserve 15 Acres at Gettysburg – Willoughby's Run
The Opportunity The American Battlefield Trust is launching a multi-year campaign to save this essential — and highly threatened — "First Blood at...
Related Battles
Battle Facts
York County and Williamsburg, VA | May 5, 1862
Result: Inconclusive
Estimated Casualties
3,843
Battle Facts
Henrico County, VA | June 30, 1862
Result: Inconclusive
Estimated Casualties
7,470
Battle Facts
Henrico County, VA | July 1, 1862
Result: Union Victory
Estimated Casualties
7,700
Battle Facts
Adams County, PA | July 1, 1863
Result: Union Victory
Estimated Casualties
51,112
Battle Facts
Henrico County, VA | May 31, 1862
Result: Inconclusive
Estimated Casualties
13,736
Battle Facts
Stafford and Spotsylvania, VA | December 11, 1862
Result: Confederate Victory
Estimated Casualties
18,500