News
American Battlefield Trust Ends Triumphant Year with Nearly 56,000 Acres Saved To Date
Charging into the new year, the leading battlefield preservation nonprofit is empowered by a slew of landmark victories and programs that emphasize America's fighting spirit
Mary Koik, (202) 367-1861 x7231
Colleen Cheslak-Poulton, (202) 367-1861 x7234
(Washington, D.C.) – As the calendar turned to 2023, the American Battlefield Trust paused to reflect on a year of much-anticipated preservation victories, record-setting digital engagement, industry-leading advocacy efforts and a collaborative commitment to producing innovative educational products and pathways that bring the past to life. In 2022, the organization recorded its 24th consecutive year saving more than 1,000 acres of hallowed ground, even as it fought to combat a rising tide of modern threats to historic landscapes.  
"The American story lives in the sites the American Battlefield Trust strives to save each and every day, and the public has responded with great vigor to our many projects," said Trust President David Duncan. "It's this vast support that enabled the organization to thrive in its 38th year, with remarkable accomplishments sprouting across the map." 
Working closely with landowners and preservation partners during 2022, the Trust completed 30 transactions at 23 battlefields in 11 states, amounting to more than 1,281 acres. This included projects at: Antietam, Md.; Bentonville, N.C.; Buffington Island, Ohio; Cedar Creek, Va.; Cedar Mountain, Va.; Champion Hill, Miss.; Chancellorsville, Va.; Chattanooga, Tenn.; Corinth, Miss.; Cumberland Church, Va.; Eutaw Springs, S.C.; Fort Ticonderoga, N.Y.; Franklin, Tenn.; Gettysburg, Pa.; Globe Tavern, Va.; Hobkirk Hill, S.C.; Manassas, Va.; Mill Springs, Ky.; Petersburg, Va.; Second Deep Bottom, Va.; Shepherdstown, W.Va.; Upperville, Va.; Wilderness, Va.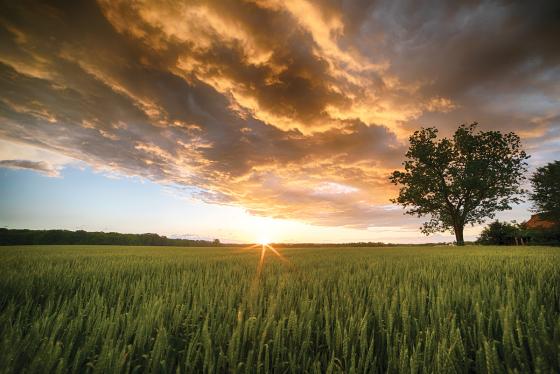 Representing the largest and most complex private battlefield preservation effort in the nation's history, the 16-year, $12-million fundraising campaign to save the Fredericksburg Battlefield's Slaughter Pen Farm concluded in May. With the 208-acre Slaughter Pen Farm now owned free-and-clear by preservationists, the Trust now turns toward further landscape restoration and interpretation opportunities there. As it completed this landmark land deal, the organization launched its first effort to save land in Ohio — at the Buffington Island Battlefield — setting the stage for the Trust to soon claim that its preservation footprint extends to half the states in the Union. 
Beyond land acquisition, public education is a critical part of the Trust's mission, whether in the form of classroom resources, on-site interpretation or, increasingly, digital content. The Trust has demonstrated its ability to tell stories gleaned from these historic landscapes through vast video production, which has attracted an impressive audience. In 2022 alone, our Youtube channel amassed more than 50 million views and attracted 172,000 new subscribers, making for a total of 350,000 followers on that social platform alone and generating impactful revenue to contribute to our mission. Bringing viewers to the battlefield, the Trust team set out to provide anniversary coverage at Gettysburg, Antietam and Fredericksburg, creating 40 videos that have since gathered more than 1.37 million views. Plus, its fruitful video swing to Georgia and Tennessee gave audiences a unique insight on the Civil War struggles that unfolded at Chattanooga, Chickamauga, Atlanta and many others along the way. While such videos delivered access to expert historians, our How We Became America: The Untold History series — which expanded by more than 50 videos in 2022 — utilized eye-catching animation and quippy dialogue to capture the attention of students and teachers while uncovering Revolutionary and Civil War topics. 
Exhibiting prolonged commitment to the power of place, the Trust unveiled a new initiative and on-site interpretation while also returning to its wide array of in-person events. In March, we launched the Medal of Honor Valor Trail™ alongside the Congressional Medal of Honor Society, to put a spotlight on the places most closely connected with Medal of Honor recipients, in person and online. Of these digital efforts, an innovative map debuted, allowing users to virtually follow in the footsteps of recipients by plotting more than 3,500 citation locations on a global map. Meanwhile, as visitors stepped foot on hallowed ground maintained by the Trust, they found new informative signage at more than seven locations. But some of the most immersive experiences brought to life by the Trust in 2022 were the ones that encouraged fellowship among its preservationist members, through our Donor Thank You Weekend in South Carolina to our Annual Conference in Northern Virginia and the Grand Review in Valley Forge, plus some 40 intimate Twilight Tours offered at 21 locations throughout the summer. 
Instilling an understanding of the nation's first 100 conflict-filled years within the future leaders of tomorrow, the Trust worked with classrooms in mind, providing resources to some 16 million students and teachers. While the organization's Virtual and In-person Teacher Institutes professionally developed some 900 educators from nearly every state plus five countries, the Traveling Trunk program journeyed to 78 schools in 35 states, engaging approximately 13,800 students. Enabling experiences in historic outdoor classrooms, both the Field Trip Fund and "Great Task" Youth Leadership program came roaring back to life. A partnership with Gettysburg National Military Park, with support from the Bowe Stewart Foundation, the "Great Task" offers leadership and character-building experiences by utilizing the military park for a variety of lessons. Student interest in the battlefield preservation movement continues to be elevated through the Youth Leadership Team, which is now on its fourth cohort of history-enthused teens, all driven to bring the topic of battlefield preservation and education to classmates, neighbors and local decisionmakers.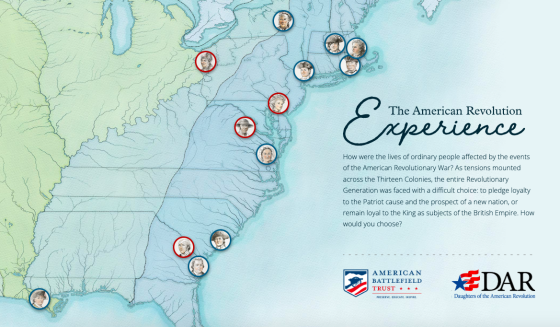 The past year saw the Trust dedicate itself to the American Revolution through a variety of preservation and education initiatives. In April, we made a public pledge to save 2,500 acres of Revolutionary War battlefields to mark the upcoming 250th anniversary of that conflict, and proceeded to make progress through fundraising campaigns, acquisitions and land transfers. Accelerating learning on the subject, we launched the American Revolution Experience — a new website that examines the lives of 13 men and women who witnessed the dawn of a new nation, created alongside our friends at the Daughters of the American Revolution (DAR). Additionally, our Liberty Trail mobile tour guide debuted in February, including interpretation for 30 Revolutionary period stops across South Carolina, ranging from national and state parks to once-secret spots. A PBS episode of Travels with Darley, hosted by six-time Emmy Award–nominated host and producer Darley Newman, highlighted many of The Liberty Trail's sites, resulting in a reach of seven million people on that network and more on streaming services.
Federal, state and local government officials who understand the value of history are also critical to the Trust's work. In June, members of the Board of Trustees and staff headed to Capitol Hill to advocate for continued funding for battlefield preservation and education, meeting with more than 90 Senators and Members of Congress to discuss the importance of our nation's hallowed grounds. Meanwhile, the Commonwealth of Virginia approved a new unit of the state park system, Culpeper Battlefields State Park, which will be formed through a 1,700-acre donation by the Trust, who has faithfully protected land on the Culpeper County battlefields of Brandy Station, Cedar Mountain, Kelly's Ford and Rappahannock Station. Despite these successes, the Trust also faced off against an overwhelming resurgence of threats to historic landscapes in the form of data centers, highway interchanges, solar facilities and more, with thousands answering our calls for support at Manassas, Culpeper, Wyse Fork, Wilson's Creek, Vicksburg and Gettysburg. The year's end came with the passage of the Omnibus Appropriations Bill, which provides full funding for key preservation programs and expands the authorized boundary of Missouri's Wilson's Creek National Battlefield to include the Newtonia Battlefield.  
The Trust's 2022 land preservation accomplishments were made possible by the assistance of numerous government and private partners, including: American Battlefield Protection Program; Battle of Franklin Trust; Buffington Island Preservation Foundation; Central Virginia Battlefields Trust; Commonwealth of Kentucky; Commonwealth of Pennsylvania's Community Conservation Partnerships Program; Commonwealth of Pennsylvania Historical Museum Commission; Commonwealth of Virginia; Fort Ticonderoga Association; Franklin's Charge; Friends of Cedar Mountain; Friends of Franklin Parks; Friends of Vicksburg National Military Park;  Gettysburg Foundation; HTR Foundation; Jefferson County Historic Landmarks Commission; Kershaw County, S.C.;  Manassas Battlefield Trust; Mill Springs Battlefield Association; Mississippi Department of Archives & History; National Park Service; North Carolina Department of Natural and Cultural Resources; Old Dominion Land Conservancy; Petersburg Battlefields Foundation; Save the Franklin Battlefield; Save Historic Antietam Foundation; Shepherdstown Battlefield Preservation Association; South Carolina American Revolution Sesquicentennial Commission; South Carolina Battleground Preservation Trust; South Carolina Conservation Bank; State of North Carolina; Tennessee Historical Commission; Virginia Land Conservation Foundation; Washington County, Md.; and West Virginia Outdoor Heritage Conservation Fund.    
The American Battlefield Trust is dedicated to preserving America's hallowed battlegrounds and educating the public about what happened there and why it matters today.  The nonprofit, nonpartisan organization has protected more than 55,000 acres associated with the Revolutionary War, War of 1812, and Civil War. Learn more at www.battlefields.org. 
###