News
Governor Youngkin Authorizes New Virginia State Park Commemorating Culpeper County Battlefields
Adoption of state budget clears the way for American Battlefield Trust to donate 1,700-acres to the Commonwealth, creating a turn-key state park set to open July 1, 2024
Jim Campi, (202) 367-1861 x7231
Mary Koik, (202) 367-1861 x7205
(Culpeper, Va.) — Among many outcomes created by finalization of a two-year, compromise budget for the Commonwealth of Virginia is a new unit of the state park system, slated to open on July 1, 2024. Culpeper Battlefields State Park will be formed through a 1,700-acre donation by the American Battlefield Trust, a national nonprofit preservation organization that has been protecting land on the Culpeper County battlefields of Brandy Station, Cedar Mountain, Kelly's Ford and Rappahannock Station for decades. In celebrating the milestone, Trust President David Duncan issued the following statement: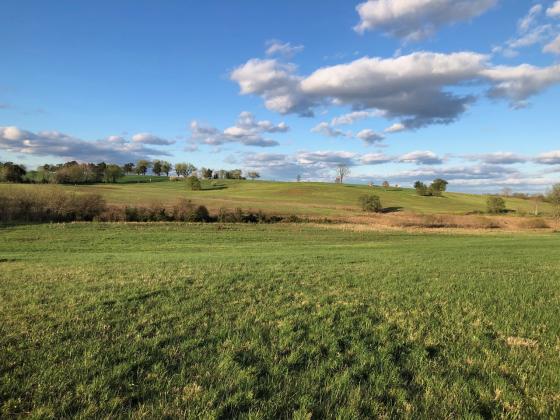 "At the American Battlefield Trust, we are fond of saying that 'we build parks and tell stories,' some of the greatest stories in American history. In this instance, we mean it especially literally — the creation of this new state park is the culmination of hard work across long years. First, the preservation of this land, both safeguarding it from threats of inappropriate development and then its outright purchase. But also, significant effort to demonstrate that this new park will be a meaningful addition to Virginia's landscape in terms of recreation opportunities and economic potential via heritage tourism.
"We are deeply indebted to a number of insightful lawmakers who embraced our vision and helped bring it to reality. Foremost, Gov. Glenn Youngkin, whose signature has brought this journey to its happy conclusion. But also Senators Bryce Reeves and Chap Petersen, as well as Chairman Barry Knight, plus Senator Emmett Hanger, Delegate Michael Webert, Delegate Robert Bloxom Jr., Delegate Alfonso Lopez, Senator David Marsden, Delegate Daniel Marshall and Senior Advisor to the Governor Andrew Wheeler.
The Trust looks forward to working with the Youngkin administration and relevant agencies to craft a plan that will efficiently and effectively transfer our holdings to the state and create the necessary infrastructure for a successful park unit. We can't wait to see all those eager to experience a historic, scenic and engaging landscape flock to the Piedmont to enjoy Culpeper Battlefields State Park." 
The American Battlefield Trust is dedicated to preserving America's hallowed battlegrounds and educating the public about what happened there and why it matters today. The nonprofit, nonpartisan organization has protected more than 55,000 acres associated with the Revolutionary War, War of 1812 and Civil War. Learn more at www.battlefields.org. 
###