News
American Battlefield Trust Celebrates Passage of Federal Legislation With Multiple Benefits for Preservation
Omnibus Appropriations Bill provides full funding for key preservation programs, expands authorized boundary of Missouri's Wilson's Creek National Battlefield
Mary Koik, (202) 367-1861 x7231
(Washington, D.C.) — The American Battlefield Trust celebrated the passage of the Omnibus Appropriations Bill this week, which includes several key provisions that will ensure America's historic battlefields are preserved for generations to come. The legislation now moves to President Biden's desk for his signature.  
"We appreciate the support from Congress as we continue to save these hallowed grounds and ensure the stories from the formative years of America's history are told," said David Duncan, President of the American Battlefield Trust.  
The bill included, for the third year in a row, full funding at $20 million for the American Battlefield Protection Program, providing matching grants to preserve endangered battlefield land, as well as restore and interpret these important sites. The bill also included $2.5 million to the National Park Service to allow for the acquisition of battlefield land within park service boundaries. It also included language expanding the boundary of Wilson's Creek National Battlefield in Missouri to include portions of the Newtonia Battlefield, the site of two key engagements that decided the state's outcome in the Civil War.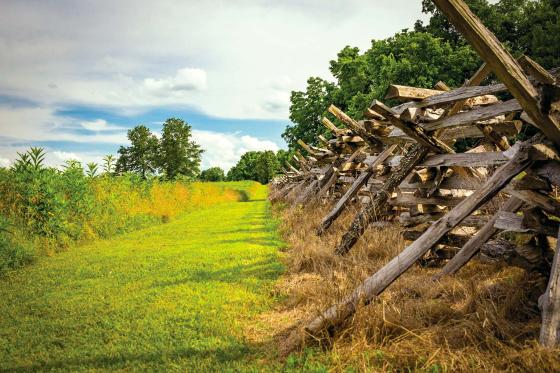 "As Senator Roy Blunt and Congressman Billy Long, two stalwart champions of historic battlefield preservation, are both retiring this year, we are very happy to see this important legislation that they championed cross the finish line. Bringing this important battlefield land into the National Park Service's orbit is a meaningful and lasting legacy for two outstanding legislators," said Duncan.  
The Trust thanks Representatives Dave Joyce (R-Ohio) and Chellie Pingree (D-Maine) for their leadership on the House Interior Appropriations Committee and Senators Jeff Merkley (D-OR) and Lisa Murkowski (R-AK) on the Senate Interior Appropriations Committee. Additionally, the Trust appreciates the leadership of Senators Tim Kaine and Mark Warner (D-VA) and Representatives Elise Stefanik (R-NY) and Bobby Scott (D-VA), as well as the late Congressman Donald McEachin (D-VA). These historic legislative achievements would not have been possible without the continued support of these members in particular. 
The American Battlefield Trust is dedicated to preserving America's hallowed battlegrounds and educating the public about what happened there and why it matters today. The nonprofit, nonpartisan organization has protected more than 55,000 acres associated with the Revolutionary War, War of 1812 and Civil War. Learn more at www.battlefields.org.  
###