Henry Lee III
Henry "Light-Horse Harry" Lee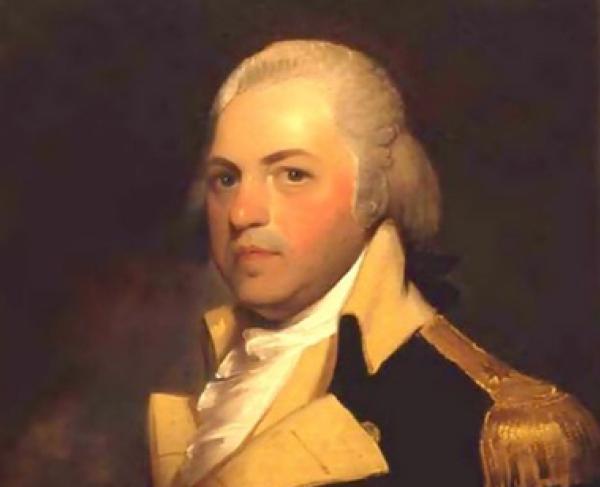 TitleCavalry Commander, General
War & AffiliationRevolutionary War / Patriot
Date of Birth - DeathJanuary 29, 1756 - March 25, 1818
Henry Lee III or, as he was referred to after the American Revolution, "Light-Horse" Harry Lee, was one of George Washington's most tenacious cavalry commanders. Lee was best known for his cavalry raids and outfitting his own "Legion" during the war. Being the father of Civil War General Robert E. Lee has overshadowed many of his other personal achievements. Lee at times was impetuous and was an aggressive fighter. His loyalty to the American cause and George Washington made him a popular figure after the war. Additionally, his personal memoirs, written after the war to extricate him from his problem with debt, provide a comprehensive and sometimes altered view of the events of the Southern Campaigns.
Lee was born into the Virginia gentry of the Lee family on January 29, 1756, at Leesylvania, located in Prince William County, Virginia. Lee's father, Henry Lee II, served in the Virginia House of Burgesses and was involved in the local militia and courts. Leesylvania was only a few miles south of Mount Vernon and the Lees and Washingtons were close friends. At a young age, Harry learned to ride and became an experienced horseman. He recalled dinners with George Washington and Charles Lee (not related) in his adolescence making positive impressions on both men. Unlike many other Virginians who went to Europe for education, Lee attended the College of New Jersey (Princeton). Here he interacted with other future leaders such as James Madison, Charles Lee (his brother) and others. Graduating in 1773 to pursue a legal career, Lee returned to New Jersey but this time as a cavalry commander in the American army.
The following June, Lee's father and other local leaders signed the Prince William Resolves, calling for a ban on importation of British goods and to support the Massachusetts colony. It was clear where the family allegiances lay in the coming conflict with Great Britain. The American Revolution broke out in April 1775, but Lee did not officially join a military unit until June 1776, when Governor Patrick Henry commissioned Lee a captain in the Virginia Light Horse. He would lead the 5th Troop serving under his cousin, Colonel Theodorick Bland. Lee with his other dragoons trained in Williamsburg and awaited orders.
By December, Washington was looking for cavalry for his army. He wrote, "I am convinced there is no carrying on the War without them (cavalry), and I would therefore recommend the Establishment of one or more Corps…in addition to those already raised in Virginia." Shortly after, Bland's regiment, including Lee's Troop were commissioned into Continental service as the First Regiment of Light Dragoons. Lee arrived in Philadelphia with his dragoons in January 1777 and began serving Washington by scouting, foraging for supplies, gathering intelligence, and raiding enemy supply routes. Lee began to attract attention from his other officers and his close relationship with Washington was seen as an advantage for him. Throughout his service, Lee quarreled with several other officers and held strong opinions of those who disagreed with him (he faced two court-martials during the war).
Lee's skill as a cavalry commander became more apparent as his men performed admirably in the tasks they were given - so much so that the condition of their horses took a toll from the constant work. During this time, one of Lee's most daring moments took place. On the evening of January 19, 1778 (a date that, 29 years later saw the birth of his son, Robert Edward Lee), Lee set up his headquarters for the night in an abandoned tavern called the Spread Eagle Tavern. Lee had begun to draw the ire of many British officers for his raids on British troops and was the target of capture. When British Dragoons learned of Lee's location, they planned a quick strike to capture Lee. On the morning of January 20, Lee and eight others were in the tavern. The British were able to either capture or brush aside Lee's pickets, allowing them to trap the others in the tavern as they called for Lee's surrender. Lee refused and the eight others manned the doors and windows, keeping up such a heavy fire that the British cavalry finally gave up and left. The story soon spread through the army and Lee's legend grew.
Lee lobbied Washington and his friends in Congress to allow him to form his own "legion," a mixed force of dragoons and foot soldiers. Finally, in April 1778, Lee's wish was granted, and "Lee's Legion" was born. In July 1779, Lee assisted in gathering intelligence and joined in General Anthony Wayne's assault and capture of the British post along the Hudson River at Stony Point, New York. However, Lee was left out of the after-action reports and was given little praise for his role. Lee took this as a personal slight. A month later, Lee led a similar assault on the British post of Paulus Hook, NJ. In a similar fashion to Stony Point, a quick raid of cavalry and infantry led to a small American victory. Nearly 160 British soldiers were captured and 50 were killed or wounded. Though Lee was awarded a gold medal by Congress for his actions, several of his fellow officers placed charges against Lee for eight various offenses. Though Lee was exonerated on all charges, his sensitive nature led to his anger and distrust toward other officers in the army.
In 1780, Lee was promoted to Lieutenant Colonel and his legion was ordered south to join Nathaniel Greene's Southern Army. British General Lord Cornwallis was entering North Carolina and Greene needed help combating British commands such as Banastre Tarleton's British Legion. Lee's ability to use his Legion as a partisan group created symmetry with other southern militia, such as Francis Marion and Andrew Pickens. Raiding British and Loyalist outposts, Lee was also able to provide intelligence for Greene's army as he maneuvered around Lord Cornwallis in the Carolinas.
Lee was widely criticized because of his harsh treatment of his own men, deserters, and the enemy. Lee was well-known as a hard disciplinarian and expected all his men to follow every order without complaint. One controversial case occurred after he captured several deserters during the Stony Point raid in 1778. Lee ordered one of the men to be executed and decapitated. He publicly displayed the decapitated head as way to warn future deserters. This angered Washington and drew a rebuke from the commanding general. Another dark mark on his career took place on February 24, 1781.
Lee wanted to confront and destroy the British Legion under Tarleton. Working with American partisan Andrew Pickens, Lee began to track Tarleton and his men in northern North Carolina. Instead of coming upon Tarleton, Lee and Pickens came across another Loyalist militia unit of about 400 men under John Pyle who was hoping to connect with Tarleton. When Lee's men caught up to Pyle, the British mistook Lee's Legion for Tarleton and his men. In an element of surprise and brutality, Lee marched his men up next to Pyle's column and ambushed them. Some claim that Pickens men started the fight, but what happened was a bloody massacre with 93 Loyalists killed and 250 wounded. Lee's legion suffered just one casualty. Later, there were many claims that the Americans gave no quarter to Pyle's men. Lee was highly criticized for the action, but it had a significant impact on keeping other Loyalists from joining Cornwallis' army.  
A few weeks later, Lee played a significant role in the Battle of Guilford Courthouse fighting on the left flank of the Continental line, and continued to assist Greene in shielding the British and gathering intelligence and supplies. Lee was at his best serving as a partisan and provided great work in capturing British outposts across the south at Augusta, Fort Watson, Fort Motte, Fort Granby, and others.  Lee participated along with Greene in the siege of the British outpost Ninety-Six in May and June 1781. The Americans outnumbered the Loyalists in the outpost but were not able to capture the post before reinforcements arrived under Lord Rawdon.
After Rawdon relieved Ninety-Six, he eventually marched his army eastward towards Charleston. Greene was determined to attack and destroy the last major British army in South Carolina. On September 8, 1781, Greene launched an assault on the British at Eutaw Springs. The British, under Colonel Alexander Stewart, were initially surprised by Greene's army and lost 400 men captured. However, Stewart was able to form battle lines and fought Greene's larger force for a few hours until the British were slowly forced back through their camps. A local home, "Brick House" became a rallying point for Stewart's redcoats with some men using the house as a makeshift fort. Lee and his Legion were ordered to assault the new British left in hopes of rolling up the line. Lee's assaults were unsuccessful and the American assault along the whole line stalled. Soon a British counterattack forced Greene's army from the field. Both sides claimed victory with Stewart holding the field and Greene inflicting heavy casualties. Stewart soon marched his men to Charleston, ending the major fighting in South Carolina. Though Lee's men fought hard, Eutaw Springs created a rift between Greene and Lee. Some in the American army blamed Lee's men for not rolling up the British left flank. Lee was unhappy with Greene's after-battle report not giving appropriate credit for the fighting his men did. Greene also noted that Lee's cavalry was "baffled in an attempt on the right." Not the most glowing language describing Lee's efforts. As before, Lee took offense too quickly and shared his feelings with Greene. This back and forth between the men led to the end of their friendship.
Lee was able to make it to Yorktown in time for the British surrender, but Lee claimed he was worn out and resigned his commission from the army soon after. Many believe his many quarrels with other officers and what he perceived as a lack of respect led to his resignation. Lee's temperament was probably his biggest flaw. After the war, he dabbled in many business ventures that led to his eventual bankruptcy. He was elected Governor of Virginia and to a term in Congress. His natural profession, military arms, eluded him except for a brief period when he led militia forces in 1794 to put down the Whiskey Rebellion. His rashness and irresponsible use of money caused many to avoid him. In 1782, he married Anne Hill Carter, of the wealthy Carter family of Shirley. One of his proudest moments came when he gave George Washington's eulogy to Congress, where he said famously "First in war, first in peace, and first in the hearts of his countrymen." By 1812, Lee, a staunch Federalist, became more of an outcast due to his political views. That year in Baltimore, he was badly beaten by an anti-Federalist mob. He never fully recovered from his wounds and died in 1818.
Related Battles
Battle Facts
Stony Point, NY | July 16, 1779
Result: American Victory
Battle Facts
Eutawville, SC | September 8, 1781
Result: British Victory
Estimated Casualties
1,461
Battle Facts
Greensboro, NC | March 15, 1781
Result: British Victory
Estimated Casualties
1,842