Andrzej Tadeusz Bonawentura Kosciuszko
The Polish Hero of the American Revolution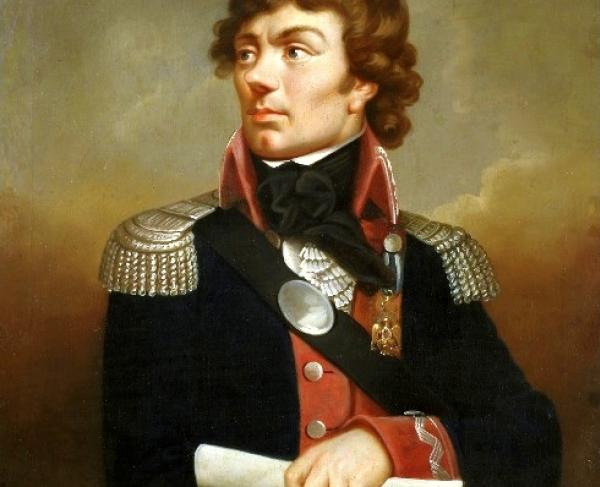 TitleEngineer/Brevet Brigadier General
War & AffiliationRevolutionary War / Patriot
Date of Birth - DeathFebruary 4, 1746 - October 15, 1817
Andrzej Tadeusz Bonawentura Kościuszko was born on February 4, 1746, in Mereczowszczyna, Polish-Lithuanian Commonwealth, which is in present day Belarus. Kościuszko was the youngest son of a noble family who owned ample land in the Grand Duchy of the Polish-Lithuanian Commonwealth. In 1755, Kościuszko attended school, but could not finish due to his father's unexpected death which left Kościuszko and his family in financial ruin. In 1765, Kościuszko enrolled in a Corps of Cadets at what is now Warsaw University. After graduating from the program in 1766, Kościuszko was promoted to lieutenant and was a student instructor. By 1768, Kościuszko was promoted to captain.
In 1768, a civil war broke out in the Polish-Lithuanian Commonwealth, and Kościuszko left his home with colleague Aleksander Orlowski for Paris, France. In Paris, Kościuszko was unable to attend military academy due to citizenship restrictions, and so Kościuszko and his colleague Orlowski enrolled in the Royal Academy of Painting and Sculpture. Kościuszko's time in the Royal Academy allowed him to pursue his interests in drawing, painting, and architecture. Kościuszko even took private lessons from Jean-Rondolphe Perronet, the famed architect who conceptualized the Pont de la Concorde Bridge in Paris. Kościuszko frequented the military libraries of Paris, and he learned of The Enlightenment movement that swept through Western Europe. In 1775, Kościuszko learned of the American Revolution and personally related to the Patriot cause. He attempted to join the Saxony Army in 1775 but was turned down. After learning of French support of the war, in June of 1776, Kościuszko ventured to the American colonies to help support the Revolutionary War. Upon his arrival on August 30, 1776, Kościuszko enlisted in the Continental Army.
Kościuszko initially served as a volunteer with Benjamin Franklin, but in October 1776, he was reassigned as a colonel of engineers. In 1777, Kościuszko was assigned to Major General Horatio Gates and was posted at Fort Ticonderoga. After making an initial survey of Fort Ticonderoga, Kościuszko suggested to General Gates to build a battery on Sugar Loaf, an area above Fort Ticonderoga that overlooked the fort. While Kościuszko's colleagues agreed that they should build the battery, Major General Arthur St. Clair did not agree and ultimately did not allow him to build the fort on Sugar Loaf. In July of 1777, when the British besieged Fort Ticonderoga, the British used the exact position that Kościuszko wanted to defend against the Continental Army, resulting in the Continental Army's loss of Fort Ticonderoga. Later that fall, he designed the defenses at Saratoga which contributed to the Continental victory. In March of 1778, Kościuszko helped develop the defenses surrounding West Point, New York, for two years. In 1780, General George Washington took note of the impressive fortifications and asked Kościuszko to serve in frontline combat in the Southern theater of the war. Kościuszko accepted the appointment and was transferred once again into Horatio Gates' command.
In October of 1780, Kościuszko met with Horatio Gates once again upon his arrival in the Southern Department. However, on December 3, 1780, command of the Southern Department was transferred to Major General Nathanael Greene. Greene allowed Kościuszko to retain his rank as chief of engineers and was put to work quickly in the Southern Department. In January and February of 1781, Kościuszko's skills as an engineer were put to the test. Called the Race to the Dan, General Greene's army was chased by Charles Cornwallis' army across North Carolina and Virginia. Kościuszko was tasked by Greene to build small boats called bateaux, as well as scout potential rivers to cross, and develop fortifications. During the Race to the Dan, Kościuszko's expertise and implementation of bateaux and scouting of river crossings allowed the Continental Army to escape Cornwallis via the Dan River between North Carolina and Virginia. Kościuszko also helped Greene in choosing where to engage the British at Guilford Courthouse on March 15, 1781. Following the Battle of Guilford Courthouse, Kościuszko was instrumental in logistically supporting Greene's reconquest of South Carolina. He fought at the Second Battle of Camden, as well as helped siege the Star Fort at the Siege of Ninety-Six.
Following the surrender at Yorktown, Kościuszko remained in the newly formed nation for two years. Kościuszko actively participated in operations near Charleston, South Carolina, and led intelligence reporting efforts after the death of John Laurens. Kościuszko also led two cavalry units and one infantry unit at James Island, South Carolina, the last Continental Army engagement of the Revolutionary War. On July 15, 1784, after finally being paid for his service in the Revolutionary War, Kościuszko returned to Poland to his family who were in financial distress.
Kościuszko arrived in Poland on August 26, 1784, and learned that his brother Jozef had lost a large portion of their family's land through poor investments. Kościuszko began befriending political reformers in Warsaw and involved himself in Polish politics. With Kościuszko's help, Poland adopted a new constitution. Russia saw the adoption of a new constitution as a threat to Russia, and on May 18, 1792, a Russian army consisting of 100,000 Russians moved to invade Poland. Kościuszko was called on by the Polish government to help repel the Russian army, and Kościuszko accepted the offer. Kościuszko was given command of Polish soldiers stationed near Kiev. Kościuszko fought and successfully repelled Russian forces at the Battles of Zielence and Dubienka. Despite Kościuszko's few soldiers, the tactical expertise that he learned from General Nathanael Greene in South Carolina helped prepare him to fight an enemy that vastly outnumbered him. Following his victory at the Battle of Dubienka, he was promoted to lieutenant-general, as well as offered the Order of the White Eagle, one of the Polish military's highest honors. Kościuszko declined the Order of the White Eagle, as it was an award from a monarchy. On August 26, 1792, Kościuszko was given honorary citizenship of France by the revolutionary French government. Kościuszko, after the Polish monarchy decided to end the war, retired to Warsaw.
On March 23, 1794, Kościuszko led a revolution to liberate Poland from the Russian and Prussian empires. Aptly named The Kościuszko Uprising, Kościuszko organized an army of 6,000 Poles and marched on Warsaw to demand action. Kościuszko fought and won at the Battle of Raclawice. In late June of 1794, Kościuszko defended Warsaw for several weeks. On October 10, 1794, Kościuszko was wounded, captured, and imprisoned. On November 4, 1794, the uprising came to a conclusion as Russian soldiers opened fire and massacred 20,000 Polish civilians and insurgents.
For the next two years, Kościuszko remained imprisoned. On November 17, 1796, after the death of Tsaritsa Catherine the Great, Tsar Paul I pardoned Kościuszko. Paul I gifted Kościuszko 12,000 rubles and made Kościuszko swear to an oath of loyalty. Soon after on June 17, 1797, Kościuszko left Poland for the United States. He arrived in Philadelphia on August 18, 1797. Kościuszko was welcomed by the people of Philadelphia with open arms. However, his stay in the United States was not long. Kościuszko received multiple letters from his sister who sent Kościuszko's nephews to fight in Napoleon Bonaparte's army. Kościuszko also received letters from French Foreign Minister Charles Talleyrand who called on him for support to rally the Polish people to fight against Prussia. Kościuszko consulted with Vice-President Thomas Jefferson, who arranged for him a false passport and identity, as well as a discreet departure from the United States. Kościuszko wrote Jefferson into his will as his executor and became close friends. In Kościuszko's will, he wanted his home in the United States to be sold to buy the freedom of Jefferson's slaves and provide them with an education.
Kościuszko then returned to Europe one final time. He arrived in France on June 28, 1798. Talleyrand, however, no longer needed Kościuszko, and Kościuszko became politically active in France. In October and November of 1799, Kościuszko met with Napoleon Bonaparte to reach an agreement between France and Poland. After two separate meetings, the two were unable to reach an agreement. Napoleon believed that Kościuszko thought too great of himself and his influence in Poland and referred to Kościuszko as a fool. Kościuszko, likewise, called Napoleon, "the undertaker of the [French] Republic." After the end of Napoleon's reign, Kościuszko met with Tsar Alexander I and talked about the creation of a Russian-allied Polish state. Kościuszko required Alexander I to initiate reforms and return territory to Poland. After learning that Alexander I planned to make Poland even smaller than it already was, Kościuszko refused to meet with Alexander I. On April 2, 1817, Kościuszko returned to his family's old land in Poland and emancipated his serfs. Alexander I caught word of their emancipation and disapproved of Kościuszko's actions. After months of suffering from poor health, Kościuszko suffered a fall from his horse. After being taken to a home in Solothurn, Switzerland, Andrzej Tadeusz Bonawentura Kościuszko passed away at the age of 71 after suffering a stroke as a result of his injuries.
A revolutionary figure of Poland, the United States, France, Belarus, and Lithuania, Andrzej Kościuszko led a life of revolutionary ideals. In the United States, Kościuszko helped create a new nation founded on the principles of life, liberty, and the pursuit of happiness. In his homeland of Poland, Kościuszko wanted to bring those ideals to his homeland, but ultimately was unsuccessful. Today, Kościuszko is dedicated throughout the United States in Boston, West Point, Chicago, Cleveland, Milwaukee, Philadelphia, and Washington, D.C.. Thomas Jefferson wrote of him, "He is as pure a son of liberty as I have ever known." 
Related Battles
Battle Facts
New York | September 19, 1777
Result: American Victory
Estimated Casualties
1,465
Battle Facts
Georgia | September 16, 1779
Result: British Victory
Estimated Casualties
1,103
Battle Facts
North Carolina | March 15, 1781
Result: British Victory
Estimated Casualties
1,842
Battle Facts
South Carolina | May 22, 1781
Result: British Victory