John Echols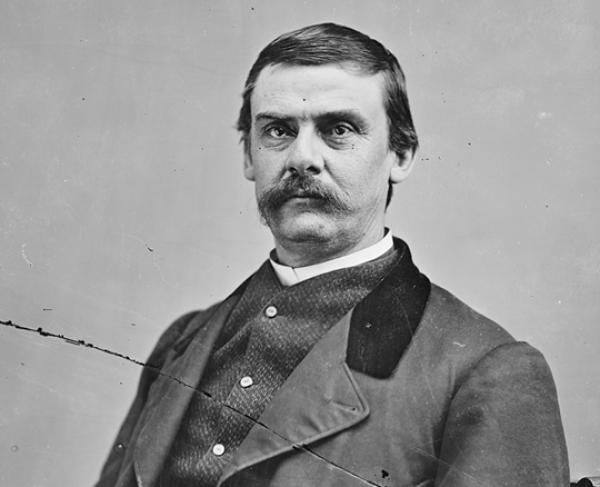 TitleBrigadier General, CSA
War & AffiliationCivil War / Confederate
Date of Birth - DeathMarch 20, 1823 - May 24, 1896
John Echols was born in Lynchburg, Virginia, on March 20, 1823. Like many other future Confederate officers, he attended Virginia Military Institute for a brief time. He then graduated from Washington College (now Washington and Lee University) and Harvard Law School. Afterward, he moved to Union, in what is now West Virginia, to open a law practice, which he operated until the secession crisis of 1861.
Echols represented Monroe Country at the Virginia Secession Convention and voted in favor of leaving the Union. A majority of delegates agreed with him, and so Virginia seceded. Immediately after, he returned to Western Virginia to raise a military company, which became the 27th Virginia Infantry. He became the regiment's lieutenant colonel, and it became part of the famed Stonewall Brigade, which earned its distinctive name at First Bull Run. Echols then took part in General Thomas J. "Stonewall" Jackson's Shenandoah Valley campaign, where he was wounded at Kernstown. Jackson himself commended Echols and his men, calling their actions "noble." Echols was promoted to brigadier general in April.
In the summer of 1863, Echols served on a court of inquiry investigating the fall of Vicksburg in early July. He was subsequently sent to the Kanawha Valley in another Confederate attempt to gain control of the region. However, all hopes of controlling West Virginia were vanquished when Echols and about 1,700 Confederates were defeated by General William W. Averell on the slopes of Droop Mountain.
In May 1864, Echols commanded the Confederate right wing at New Market and served under General Robert E. Lee at Cold Harbor. In August of that year, he was assigned to the Department of Southwestern Virginia. Then, he replaced General Jubal A. Early as commander of the Department of Western Virginia after the former's repeated defeats by General Phil Sheridan. He was on his way to assume the post when Lee surrendered at Appomattox Court House. Not wanting to surrender, Echols fled to General Joseph E. Johnston in North Carolina; when Johnston surrendered on April 26, 1865, he accompanied Confederate President Jefferson Davis on his flight from Richmond, and was finally caught at Augusta, Georgia.
After the war, he became the founding director of the Chesapeake and Ohio Railroad. He moved to Staunton, where he died in 1896.
Related Battles
Battle Facts
Fairfax County and Prince William County, VA | July 21, 1861
Result: Confederate Victory
Estimated Casualties
4,878
Battle Facts
Frederick County, VA | March 23, 1862
Result: Union Victory
Estimated Casualties
1,308
Battle Facts
Pocahontas, WV | November 6, 1863
Result: Union Victory