William W. Averell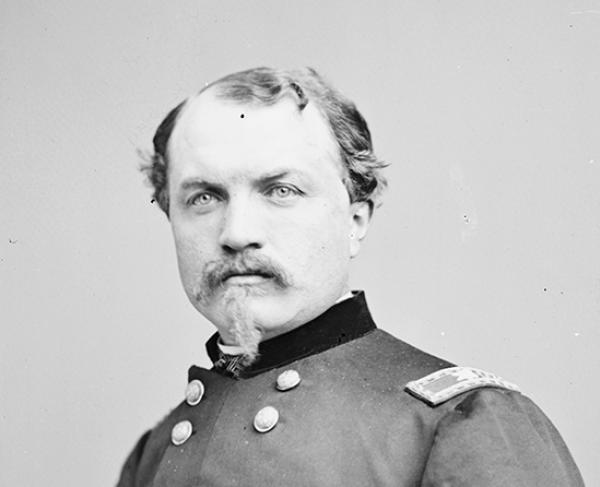 TitleMajor General
War & AffiliationCivil War / Union
Date of Birth - DeathNovember 5, 1832 – February 3, 1900
William Woods Averell graduated in the lower third of the United States Military Academy in 1855. He was made a second lieutenant in the United States Army Mounted Infantry. He served in outposts in the west, attended Cavalry School in Carlisle, Pennsylvania, and fought Native Americans in the southwest for two years, where he was severely injured before the outbreak of the Civil War.
After Fort Sumter was attacked, Averell took part in the Battle of First Manassas as an acting assistant adjutant general to General Andrew Porter. Following the battle, he was made colonel of the 3rd Pennsylvania Cavalry, and led the unit through the Peninsula Campaign. After the campaign, Averell was given command of the 1st Cavalry Brigade in the Army of the Potomac, but missed the Antietam Campaign due to illness.  On September 26, 1862, Averell was promoted to brigadier general. He commanded troops during the Battle of Fredericksburg, and on February 12, 1863, was given command of the 2nd Cavalry Division. He led the division in the first Union cavalry victory over Confederate cavalry at Kelly's Ford in March of 1863. During the Battle of Chancellorsville, Averell took part in a costly raid ordered by General George Stoneman and was relieved of command by General Joseph Hooker for his poor performance during the battle. He moved to the Department of West Virginia where he took part in several small cavalry skirmishes. In July of 1863, Confederate General Jubal Early invaded Maryland and Averell was one of the only Union commanders able to stop him, defeating the Confederates at the Battle of Rutherford's Farm, as well as capturing many Confederates after they raided the city of Chambersburg, Pennsylvania. Averell fought under General Philip Sheridan during the Valley Campaigns of 1864, but was relieved of command after conflict arose over his actions at the Battle of Fisher's Hill. He was brevetted a brigadier general and major general at the end of the war, and resigned from the military on May 18, 1865.
After the war, Averell went on to become a consul to British North America, and went on to become financially secure through numerous inventions, such as asphalt pavement.