James B. Ricketts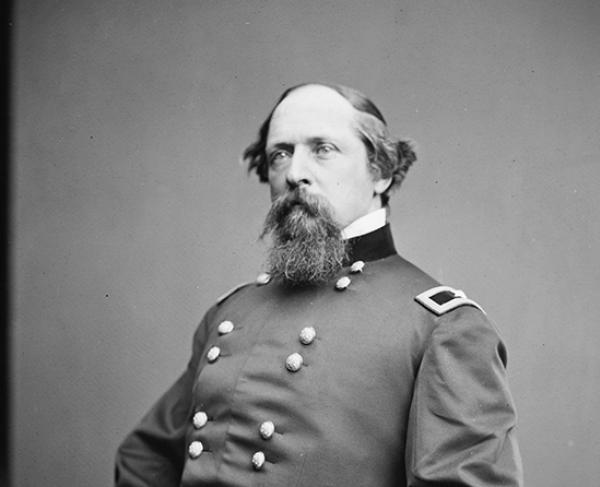 TitleMajor General
War & AffiliationCivil War / Union
Date of Birth - DeathJune 21, 1817 - September 22, 1887
A native New Yorker, James B. Ricketts overcame a mediocre antebellum career and went on to become a key player in some of the Civil War's most pivotal events. 
James Brewerton Ricketts was born and raised in New York City prior to attending the United States Military Academy.  Graduating in the middle of the Class of 1839, his classmates included Henry J. Hunt, Edward O. C. Ord (who graduated one place behind Ricketts) and future General-in-Chief of the Union Armies, Henry W. Halleck.  The New Yorker's unexceptional West Point record was also reflected in his early military career.  He served under Zachary Taylor in the Mexican War at the battles of Monterey and Buena Vista but made no outstanding contributions and received no brevets.  In 1861 Ricketts was a captain serving in the First Artillery. 
The Civil War, however, put Ricketts at the forefront of the action.  In the war's first major engagement at Bull Run he was wounded four times while commanding a battery.  Left for dead in the wake of the Union rout, he was captured and held in a Richmond prison.   In an attempt by the Confederate government to prevent the Lincoln administration from executing Rebel prisoners, a number of Federal officers were marked for execution—Ricketts among them.  Fortunately, no executions took place and the prisoners were eventually exchanged in January of 1862.  Ricketts, however, was still pained by his Bull Run wounds and would not see action again until April of that year. 
When Ricketts finally returned to the field it was as a brigadier general.  Attached to Irvin McDowell's Corps, he took part in John Pope's campaign to "bag" Stonewall Jackson in August of 1862, covering the withdrawal of Nathaniel Banks' force at the battle of Cedar Mountain.  At the end of that month, Ricketts, commanding a division, engaged in a noble attempt to block Confederate troops at Thoroughfare Gap.  His force of five thousand men, however, was no match for James Longstreet's corps of twenty-five thousand, and the Union commander was forced to withdraw. 
Ricketts' division was transferred to the Army of the Potomac in time to participate in the Maryland Campaign in September of 1862, taking part in the battles of South Mountain and Antietam.   At Antietam, Ricketts—who had already had one horse shot from under him—was badly injured when a second horse was killed and fell on him.  Though he refused to leave the field, the injury compelled Ricketts' relief from command in November of that year. 
After recovering from his Antietam injury, Ricketts spent 1863 serving on a number of military boards, among them the court-martial of former V corps commander Fitz John Porter—a duty that did not help his reputation.  When he again returned to the front in the spring of 1864 he took command of a division in John Sedgwick's VI Corps, leading it through Ulysses S. Grant's Overland Campaign.
By the summer of 1864, the stalemate at Petersburg prompted Robert E. Lee to send Confederates under Jubal Early north to threaten Washington.  In response to this maneuver, Ricketts' division was rushed into Maryland, locking horns with Early on the banks of the Monocacy River.  Though forces under his command suffered more than fifty percent casualties, Ricketts "fought magnificently" according to Maj. Gen. Lew Wallace, and the Rebels were turned back.  Several months later, the VI corps joined Phillip Sheridan's pursuit of Early in the Shenandoah Valley where Ricketts was recognized for his contribution to the battle of Fisher's Hill.  The following month, while commanding the VI corps at the battle of Cedar Creek, Ricketts was shot in the chest.  Though not mortal, the wound nevertheless crippled the general for life.  After another extended convalescence, Ricketts returned to his division on April 7, 1865—two days before Lee's surrender at Appomattox. 
Ricketts' war wounds forced his retirement from the army in 1867 with the rank of major general.  He spent the remaining twenty years of his life living in Washington, DC.  James B. Ricketts is buried in Arlington National Cemetery.