Lewis "Lew" Wallace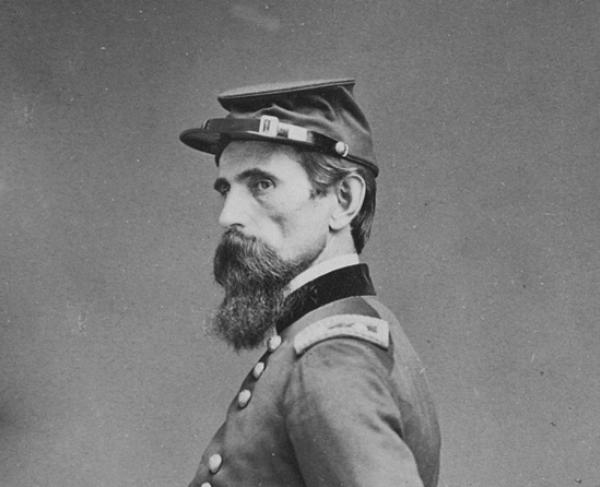 TitleMajor General
War & AffiliationCivil War / Union
Date of Birth - DeathApril 10, 1827 – February 15, 1905
Lewis "Lew" Wallace, a veteran of the Mexican-American War and Indiana State Senator, was appointed colonel of the 11th Indiana Infantry at the outbreak of the Civil War, and took part in many of the early campaigns of the Western Theatre.
Wallace's first experiences of the war found him in Ulysses S. Grant's army during the movements to take Fort Henry and Fort Donelson.  Although he saw no major combat at Fort Henry, he did prove his generalship during a counterattack at Fort Donelson, earning him a promotion to major general.
After his strong performance at Fort Donelson, Wallace faced events at the battle of Shiloh that would haunt his military career.  At the Battle of Shiloh, Grant's army was caught off guard and forced to retreat.  He sent for reinforcements from Wallace, and as a result of unclear circumstances, Wallace marched his forces to a position, found out he was behind Confederate lines, and then marched back to meet Grant.  As a result of the losses suffered by the Union army at Shiloh, many placed blame on Wallace and he was removed from Grant's army.
Wallace's most important actions during the war came at the Battle of Monocacy.  During the battle, Confederate general Jubal Early threatened to move on Washington DC with a sizable force.  A force under Wallace's command brought Early to battle, and, although Wallace was defeated, he slowed down Early's advance enough to allow the defenses of Washington to prepare and eventually defeat Early.
Wallace went on to hold several government positions after the war, including the governorship of the New Mexico territory, and is also known for writing the book Ben Hur: A Tale of the Christ.