George Weedon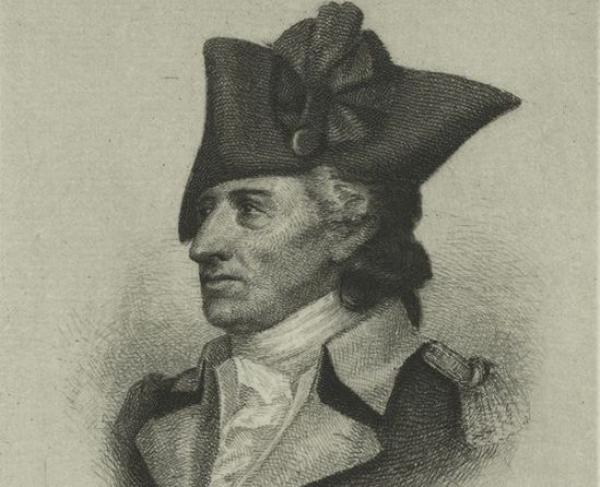 TitleBrigadier General
War & AffiliationRevolutionary War / Patriot
Date of Birth - Death1734 – December 23, 1793
George Weedon was born in Westmoreland County, Virginia, to George and Sarah Weedon in late 1734. Weedon spent most of his early life on his family's plantations, where he engaged in the subsistence farming, hunting, and bookkeeping that were familiar to 18th century Virginia tobacco farmers.
Like many officers who went on to serve in the American Revolution, Weedon's experience in the military began during the French and Indian War. Weedon eagerly received his commission as an ensign in the Virginia Regiment on September 14, 1755, after successfully recruiting men for the unit's commander, George Washington. Weedon was promoted to Lieutenant on July 26, 1757, and later to Captain Lieutenant in 1762. Most of Weedon's service during the French and Indian War included garrison duty at various isolated outposts on the Virginia and Pennsylvania frontiers. It was during his service in the French and Indian War that Weedon met and befriended Hugh Mercer, who would later play an important role in Weedon's military and civilian careers.
After the end of the French and Indian War in 1763, Weedon relocated to Fredericksburg, Virginia, where he married Catharine Gordon. The Gordon family owned a popular tavern in Fredericksburg, and following the couple's marriage, Weedon took over the enterprise. In addition to managing the tavern, Weedon made several property investments with Hugh Mercer, who had settled in Fredericksburg after marrying Catharine Gordon's sister, Isabella.
Weedon's Fredericksburg social circle included several veterans of the French and Indian War, like John Lewis and William Woodford, as well as a variety of Virginia elite, who often visited his tavern. Other notable Virginians, like George Washington and Thomas Jefferson, were also occasional patrons. Weedon's tavern provided a well-known public meeting place in the years leading up to the war, and it quickly became a center of local discussion about the growing movement for American independence. An English tourist to America observed that before the war, Weedon was "very active and zealous in blowing the seeds of sedition," indicating that he was an early sympathizer of the revolution.
In late 1774, Weedon joined fellow his Virginians, including Hugh Mercer and Alexander Spotswood, in organizing the Spotsylvania Independent Company to help defend the colony against attack. Weedon was elected Lieutenant Colonel of the Third Virginia Regiment in January of 1776, a few weeks before the unit's entrance into the Continental Army. By August of 1776, Hugh Mercer, who had served as the regiment's commander, was promoted to Brigadier General, and Weedon became the Third Virginia's colonel. In mid-September, Weedon's Third Virginia joined Washington's army in New York, where they were stationed at Harlem Heights to help defend the city against British attack.
In December of 1776, Weedon's troops took part in the Battle of Trenton, and then had the privilege of escorting the captured Hessian soldiers to Philadelphia where they would be held as prisoners of war.
General Washington asked Weedon to serve as Adjutant General of the Continental Army in January of 1777. Weedon held this post for about six weeks before he was promoted to brigadier general on February 21. With this promotion, Weedon took command of the Second Brigade of Virginians and Pennsylvanians in Nathanael Greene's Division. During the Philadelphia Campaign of late 1777, Weedon and his troops witnessed the Patriots' disappointing defeats at Brandywine and Germantown before joining the winter encampment at Valley Forge, Pennsylvania.
Weedon went home to Fredericksburg for several weeks in early spring, 1778, to attend to his family and tavern. He returned to Valley Forge in late May, at which time he petitioned Congress to retire from the army in the wake of a controversy over the ranks of several Virginia officers. Though Congress accepted his resignation, Weedon retained his commission and title.
Over the next several years, Weedon remained in Fredericksburg, where he continued to oversee his tavern and his family's plantations. During this time, he helped provide for his sister-in-law and her children, following Hugh Mercer's death at the battle of Princeton in 1777.
By 1780, Weedon was recalled to service to assist in defending Virginia from British attack. After helping supply the Marquis de Lafayette's light infantry division with men and supplies, Weedon took command of a brigade in the Virginia militia, at the request of governor Thomas Jefferson. Weedon's band of Virginia militiamen successfully opposed Banastre Tarleton's men at Gloucester Point, blocking Lord Cornwallis's escape route in the Yorktown Campaign of 1781.
After the war, Weedon resigned his commission in the army and returned to tavern keeping. In the post-war years, Weedon maintained a prominent position in Fredericksburg society, serving as a councilman and mayor in the 1780s. In the final years of his life, Weedon acted as the president of Virginia's chapter of the Society of the Cincinnati and remained active in his local society of Freemasons.
Though Weedon had no children of his own, he continued to look after Hugh Mercer's family until the end of his life. In 1786, Weedon built a home in Fredericksburg, called the Sentry Box, where he was known for hosting Trenton-themed Christmas parties. Weedon remained in Fredericksburg with his family until his death in December of 1793. 
Related Battles
Battle Facts
New Jersey | December 26, 1776
Result: American Victory