Unearthing Relics of War and Finding Peace

Doug Menuez
In cooperation with the American Battlefield Trust, a new veteran-led organization is bringing former service members suffering from PTSD and other disabilities to historic battlefields. Through the process of rehabilitation archaeology, we are learning more about past wars and offering healing to today's warriors. 
When lights begin to appear in the windows of the rented home in upstate New York, dawn has yet to penetrate the forested landscape. Those inside may not all share blood, but they are tied together by a different sort of unbreakable bond. And, though they met as strangers, when their time here ends, they will consider each other family. 
For four weeks in May and June 2019, this place is home base for a crew of some 30 veterans from the conflicts in Vietnam, Iraq and Afghanistan — many of them disabled physically or psychologically — brought together by American Veterans Archaeological Recovery (AVAR), a nonprofit dedicated to promoting the well-being of disabled veterans transitioning to civilian life through field archaeology. They have come to assist the National Park Service (NPS) in its investigation of a key site associated with the Revolutionary War Battle of Saratoga, serving in two  different teams to gain exposure to all aspects of the archaeological process — from high-tech surveys, to physical excavation, to the careful recordation of data. 
While AVAR has previously been able to bring participants to archaeological sites in America and military sites overseas, this is the organization's first opportunity to explore hallowed ground in its home nation.
"To dig in an actual historic American battlefield … warrants that sense of 'more' that you get from being in the military," acknowledges participant Zeth Lujan, an Army combat veteran. "You think about how millions of people have worn that uniform. And that millions are going to come after us, after our service is done."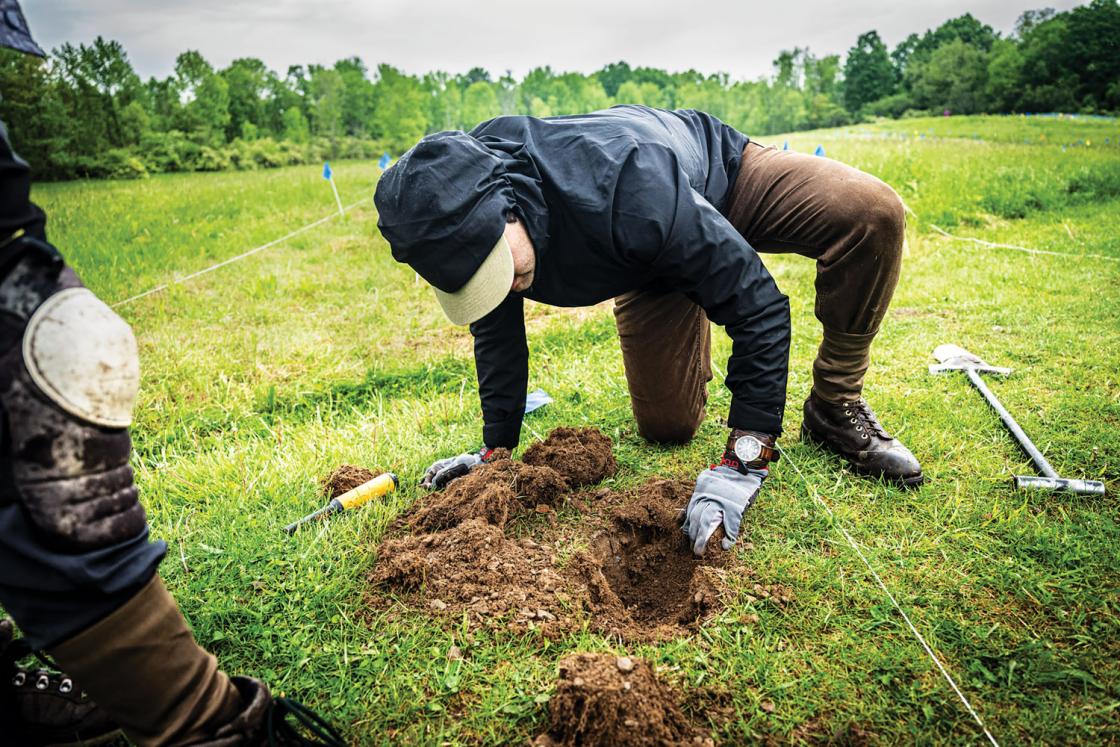 A combat veteran standing on a historic battlefield has a vastly different experience than someone who has never come under fire. Not only do they instinctively connect with that landscape in terms of military science — scanning for defensible positions, mapping out avenues of approach — they can imprint their own field experience unto soldiers of the past. To a veteran, the thousands of soldiers who waited for an order to charge aren't statistics in a history book, they are fully realized individuals. The soldiers they envision wear the faces of real-life comrades, friends they lost on the fields of Iraq or the mountains of Afghanistan, even if they carry a musket and powder horn.
"When I first set foot on the Saragota Battlefield, it took me back," says Gunnery Sgt. Oscar Fuentes, who is still an active duty Marine, although his wife has completed her service and they participate in AVAR together. "I could imagine those soldiers getting ready for that battle. I remember what I would do the night before going forwards, how I felt when we were at base camp. I know that feeling: thinking that tomorrow is uncertain. The weaponry does not compare to what we have now, and the tactics are way different. But that feeling is overwhelming. I can imagine myself on that battlefield." 
Bringing veterans to such a place is a powerful goal in itself, but by letting them physically delve into the past, AVAR is a means for today's warriors to reach out and touch the soldiers who came before them. To tell their stories through these tangible artifacts left be-hind. And in doing so to discover something new about themselves.
"To dig up a button or something that an American militiaman actually wore on his uniform, it blows my mind," says retired Air Force Captain Karen Reed of Sandia Park, N.M., an AVAR rookie on her first dig. "As a war veteran, that's my heritage, because we trace our military lineage back to those militias. So to be able to sit under a tree where a first American — not a British colonial, but an American — sat, and most likely died, in that fight for us is a very, very sobering feeling."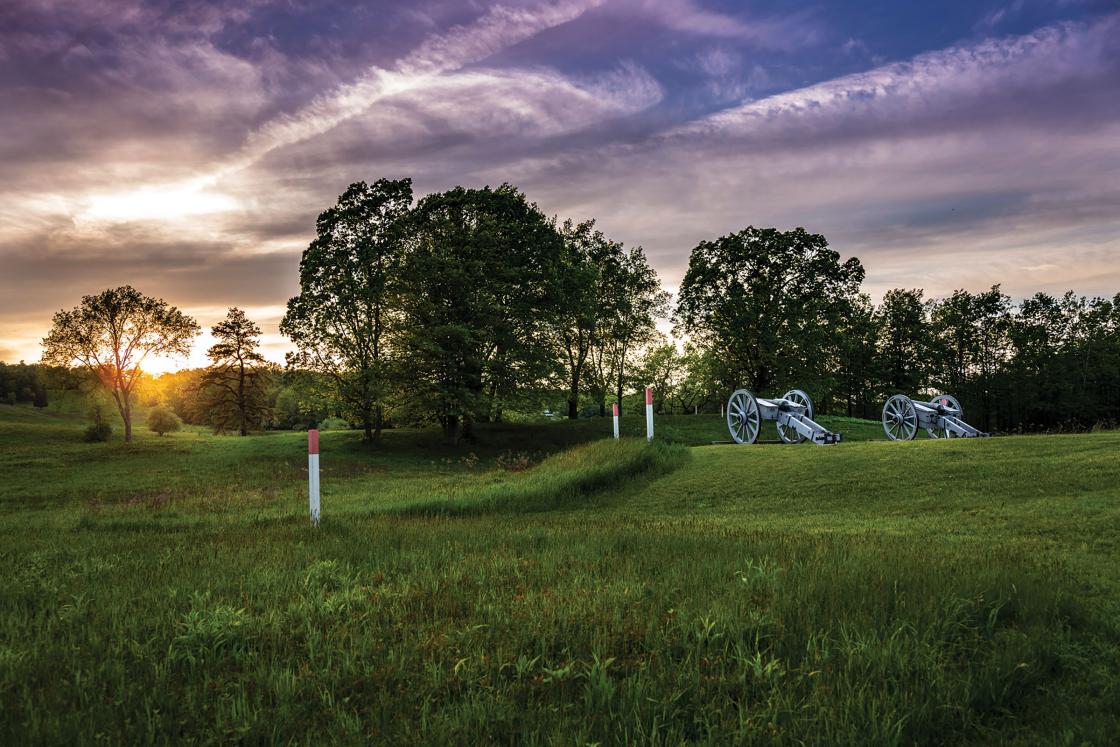 If there are certain points in time upon which history hinges, one of them undoubtedly occurred in the autumn of 1777, on bluffs over the Hudson River, near the modern village of Schuylerville, N.Y. Following two engagements fought here at Freeman's Farm and Bemus Heights, British General John Burgoyne surrendered his command to the Continentals under General Horatio Gates on October 17. It was the first time an entire British field army had ever capitulated, and the unprecedented event caught the attention of King Louis XVI, resulting in the formal allegiance of France to the American cause. This international support, which later came to also include the Spanish and Dutch, was instrumental in securing the American victory.
Despite the broad sweep of the battle being well understood, many specifics have been lost to time, a typical situation with engagements from this period. Thanks to a confluence of factors, Revolutionary War battles are relatively undocumented, compared to those of later eras. No robust system of after-action reports by officers at all levels had yet been implemented in either army. Lower literacy rates among enlisted soldiers during the 18th century means fewer letters and diaries to draw from. Lack of technologies like photography — to capture landscapes and landmarks — or lithographic printing — to mass-produce what sketches and maps were recorded in the aftermath — also play a role. Then there is the simple passage of time: two-and-a-half centuries is ample time for what documentary evi-dence was created to have been lost.
One of those missing moments is the fight for the Barber Wheatfield, the opening clash of the Second Battle of Saratoga on October 7, 1777. Some things are certain: British and German troops advanced into the field to gather food. They were met by an aggressive advance, as American troops pushed out from their fortified position and drove the British back to their lines. The fighting was fierce: In less than an hour, the British lost 90 dead, 180 wounded and 180 captured, while the Americans suffered 150 total casualties. 
Beyond that? Plenty of mystery. 
Related Battles
Battle Facts
New York | September 19, 1777
Result: American Victory
Estimated Casualties
1,465