Veterans' Voices: Hear From Leaders Behind the Saratoga Archaeological Project

Doug Menuez
Read the firsthand accounts from those in leadership roles in the American Veterans Archaeological Recovery (AVAR) project at Saratoga and learn about the innovative techniques and impressive results of this program focused on using rehabilitation archaeology to help veterans reacclimate to civilian society:
Nichol Fuentes, AVAR's chief operating officer, confesses that she foundered after medically separating from the Marine Corps. But working with AVAR, especially cataloguing the finds made by other veterans in exacting detail, made her feel like a valuable part of a skilled team again. 
Oscar Fuentes, still an active duty Marine, can imagine the feelings experienced by Continental troops as they prepared for the Battle of Saratoga. He's had them himself, staring across a different sort of battlefield. 
Bill Markum, who medically retired from the Marine Corps as a staff sergeant, has seen the same light of discovery appear in the eyes of AVAR participants on multiple projects.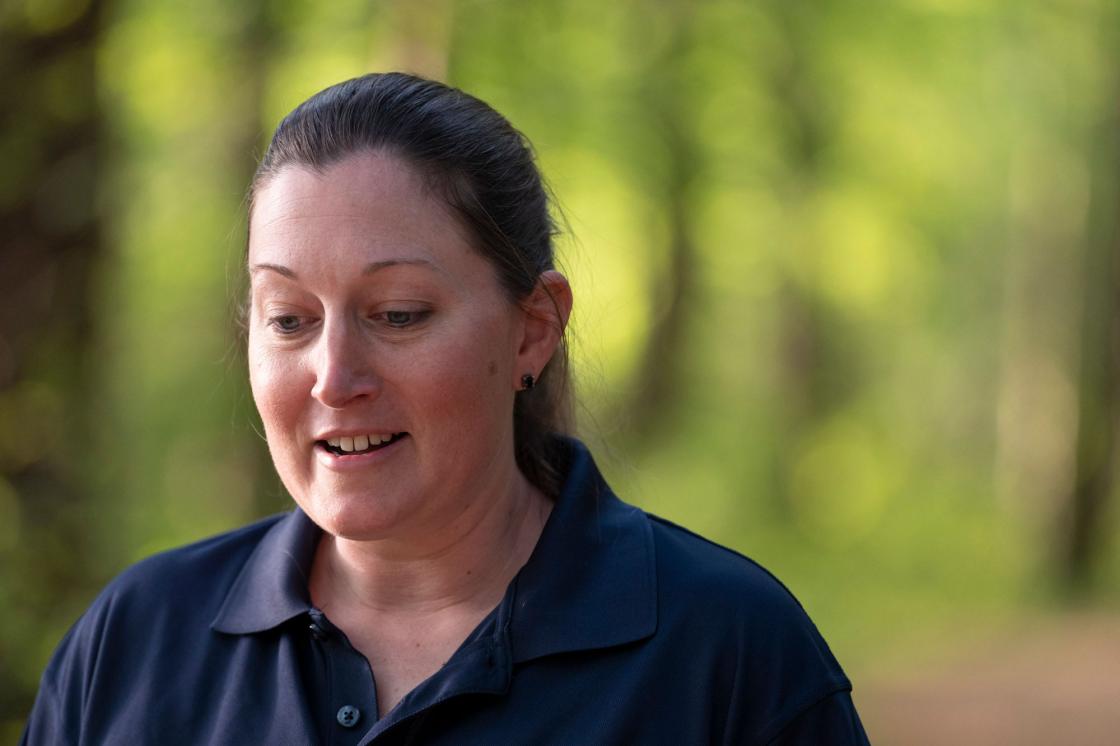 Hear from Nicole Fuentes:
My name is Nichol Fuentes, and I'm originally from Maryland. I heard about AVAR about a year ago when a friend sent it to me a little blurb on Facebook saying, "We need to try this out!" I went on my first dig, and I fell in love with the program.
For two years after leaving the military, I was kind of foundering around. When you get out of the military you kind of lose that contact that camaraderie with other veterans and you kind of lose yourself a little bit. So, I wanted to get back to that. I missed being in a group, being in a unit. 
An average day starts at the house. We're up at about 6 am and we go and have breakfast together at about 7am. We all pitch in and we help out, and we set out breakfast, and we talk about what's going to happen for the day. One of our participants, Thomas, gives a weather report, so that we make sure we have all our gear correct for the day because if it's raining, we need rain gear, boots. Then we all load up in our cars and we drive about an hour, hour and a half to get to the dig site. When we pull in, we start digging about 8:30 a.m. to 4:30 p.m., with some breaks in between. We do what we call our "lunch and learns," so at lunchtime we get out our bagged lunches, or if somebody in the community has donated food to us, they set that out. We had the girl scouts the other day, they fed us cold cut subs in the middle of the field, so it was amazing. Then we talk about relevant things. We have other veterans who are archeologists.  One of our staff members Jake, is actually an archaeologist with the forest service, so he gave a class about how he got his job. He talked about his resume, the credentials he needed. And then at 4:30 we pack up, we put the gear away, and we either head up to the Welcome Center, we break bread with the staff, the national park service, and the American Battlefield Trust staff. We've had local groups out like the AMDA, and the common heritage group, and the Midwest Archeological Center come out, so we break bread with them, and we talk, and we end our day that way just in friendship. Then we drive that hour and a half home and by that time you're dead-dog tired and you just want to go to bed.
People have this common misconception that veterans had to join up for lack of better options. That we're not intelligent, we don't work hard. Veterans work harder than anybody else! You can ask the staff at the park service and they'll tell you that we're going to work, work and work, until you tell us to stop. We work through the rain, we'll work through the mud. We've covered an area that is huge, and even they were impressed at how far we gotten. They were like, "There's no way we would have gotten this done. And now they're clearing more land because we're working so fast. So, the work ethic is strong within a veteran. It's in your heart to do the best that you can at all times. Giving your all means something to a veteran. We're giving 110% every day. 
I'm not an archaeologist, though I love the historical aspect of it. But I've learned how to use a metal detector, I've learned how to use LIDAR. I'm learning how to use the GPS — which I actually like the most because it has to do with data, and I am very focused on processing finds.  But I'm not a dirt digger.  I've figured out that I don't like getting a shovel in the ground. Still, I want to be a part of all this. I love being behind my phone, taking a picture, seeing a veterans face as they're bringing and item out of the ground. It's the most beautiful thing to see the smile and some of these guys, they don't smile, and to see them hold up something and to crack a smile and you capture it, that warms my heart more than anything.
I'm very blessed. I know that I'm making friendships that are going to last a lifetime. We may not live near each other, but I'm coming away with friends and support which every veteran needs. I've learned that I'm strong.  And I can still give 110% even though I'm a disabled veteran myself. My family has come on this dig, and my children are enjoying being out in the field. They're enjoying doing what I'm doing, which is an amazing feeling as a parent. And I especially value the bonds that I'm building with other women veterans. You know, we're few and far between, and it means something to bond with another female veteran.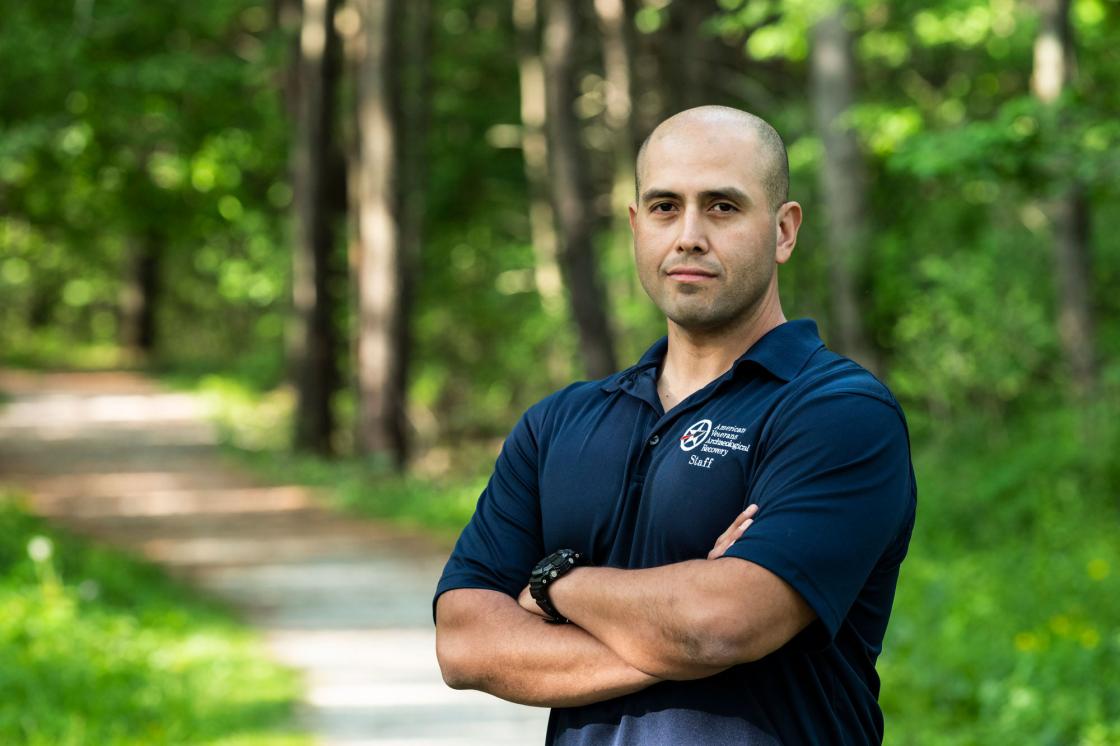 Hear from Oscar Fuentes:
I'm Oscar Fuentes, from Houston Texas. I am married to another Marine, and she is actually the one who found AVAR. She looked into it and was very interested, so she joined the project. [Editor's note: Nichol Fuentes's involvement has continued to deepen and she is now the AVAR chief operating officer] Last year in New York, they very kind and allowed me to attend briefly with my family, my kids so they could see what mom was doing, and that let me be part of the environment and organization.
When I was doing a little research about AVAR — what it what it was, and what they stood for — the biggest thing that hit me was archaeology's ability to build community. Being in the military, working with small teams brings back to me what I always feel when on deployment. We have a mission and objectives, agreed upon together. And that struck me reading about AVAR and hearing other veterans that have attended, their remarks and their feedback.
I researched the Battle of Saratoga a little bit before arriving. Being a weapons expert in the Marines, the types of weaponry and tactics they used really intrigued me. I was very excited to come onto the battlefield and see it for myself, where centuries ago, centuries, the battle took place. And I can think about what they went through and relate that to the challenges we face on the battlefield now in Afghanistan and Iraq. 
I have been in the Marine Corps for 18 years. I've deployed to multiple theaters, I've dealt with multiple foreign military, foreign countries. And I'm also married to a marine and I have 3 kids, so I bring a lot of experience with the types of issues veterans face after service.  A lot of the veterans coming here share the same story: they have deployed and came back to pain. They brought back pain with them, and I can definitely relate to how that is. Fortunately for me, I can share with them my story — all of the pain and the hurt and the joy that came from those deployments, what led up to them and their aftermath —and build that cohesiveness and that community network.
What I've learned being part of AVAR and on this Saratoga dig, is that working with your hands, working with a great team to meet a common goal is very fulfilling. I'm still in the Marines, and I know that eventually that will not be the case. I will retire one day, and I would like to be able to feel that way even out there I'm done serving. A lot of the AVAR participants who have finished serving and they mention that they haven't felt this way in a long time. Being part of this dig with them, sharing our experiences, brings warmth to my heart. I'm proud to be part of the Marine Corps; I'm proud to be part of AVAR.
It is very different being in a group of veterans than it is civilians. At thing I enjoy about it is they are up front, and they tell you exactly what they're thinking — they don't sugar coat things. And we joke around a lot a lot, about our shared experience. One's army, one's marine, one's air force, one's navy — but everybody is still a veteran. They're tight knit and gravitate towards each other. It is an instant connection with veterans, just because everyone knows you put the uniform on you served. Whether you were deployed or not deployed, you still raised that hand and said "I will do this when other people won't. I will do this, so you won't have to."
When I first set foot on the Saragota Battlefield, it took me back. I looked around the field and I could imagine those soldiers getting ready for that battle. I remember what I would do the night before going forwards, how I felt when we were at basecamp. I know that feeling: thinking that tomorrow is uncertain, so right now it is important. The weaponry does not compare to what we have now, and the tactics are way different. But that feeling is overwhelming. I can imagine myself on that battlefield.
I really do believe this is special land, special ground. A battle took place here, and any engagement anybody who fought, anybody who shed blood, knows that is special. It needs to be recorded and studied. It doesn't matter how big the battle was, or how small it was. If one drop of blood was shed in that grass, it needs to be recognized.  It should never go unnoticed.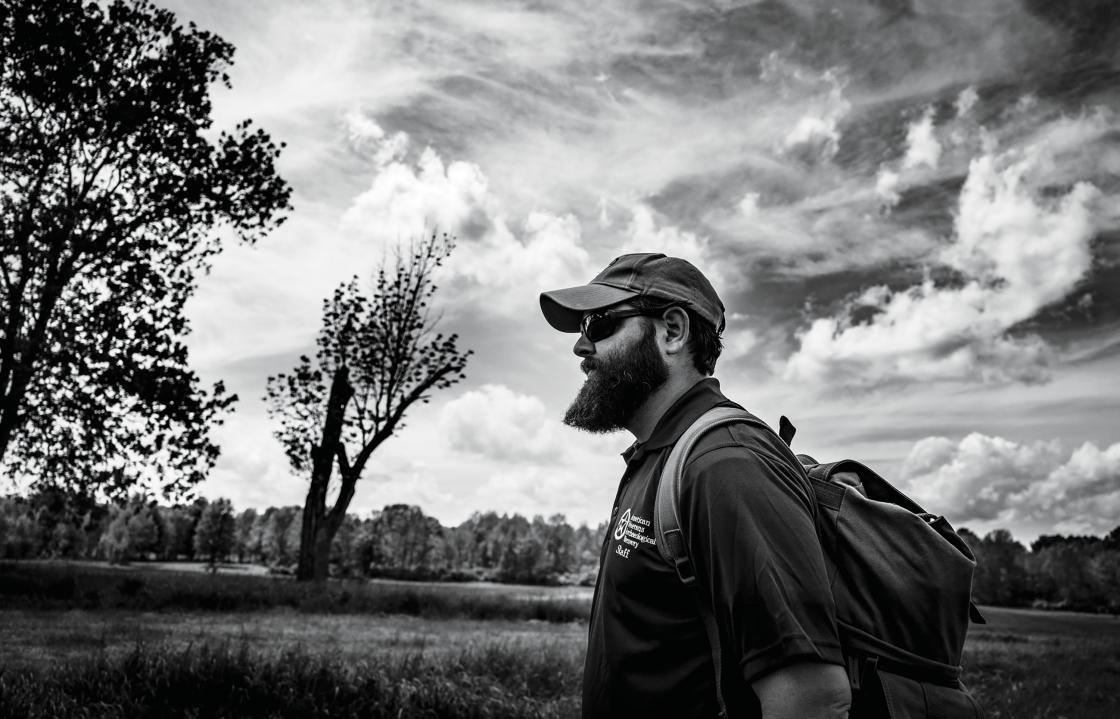 Hear from Bill Markum:
I'm Bill Markum; originally from Texas, but I live in Baltimore Md. I heard about AVAR from one of the other staff members, Nichole Fuentez. We served together in the Marine Corp —she was my sergeant while I was a staff sergeant, and we maintained that friendship after our service. She reached out to me, said she was working with this great organization and offered me a chance to go on a dig. I wanted to participate because I really like the message that AVAR sends; there is a different approach to transitioning back into civilian life away from the military. And to open-up the career option of archaeology. A lot of veterans don't see that as a pursuit, don't really see how much the military and archaeology kind of fit together.
I love history, not so much for an academic pursuit, but as a hobby. The talent I bring to this group is more business acumen, since I'm the CFO for AVAR. So I bring in an immediate skill set as far as being able to manage different societies who might want to interact with us, or different businesses that would hopefully want to partner with us and work with them to build bigger relationships.
The work ethic of the men and women that are here is fantastic. It's one of those things coming from the military that you just don't forget. This "can-do" attitude is ingrained in veterans, and it is very evident on the field itself. You see everyone wanting to engage. It doesn't matter how hard the task is or what it might be, everyone wants to just jump in there and get the job done.
We have a very precise schedule that Nichol has set up for us, everything is very organized. You'll see that with a lot of veteran communities: when we get together, we need a schedule. We need to know what to do. It kind of helps us get along through the day a little better. Every day there are different team assigned specific jobs around the house — clean up, make sure that breakfast is set out, that lunches are made. Stuff like that. We're all taking turns, taking care of each other.
Before arriving, I didn't understand the importance of Saratoga. I see it now, that amazing feeling of hearing the history behind it. I've been imagining the Americans coming over the lines, and maybe the looks on the British and German faces as they're coming over. I've learned a lot about archaeology on this project — how metal detecting is used in formal archaeology. This has been fresh for me to see it in action, and to see the hard work that these guys put into preserving these sites. And actually looking for the past is exciting. I didn't think I would be as excited to find something. Yet when I'm out here on day two digging around after metal detecting, and I find a musket ball — it's like I found a million dollars in gold! It's just an amazing feeling to actually find something and contribute to the organizations that are trying to preserve these sites.
I'm also learning a lot about the parks and about the battlefields themselves. It's a peek into our past. And being a veteran, it's definitely a peak into our military past as well — where we've been, where we are now, and possibly where we're going. The important thing about these parks is that no matter where we're going, we're continuing to preserve where we've been and make that available to future generations. The more we find the better story we can tell and the better it will be for future generations.
Maybe most of all, I've learned a lot about the people here on the dig site. It's amazing to meet new veterans. This is my second dig, so I've seen it twice now: When veterans come together it's instant friendship. You could not have met each other ever in your entire life, and in five minutes you're joking together and you're family. Seeing that for a second time is proof that this works. That AVAR works, that we can come together and get these jobs done. 
Related Battles
Battle Facts
New York | September 19, 1777
Result: American Victory
Estimated Casualties
1,465