Shiloh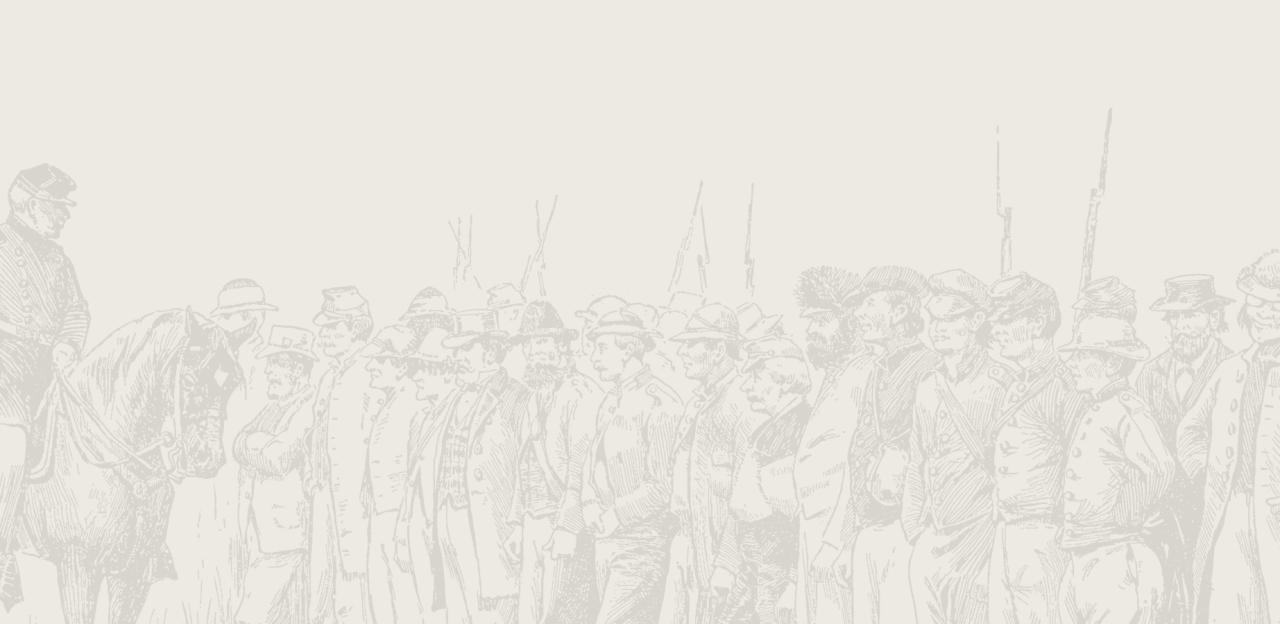 The Battle of Shiloh
Pittsburg Landing
Following fall of Forts Henry and Donelson in February of 1862, the commander of Confederate forces in the West, Gen. Albert Sidney Johnston, was compelled to withdraw from Kentucky, and leave much of western and middle Tennessee to the Federals. Those two Union victories under Maj. Gen. Ulysses S. Grant opened the way for invasion into the Confederate interior. Advancing up the river valleys into central Tennessee and Mississippi, Federal armies could sever Confederate railroads, preventing reinforcements between the rebel armies in Virginia and those in the west, effectively splitting the Confederacy in two.
To consolidate his forces and prepare for operations against Grant, Johnston marshaled his forces at Corinth, Mississippi, a major railroad junction where the east-west Memphis & Charleston Railroad met the north-south Mobile & Ohio. The Confederate retreat was welcomed by Grant, whose Army of the Tennessee would need time to prepare for its own offensive up the Tennessee River. Grant's army camped at Pittsburg Landing 22 miles north of Corinth, where it spent time drilling recruits and awaiting Maj. Gen. Don Carlos Buell's Army of the Ohio. Grant was ordered not to engage the Confederates until he had been reinforced by Buell's army marching overland from Nashville to meet him. Once combined, the two armies would advance south on Corinth.
Johnston's 44,000-man Army of Mississippi was composed of four corps of infantry commanded by Maj. Gens. Leonidas Polk, Braxton Bragg, William J. Hardee and John C. Breckenridge. Anticipating a Federal move against Corinth, Johnston planned to smash Grant's army at Pittsburg Landing before Buell could join him. Johnston placed his troops in motion on April 3 but heavy rains delayed his attack. By nightfall on April 5, his army was deployed for battle only four miles southwest of Pittsburg Landing, and pickets from both sides nervously exchanged gunfire in the dense woods that evening.
At daybreak on Sunday, April 6, three corps of Confederate infantry stormed out of the woods and swept into the southernmost Federal camps of Brig. Gen. Benjamin M. Prentiss' division. Most of the men were unprepared for the onslaught. Brig. Gen. William T. Sherman, the senior division commander at Pittsburg Landing while Grant was downriver at his headquarters, had dismissed reports warning of a Confederates advance, refusing to believe that Johnston would leave Corinth. Soon, the nearby divisions of Maj. Gen. John C. McClernand and Brig. Gen. Stephen Hurlbut were also hard-pressed by the rebel attack. Intense fighting circled around Shiloh Church as the Confederates swept Sherman's line from that area. Despite heavy fire on their position, Sherman's men counterattacked but slowly lost ground and fell back northeast toward Pittsburg Landing.
Near the center of the Union line was farmer Joseph Duncan's field, adjacent to a thick grove of oak trees and dense underbrush bordered by a farm lane. During most of the morning, this was the scene of the most intense fighting of the battle. For six hours, Confederate brigades charged into Union defenders from Prentiss' Sixth Division and Brig. Gen. William H. L. Wallace's Second Division. Each assault was shattered by a storm of Federal musketry and artillery. Confederate survivors labeled the position "a hornets' nest." On the northwest edge of the field, Rebel division commander Brig. Gen. Daniel Ruggles assembled 62 artillery pieces to blast the Union line barely 400 yards away. "Ruggles' Battery" was the largest assembly of artillery in the war up to that time. After multiple attacks, the Confederates eventually surrounded the position and forced nearly 2,300 Yankees to surrender, including Prentiss.
Around 2:30 pm, while leading an attack on the left end of the Union's Hornets' Nest line, Johnston was shot in the right knee as he rode ahead of his troops. Initially, he thought the wound was minor, possibly due to nerve damage suffered to his leg from an 1837 duel. The bullet had severed an artery and blood was pouring into his boot unseen by those around him.  By the time the severity of the injury was realized, little could be done. Johnston was laid on the ground under a tree and bled to death within minutes. Gen. Pierre G. T. Beauregard, who had been sent west to support Johnston, was notified that he was the new Confederate commander. Later in the day, believing his army victorious, Beauregard called a halt to the attacks as darkness approached.
In the late afternoon, after the collapse of the Hornets' Nest, the Confederates continued to move forward all along their line. Hurlbut advanced his division to bolster the Union left. Hurlbut posted his brigades on a farm with a peach orchard where the open terrain provided clear fields of fire for artillery. Division commander W. H. L. Wallace went down nearby with a fatal wound. By 5:00 pm, the outnumbered Union army was on the brink of disaster, with thousands of frightened soldiers crowded around Pittsburg Landing. Undeterred, Grant ordered forward Maj. Gen. Lewis "Lew" Wallace's reserve Third Division from downriver near Crump's Landing. However, due to a series of delays, Wallace would not arrive in time to form a counterattack.
On the night of April 5, the first units of Buell's Army of the Ohio had begun to arrive from Nashville. Grant, unaware of Confederate activity nearby, ordered Buell's troops to remain on the east side of the river protected by Union gunboats rather than cross immediately. The remainder of Buell's army was still a day's march away. As the attacks on Grant's army unfolded, Brig. Gen. William "Bull" Nelson, commanding Buell's Fourth Division, arrived at Pittsburg Landing about 5:00 pm. Only a handful of Nelson's regiments landed at the river in time to become engaged on April 6, but Buell's arrival provided a much-needed morale boost to Grant's battered army. That evening, Buell's four divisions formed on Grants left and helped stabilize a new Union battle line.
Confident that his army was not completely routed, Grant ordered a new defensive line built along a low ridge stretching west from Pittsburg Landing to Owl Creek. Fortified with over 50 pieces of heavy artillery, this formidable position allowed Grant to hold his line during the night. Finally reinforced by the belated arrival of Wallace's division and the remainder of the Army of the Ohio, Grant had nearly 54,000 men near Pittsburgh Landing and outnumbered Beauregard's army of around 30,000. Undaunted by the day's events, Grant formed plans to go on the offensive the next morning. One staff officer heard Grant remark that he was "not beaten yet by a damn sight." Allegedly, later that evening, Sherman encountered Grant in the driving rain. Aware he was caught unprepared during the morning attack, Sherman remarked, "Well, Grant, we've had the devil's own day, haven't we?" Grant, unmoved, drew from his cigar and proclaimed, "Yes. Lick em tomorrow though."
Nelson's division of Buell's army launched their attack at 6:00 am on April 7, followed by the rest of the combined Union armies. Lew Wallace's Third Division joined in the attack from the Union right. Beauregard immediately ordered a counterattack. Though his force was initially successful, Union resistance stiffened and the Confederates were compelled to fall back and regroup all along their line. Beauregard ordered a second counterattack, which halted the Federals' advance but ultimately ended in a stalemate. The timberclads USS Tyler and USS Lexington provided naval artillery support to Grant's left flank from the Tennessee River. Around 3:00 pm, Beauregard realized he was outnumbered and, having already suffered tremendous casualties, broke contact with the Yankees and retreated toward Corinth.
On April 8, Grant dispatched Sherman and Brig. Gen. Thomas J. Wood to ascertain the Confederate's position. At a crossroads called Fallen Timbers six miles south of the battlefield, they encountered Rebel cavalry under Col. Nathan Bedford Forrest. In his first encounter with Sherman, Forrest charged into the Yankees ahead of his own troops, firing his pistols as he rode. The isolated cavalier was surrounded by Federal infantry and shot at point-blank range before he could escape. Forrest required intensive surgery to remove a bullet that had narrowly missed both his hip and spine, but his reckless aggression paid off. Federal forces fled in the direction of Pittsburg Landing, allowing the Confederates to escape and effectively ending the campaign.
The gruesome carnage was unprecedented: Of nearly 110,000 soldiers engaged from both sides 23,800 became casualties, 3,500 were killed outright. The human devastation was the greatest known on the American continent up to that date; more casualties than the Revolution, War of 1812 and Mexican War combined.
The Confederate defeat at Shiloh ended any hopes of blocking the Union advance into Mississippi. Johnston's loss was a damaging blow to Confederate morale, particularly for President Jefferson Davis, who held Johnston high in personal and professional esteem. After the war, Davis wrote, "When Sidney Johnston fell, it was the turning point of our fate; for we had no other hand to take up his work in the West." A succession of Confederate commanders in the region through 1862 and 1863 would fail to earn Davis's confidence as Johnston had.
Although vilified in the press after being caught unprepared on April 6, Grant's victory at Shiloh added to his growing reputation as a successful field commander. Grant was praised by Abraham Lincoln for not giving up after being nearly destroyed: "I can't spare this man, he fights," Lincoln said after the battle. With Corinth in Union control by the end of May, Grant could now turn his attention to gaining control of the Mississippi River.