American Battlefield Trust
"What a business is this of a portrait painter! You bring him a potato and expect he will paint you a peach."
Gilbert Stuart
 
---
Revolution sparks new ideas, like a flame to kindling, and that fire burned bright at the dawn of our new nation. Certainly, among the politicians and the soldiers ... but what about the artists? You most likely recognize their work, but do you know their stories?
This International Artists Day, let's learn about the people who shaped how we remember the American Revolution and the early days of our new nation.
 
Benjamin West
October 10, 1738—March 11, 1820
Benjamin West began his career in England, though he was a native of Pennsylvania and received commissions from prominent English patrons. Within five years of landing in England, West would become a part of the Royal Academy in London. His work immediately caught the attention of King George III. West became the king's historical painter and the pair became quite close. When the king passed away in 1820, West commented, "I have lost the best friend I have had in my life."
West worked in the neoclassical style, which emphasized Greek and Roman ideals and became the style of most art produced during and after the Revolutionary War. He made multiple iconic works familiar with us today, which include William Penn's Treaty with the Indians in 1683 (1772) and Death on a Pale Horse (1817).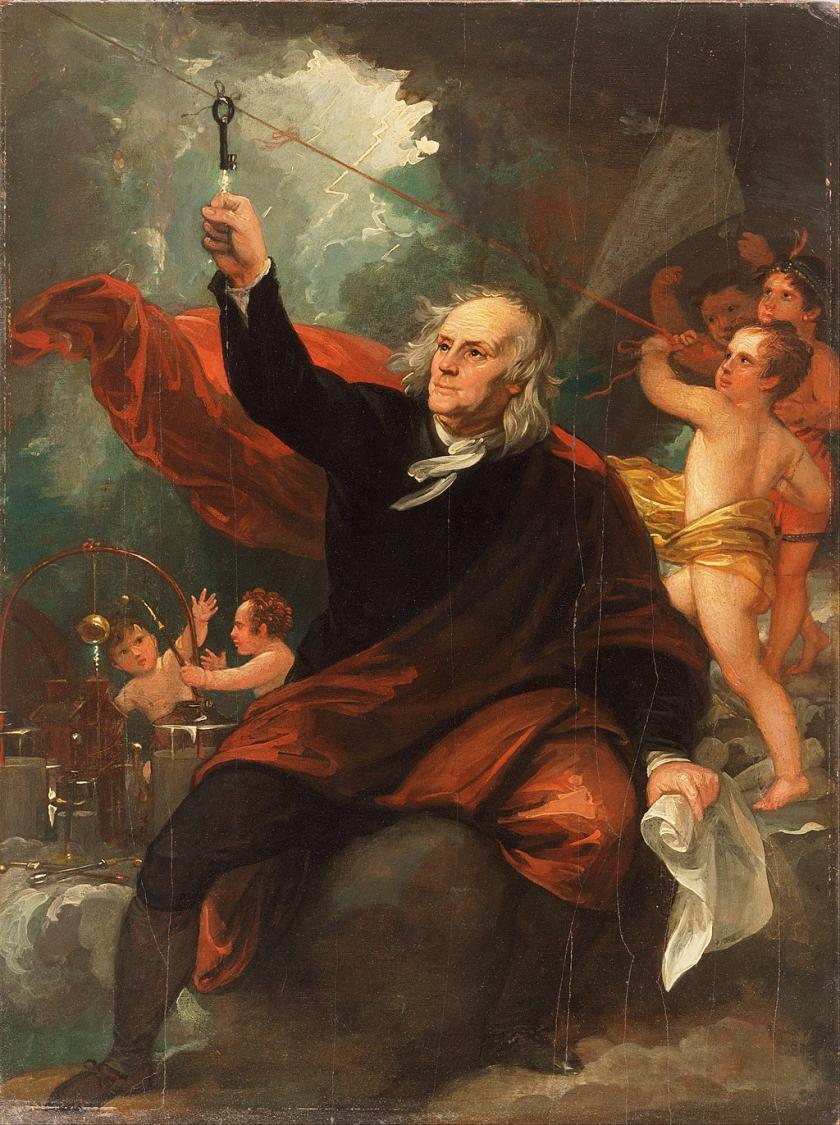 One of his famous works is Benjamin Franklin Drawing Electricity from the Sky (1816). Benjamin Franklin and Benjamin West were also close friends. So much so that Franklin would become the godfather of West's second son. This work came much later after the war because of King George III's power over him to exclude works depicting American Independence. His prominence in England, as an artist and as a teacher, inspired the first generation of early American artists.
 
John Trumbull
June 6, 1756–November 10, 1843
Before finding fame as an artist, John Trumbull had a very different career: General George Washington's Revolutionary War aide-de-camp, sketching as he served. Resigning his military commission in 1777, Trumball went to England and studied under Benjamin West. As he traveled abroad, he created beautiful works of his time during the Revolutionary War. In 1817, he was commissioned to paint the rotunda of the Capitol. Trumbull's early works after the war include a portrait of Alexander Hamilton (1792) and The Surrender of the Hessians at the Battle of Trenton (1786). Despite the fame these works earned, Trumbull fell into hard times and gave his paintings to Yale College in return for annuity.
One of his most famous works is the Declaration of Independence (1826), located at Capitol Rotunda. Trumbull completed a smaller version of this work in 1786. He wished to not show an accurate representation of the day, but to instead present an idealized vision of the Founding Fathers. Trumbull drew his inspiration for this scene from Thomas Jefferson's inaccurate sketches the former president made in Paris.
 
John Singleton Copley
July 3, 1738–September 9, 1815
John Singleton Copley was a Boston-born painter who dabbled in a little bit of everything before establishing himself as a portrait painter whose popularity ranked alongside West. He became known for his portraits of wealthy colonial New Englanders and some of his most well-known works include portraits of Samuel Adams (1770-1772), and John Quincy Adams (1796). He turned to historical paintings later on and completed The Major Peirson's Death (1782-1784). He died September 9, 1815, after his second stroke.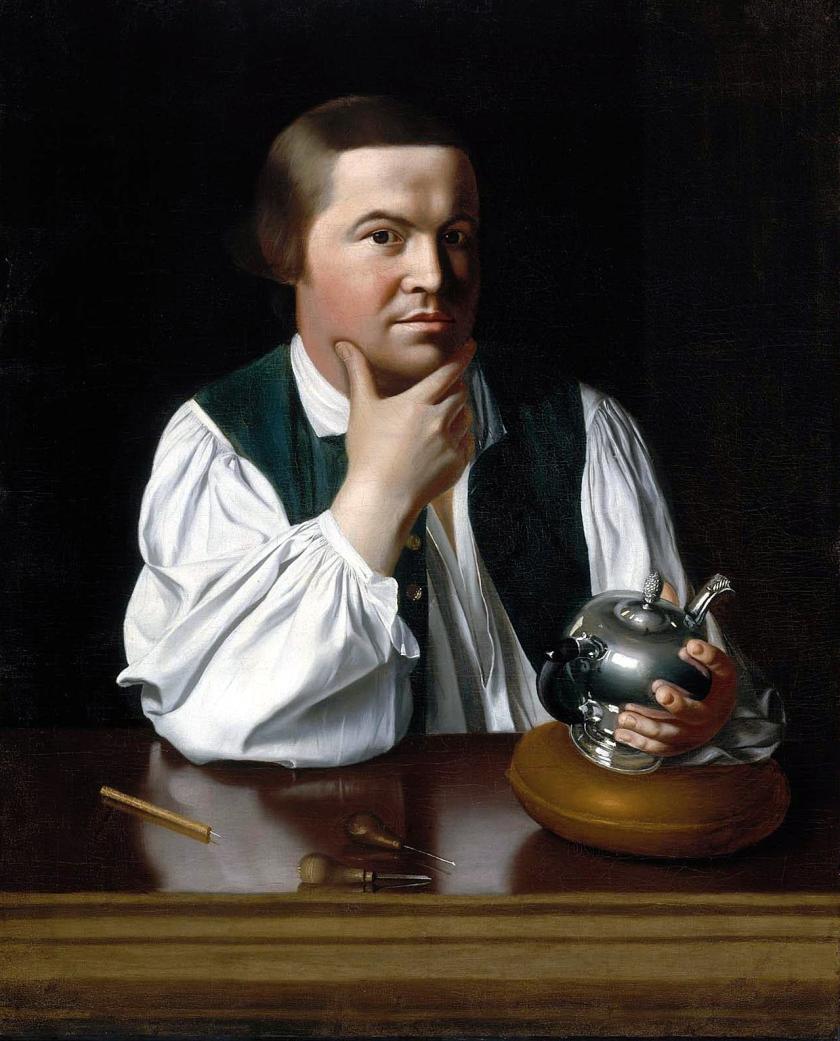 His painting Paul Revere (1768-1770) is notable in that his subject wears ordinary clothing and has no wig—all of this was very uncommon in portraits. Additionally, Revere holds a teapot, signaling his political views toward Britian and the taxation on tea years before the Boston Tea Party.
 
Charles Willson Peale
April 15, 1741–February 22, 1827
Charles Willson Peale began working as a saddler in Maryland, but quickly turned to painting when he met fellow artist John Singleton Copley. He traveled to England between 1767-69 and studied under Benjamin West. Peale was an excellent portrait painter and would carry this with him through his years serving in the Revolutionary War, painting several famous figures we know from this time period. Fellow officers noted he always had a miniature painting case with him. In 1805, he founded the Pennsylvania Academy of the Fine Arts in Philadelphia.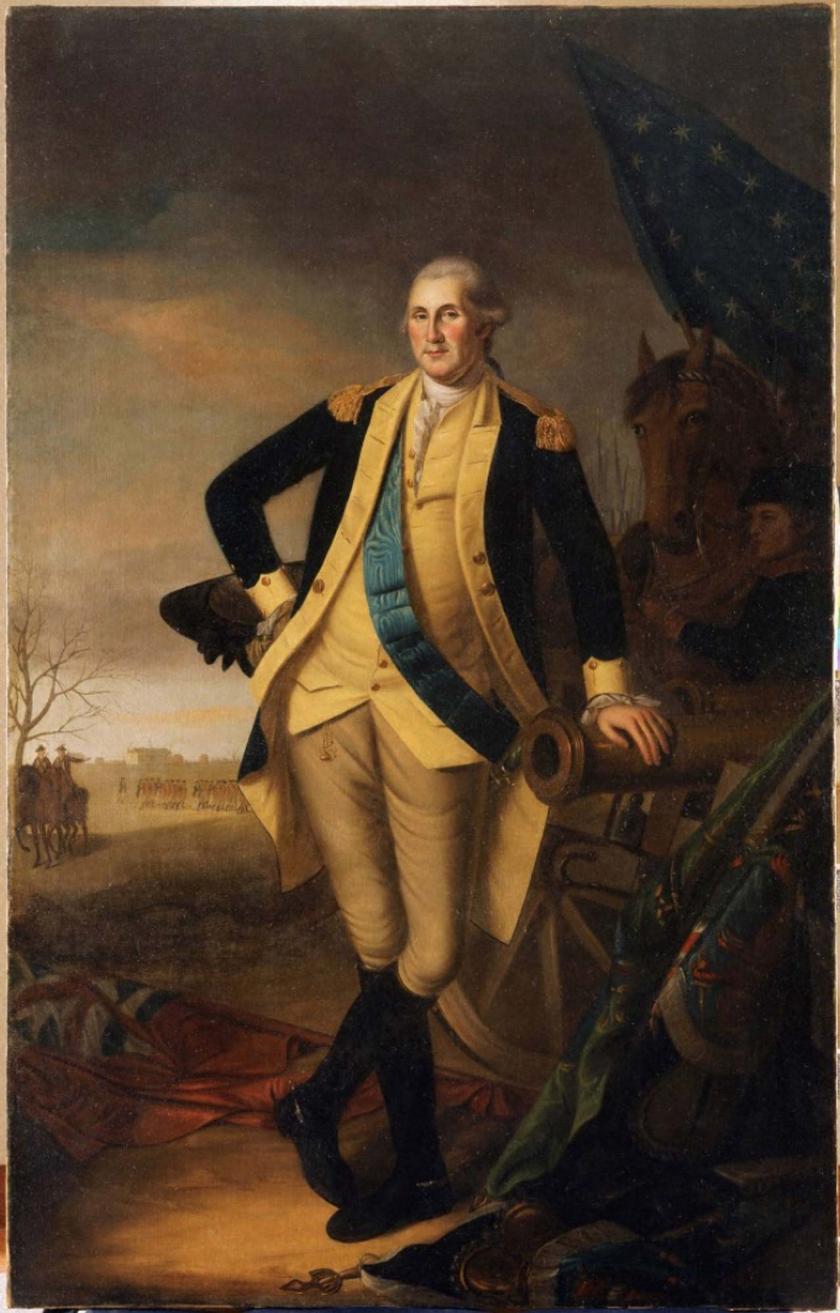 Peale is best known for his full-length portrait of George Washington After the Battle of Princeton, New Jersey (1782). Peale depicts the president seemingly untouched by the war save for the scenes behind him. In the background, surgeon Benjamin Rush holds in his arms a dying General Hugh Mercer, a close friend of Washington's. Peale's paintings reveal his close attention to detail of not just the figure but of their lives.


John Lewis Krimmel
May 30, 1786–July 15, 1821
John Lewis Krimmel became known as "the American Hogarth" because of his genre paintings, meaning they depicted ordinary life rather than historical events. Krimmel is different from the others in this list because he was a genre painter. He was an immigrant from Germany, who settled in Philadelpha. His works would depict an early American culture surrounded by Independence. He also produced the first known works depicting free blacks in Black People's Prayer Meeting (1813). Krimmel died at the age of 35 after a swimming accident.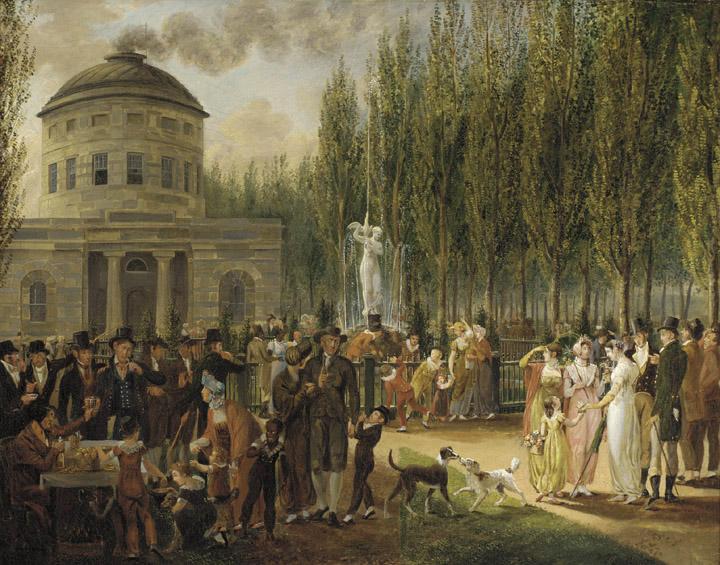 Fourth of July in Centre Square Philadelphia (1819) is one of Krimmel's many works to depict patriotism in Philadelphia. He showed an earlier version in 1812 at the Pennsylvania Academy of Fine Arts and it became the first work to consider such a normal subject matter fine art. Both versions show how Philadelphia's population changing with individuals in the frame from different walks of life: Quakers, wealthy merchants, buyers, women, black people, and many others.
 
Gilbert Stuart
December 3, 1755–July 9, 1828
Gilbert Stuart was born in the Colony of Rhode Island and Providence Plantations, the son of the first snuff-mill operators in America. His artistic promise emerged in childhood, when he was mentored by Scottish artist Cosmo Alexander, under whose guidance he completed his first prominent work, Dr. Hunter's Spaniels, at age 14. The Revolutionary War paused the progress of his career as a portrait artist, with his Loyalist family moving to Canada at its outset. Stuart later went to London where he became a protégé of West. He rose to fame with The Skater (1782), a portrait of Sir William Grant and his first full-length portrait. Despite commercial success, poor financial planning nearly landed him in debtors' prison in both Britain and Ireland.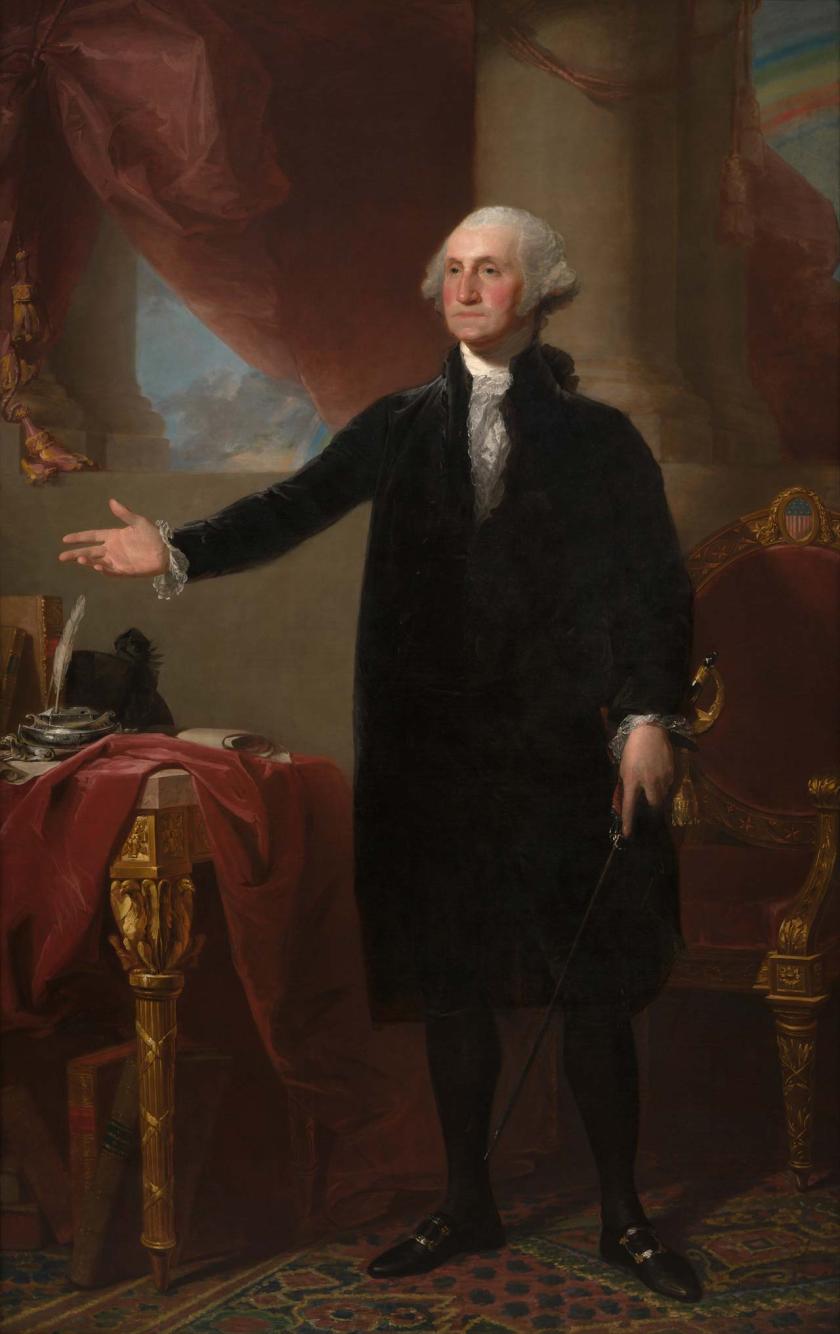 Stuart returned to American in 1793 with a singular vision: paint a portrait of George Washington that could be engraved, and those reproduction fees could support his family. He leveraged sessions with statesman John Jay sessions into a letter of introduction to the General in 1795. Ultimately, Stuart painted a series of portraits of Washington, including The Athenaeum (1796), which is featured on the one-dollar bill, and the symbolically rich Lansdowne Portrait (1796).  For example, a rainbow indicates the peace that grew out of revolution and the dogs on his silver inkwell make use of an archetypal symbol of loyalty. Even the titles included on visible books have meaning.
 
Emanuel Leutze
May 24, 1816 - July 18, 1868
Emanuel Leutze is the most distant on this list from the Revolutionary War, but his work became one of the most famous depictions of the war. He was a German immigrant who settled in Fredericksburg, Virginia before moving to Philadelphia, Pennsylvania. His talent became apparent as a child, when he sketched his father on his deathbed. At age 14, he began to sell his works for $5 each. He studied abroad for several years in Europe where he became intwined with the European Revolutions of 1848. To encourage liberal reformers to be inspired by the war for freedom, Leutze began to create works of the Revolutionary War.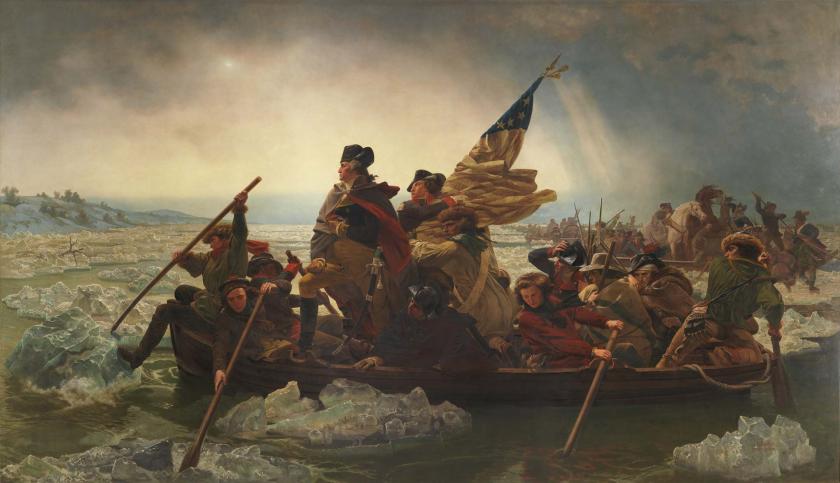 In 1851, he completed the first version of Washington Crossing the Delaware using American tourists and art students as his models. Leutze even included Washington's favorite sword. This work would be almost destroyed in a studio fire shortly after its creation. Then in World War II, it was finally destroyed by Allied forces during a bombing raid. A second version, reaching 22 feet in width, was ordered by a Parisian art trader Adolphe Goupil in 1851. Since then, it has sat in the Metropolitan Museum of Art.
This painting is highly romanticized. On a small boat and surrounded by ice, Washington certainly could not stand so heroically and balanced. Interestingly, Leutze included a diverse range of soldiers to accompany Washington: militiamen, a black soldier, a Scotsman, two officers, and two farmers. Leutze wished to represent the range of individuals the war came to impact. However, the painting is not entirely historically accurate: The flag, for example, was not in use till after September 1777, nor did he obtain that particular sword until late 1778, both events long after he crossed the Delaware River.
More Head-Tilting History