American Battlefield Trust Poised to Save 303 Acres at Lookout Mountain and Franklin, Tennessee
Donors to the campaign, which must raise $75,000, receive first access to "Battle Maps of the Civil War: The Western Theater," a new collection of the organization's acclaimed historic cartography
(Chattanooga, Tenn.) – Strategy and grit abounded in the Civil War's vast Western Theater. It was there that Union commanders employed tactics that hit the Confederacy at its most vulnerable points, impeding the ability to move supplies and men. As the conflict unfolded, Tennessee became a particular hotbed for combat, witnessing conflict at iconic spots the American Battlefield Trust now works to protect. As part of this ongoing effort, the Trust has launched a new fundraising campaign to save 303 historic acres at two Tennessee battlefields — Lookout Mountain and Franklin. As an additional incentive to secure donations quickly and set these landscapes aside forever, donors to the campaign receive first access to the Trust's brand new book Battle Maps of the Civil War: The Western Theater, the second book in a series collecting the group's acclaimed historic maps in bound form for the first time.
"If you've ever stood on the Chattanooga Battlefield and turned your eyes toward the slopes of Lookout Mountain, then you know just what a New York infantryman meant when he quipped 'What?! Does the General expect us to fly?!' There have been times when saving our nation's valuable hallowed ground from destruction has seemed nearly as impossible as scaling the sides of that formidable peak," said Trust president David Duncan. "But just as those Union forces persevered, the Trust intends to do the same. We cannot turn away from this pristine opportunity to save land of such great heights at Lookout Mountain and Franklin."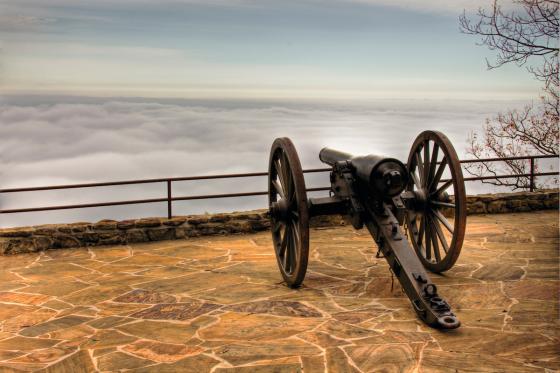 The 1,400-foot-tall Lookout Mountain sits along the Tennessee state line near Chattanooga, and in November 1863 it appeared to be a seemingly impregnable position for Confederate Gen. Braxton Bragg and his Army of Tennessee. But Union Maj. Gen. Joseph Hooker identified that Bragg had dramatically shortened the south end of his line, providing the perfect opening for the Federals. On the morning of November 24, Hooker ordered his troops to attack the Confederate units entrenched on the mountain slopes. In doing so, he commanded Brig. Gen. John W. Geary's division to cross Lookout Creek and traverse the 301 acres that the Trust is now working to place under conservation easement at Chattanooga.
This substantial acreage is one of the single largest tracts yet available to preservationists that is associated with Chickamauga and Chattanooga National Military Park, established in 1895 as America's first national military park. The conservation easement is worth $3.8 million, but thanks to a generous donation from nonprofit landowner Reflection Riding Arboretum & Nature Center and anticipated federal and state grants, the Trust is left to raise only $50,000 in order to finalize the effort. Once completed, this project will bring the Trust's total of preserved land at Chattanooga to 420 acres, including recently finalized work at Brown's Tavern.
"We're seizing on a once-in-a-lifetime opportunity to permanently conserve this property that our community has loved for more than half a century," said Reflection Riding President and CEO Mark McKnight. "While our mission remains the same, this agreement will ensure that our children and grandchildren, and frankly those who come after them, will experience the same beautiful historic landscape…. While individual buildings may come and go, this historic landscape and the botanical heritage we've inherited will stay unchanged for future generations once this extra layer of legal protection goes into place.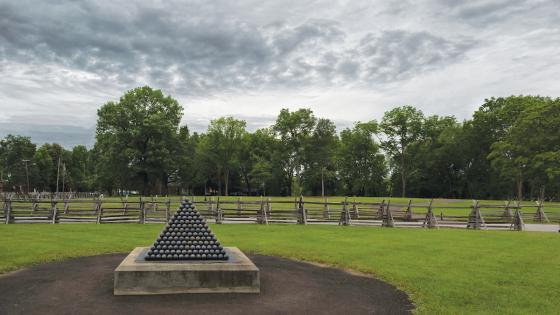 A year after Lookout Mountain's "Battle Above the Clouds," the fighting at Franklin on November 30, 1864, took place when Confederate Gen. John Bell Hood and his Army of Tennessee sought to bring a divisive blow to Union General John Schofield. After a month of sparring, the Federals had dug in at Franklin forcing Hood to make a frontal assault over two miles of open ground against a numerically equal foe entrenched behind three lines of breastworks. Confederate forces were immediately assailed by cannon and small-arms fire but managed to splinter the Union center briefly. After nearly three hours of intense combat, the Army of Tennessee pulled back, decimated.
For long decades, the battlefield at Franklin was considered "lost" under the concrete and asphalt of development, but a groundswell of recent preservation activity has reclaimed the site one small parcel at a time and restored a growing battlefield park. With much of the historic landscape occupied in modern times by commercial business, the reemergence of the Franklin Battlefield has been an expensive undertaking, but a committed community of residents and nonprofit organizations is making great progress. Now, two more acres along the Lewisburg Pike, where Confederate Gen. Thomas Scott's brigade of Louisiana, Alabama and Tennessee troops made a final push towards the left flank of the Union line, are available for protection.   
Described by Battle of Franklin Trust CEO Eric Jacobson as "one of the last available, most important unpreserved properties in Franklin," the site was a high priority for acquisition. And when it went up for auction, representatives of Battle of Franklin Trust, the Friends of Franklin Parks, Franklin's Charge, and Save the Franklin Battlefield — buoyed by a $25,000 grant from the American Battlefield Trust — were ready to pounce. Victorious at auction, the Trust can now proclaim 180 total acres saved at Franklin. 
Together, these 303 acres of Tennessee hallowed ground are valued at nearly $4 million, but thanks to key partnerships, generous landowners and anticipated federal and state matching grants, the Trust's fundraising need is only $75,000 — an astonishing $53-to-$1 return on investment. As a limited-time incentive, donors who give $50 or more toward this campaign will receive — fresh off the presses — the Trust's newest book, Battle Maps of the Civil War: The Western Theater, a second annual volume showcasing our acclaimed maps. Last year's edition on the Eastern Theater was wildly successful and the new title, tracking the course of the war from Fort Sumter to Joe Johnston's surrender at Bennett Place, is already proving popular.
Learn more about the effort at Lookout Mountain and Franklin at www.battlefields.org/MapBookVol2. Other active preservation efforts seek to set aside land at Gettysburg, Vicksburg, Perryville, Stones River, and more.
The American Battlefield Trust is dedicated to preserving America's hallowed battlegrounds and educating the public about what happened there and why it matters today.  The nonprofit, nonpartisan organization has protected more than 53,000 acres associated with the Revolutionary War, War of 1812, and Civil War. Learn more at www.battlefields.org.