John M. Schofield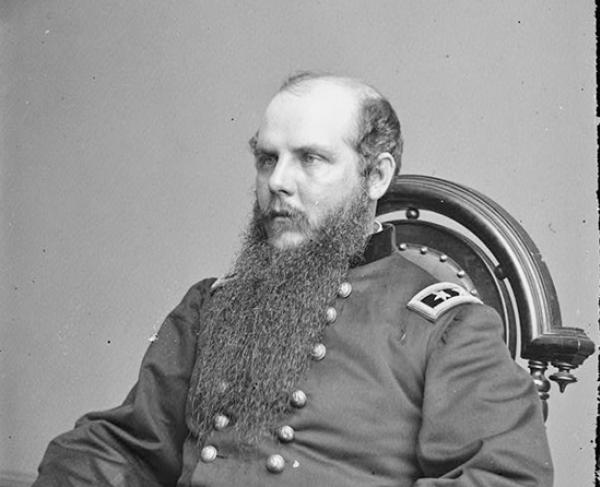 TitleMajor General
War & AffiliationCivil War / Union
Date of Birth - DeathSeptember 29, 1831 – March 4, 1906
John McAllister Schofield began his very successful military career after graduating seventh from the United States Military Academy in 1853.  He briefly served in Florida, and then taught philosophy at West Point.  In 1860, Schofield took a leave of absence from the army and began to teach at Washington University in St. Louis.
At the outbreak of the war, Schofield first served as mustering officer for the state of Missouri, received the promotion of major of the 1st Missouri Infantry, and served as chief-of-staff under General Nathaniel Lyon at the battle of Wilson's Creek.  On November 21, 1861, Schofield was promoted to brigadier general, and placed in charge of all the Union militia in Missouri.  He was placed in charge of the Army of the Frontier, and was promoted to major general on November 29, 1862, though the Senate did not confirm the appointment until May 12, 1863.
He was given command of the XIV Corps in Tennessee, but returned to Missouri in May of 1863 to command the Department of the Missouri.  In January of 1864, Schofield led the Army of the Ohio during the Atlanta Campaign under William T. Sherman.  When Sherman set off on his infamous "March to the Sea," Schofield and his command were left under George H. Thomas to stop the invasion of Tennessee led by Confederate General John B. Hood.  On November 30, 1864, Schofield successfully repulsed John Bell Hood during the battle of Franklin, and effectively crippled Hood's army.  Two weeks later, during the battle of Nashville, General Thomas used Schofield and his XXIII Corps to effectively destroy what was left of Hood's army.  Schofield received a promotion to brigadier in the regular army for his actions at Franklin. 
Schofield was again moved to fight under Sherman in North Carolina.  He captured Wilmington, and fought at the battle of Kinston before meeting up with Sherman on March 23, 1865 in Goldsboro.  Working together with Sherman, Schofield led the Department of North Carolina until the surrender of Joseph E. Johnston at Durham Station.  For his service, he was brevetted to major general in the regular army.
After the war, Schofield went on to become the Secretary of War under President Johnson.  He helped with the recommendation of making a naval base a Pearl Harbor, Hawaii, and eventually was promoted to lieutenant general.