Save 303 Critical Acres in Tennessee
A message from David Duncan, American Battlefield Trust president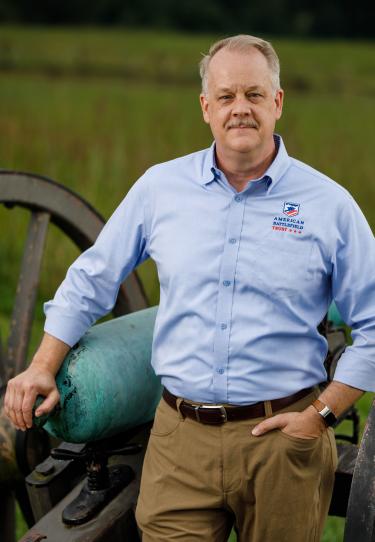 "What !?! Does the General expect us to fly!?!"
– Union Soldier, 149th New York Infantry
 
October 16, 2020
Dear Fellow Preservationist,
If you've ever stood on the Chattanooga Battlefield and turned your eyes up towards the slopes of Lookout Mountain, then you know just what that New York infantryman meant when he got the order to take his troops and scale those heights . . .
Over my last two decades at the American Battlefield Trust, there have been times when saving our nation's valuable hallowed ground from destruction has seemed nearly as impossible as scaling the sides of that formidable peak . . .
But as I write my first letter to you as President of the Trust, I'm reminded of just how critical it is to make sure words like these — words that help us understand how hard fought our nation's history was — are never forgotten, no matter how difficult it may seem.
Although we're all witnessing times of great change, I want to reassure you today that we will not let up for a moment in the pursuit of our important mission.
As development threats continue to loom large over the thousands of priceless acres of hallowed ground that are still unpreserved across the country, you have my word:
Each and every one of us here at the Trust will continue to fight tirelessly alongside you to save our great American history and heritage.
And because I don't want to miss a beat, I have some wonderful news about our two newest preservation opportunities in the Western Theater — one at the famed battlefield of Lookout Mountain and the other at the historic Franklin Battlefield.
But before I tell you more about these important tracts, let me emphasize again how much your support means to me and to each of us here at the Trust.  
It is all thanks to your generosity that the Trust has continued "full speed ahead" over these past few months to secure our nation's hallowed ground, even during a global pandemic.
As I step into my new role, I want to express my most heartfelt gratitude for your support in this crucial fight. The Trust wouldn't be where it is today but for your dedication to saving our nation's battlegrounds for future generations.
I know how much you, like me, value our nation's irreplaceable history, which makes me absolutely thrilled to share with you two unique and incredible opportunities to save hundreds of acres of hallowed ground for a fraction of this land's purchase value. Let me explain . . .
Thanks to several key partnerships, matching grants, and your generosity, we will be able to save more than 303 acres — worth nearly $4 million in transaction value — for a combined total of just $75,000!
In other words, any gift you make today will be multiplied 53 times!
Your gift today of any size will be matched $53-to-$1 to save critical parcels of historic land on not one, but two Tennessee battlefields, for a combined total of 303 acres! That means that instead of us raising nearly $13,100 per acre, we only need to raise $248 per acre!
The first tract includes 301 acres that played an important role in the "Battle Above the Clouds" at Lookout Mountain. Thanks to a generous landowner donation and a federal grant, the Trust for just $50,000 will be able to protect this land with a conservation easement worth $3.8 million!
This particular parcel, which was instrumental in Union General Joseph Hooker's unexpected and effective flanking maneuver against Confederate General Braxton Bragg's forces on Lookout Mountain is one of the single largest tracts of land that can still be saved on the Chattanooga Battlefield.
And what's more . . . this effort marks one of the biggest land transactions at this battlefield since Chickamauga and Chattanooga National Military Park was dedicated as America's first national military park in 1895. You will be making preservation history!
The second tract is a small but crucial parcel at the Franklin Battlefield, which adds a key piece of ground to the land you've already worked so hard to reclaim and restore.
This parcel of land, bid on and purchased in August by a partnership of The Battle of Franklin Trust, the Friends of Franklin Parks, Franklin's Charge, and Save the Franklin Battlefield, is so important that Chief Executive Officer for the Battle of Franklin Trust and author of this generation's best history of that battle, Eric Jacobson, described it as "one of the last available, most important unpreserved properties in Franklin."
I'm happy to announce that the Trust has committed a grant of $25,000 to help make this transaction possible and to secure this important piece of the battlefield for all time!
Before I get too carried away with the tremendous impact of both of these purchases, let's turn for a few moments to the history of these tracts, beginning with Lookout Mountain . . .
It was November of 1863, just a few months after the Confederate victory at Chickamauga, Georgia. General Braxton Bragg positioned his Army of Tennessee on the heights above the strategic rail center of Chattanooga, Tennessee — which was occupied by the Federal Army of the Cumberland.
Above Chattanooga, Bragg's entrenched Confederates controlled the steep palisades of the gigantic, 1,400-foot-tall Lookout Mountain, a seemingly impregnable position.
Yet Union General Joseph Hooker saw a weakness in Bragg's position. A noted local expert on the battle explains that Hooker, "having studied carefully where Confederates were and were not on the western and northwestern slopes of the mountain, planned to apply feint, deception, and maneuver to achieve, as he saw it, his just authorized objective conduct a demonstration against the Confederates on the northern tip of Lookout Mountain and, if practical, take the northern tip of the mountain." Now, if you look at your map, you can see Lookout Creek bounding the target property on the west.
An informal picket line began to form over this portion of the tract, which had served as the front line between the two forces since late October, and soon witnessed a great deal of fraternization — soldiers from both sides interacted, trading items such as newspapers and Southern tobacco for delicacies like Northern coffee.
But this wasn't all the soldiers traded — exchanges along the line kept Hooker apprised of his opponents' locations on the heights. Hooker received word that Confederate forces had dramatically shortened the south end of their line, providing just the opening he needed.
Early on the morning of November 24, Hooker boldly ordered his troops to attack the Confederate units entrenched on the mountain slopes, commanding Brigadier General John W. Geary's division to cross Lookout Creek at a point known as Light's Mill, also on the property we are working to preserve today.
The lofty heights of Lookout Mountain seemed to present a formidable obstacle. However, Hooker's knowledge of the Confederate positions ultimately turned his maneuver into a Union victory. Hooker's unexpected advance and tactical success at Lookout Mountain opened the door for his troops to join the Battle of Missionary Ridge the next day, where Bragg's army was routed by Union forces. Quartermaster General Montgomery Miegs, seeing the combat unfold amid the morning fog at Lookout Mountain, dubbed it the "Battle Above the Clouds."
These priceless and mostly pristine acres at Lookout Mountain are owned and stewarded by Reflection Riding Arboretum & Nature Center, a wonderful non-profit organization which has given the Trust the opportunity to preserve its property in perpetuity. This means that real estate developers, who would love to build dozens of McMansions on this spectacular property, will never have a chance to do so. Who wouldn't jump at the chance to permanently prevent this green Tennessee hillside from being subdivided into housing lots . . . erasing the history at Lookout Creek and up the slopes of the mountain. . . Keep that image in mind for just a moment longer as we turn to the Franklin Battlefield . . .
You may recall that just a few short years ago, Franklin was the site of some of the ugliest commercial development I've ever seen on a battlefield . . . However, thanks to your generous support, and the tireless work of incredibly committed and remarkable local partners, much of this battlefield is now pristinely preserved. In fact, this battlefield is so pristinely preserved that in some areas it's now hard to believe it had ever been developed! Franklin is a miraculous battlefield reclamation success story. But there is still more to do. I ask for your help today to save another small but critical tract of land at Franklin to add to the story of the battle there. The 2-acre parcel located along the Lewisburg Pike witnessed heavy combat on November 30, 1864.
Confederate General Thomas Scott's brigade of Louisiana, Alabama and Tennessee troops charged across these acres making a final push towards the Federal defensive works on the left flank of the Union line as the battle raged around them. Scott's troops faced withering fire from Federal artillery and muskets and suffered heavy casualties.
If you look to your battle map, you can see in yellow the tract's position on the right flank of Gen. William W. Loring's Division. At the time of the battle, this tract made up the northwest corner of a property called Carnton, owned by John McGavock. Many of the soldiers killed in this battle were later buried in the McGavock Confederate Cemetery.
I could go on and on about the importance of continuing our work at Franklin, but I have two more important pieces of information to share with you:
The first is about the 2021 American Battlefield Trust calendar that I have enclosed with this letter as a special gift to you, as a token of my thanks and appreciation for all you have done for this cause. 
I hope this collection of beautiful photographs and key historic dates will be a daily reminder of what will be lost if we don't work together to achieve our mission — these images all represent hallowed ground that has been preserved by dedicated friends like you, and which will now be available for future generations to study and learn from for years to come. And second, if you, like me, are a fan of the Civil War's Western Theater, I have even better news.
Following the success of our Eastern Theater Map Book (we ran through our first printing in only a few weeks, and have since had to print thousands more), I am excited to announce that the Trust has published Volume 2 of our Battle Maps of the Civil War Series, which focuses on Western Theater battlefields!
Through the decades, the American Battlefield Trust has created hundreds of maps detailing the action at major battles. Now, for the first time, we have collected the maps of some of the most iconic battles of the Civil War's Western Theater into a single volume that tracks the course of the war from Fort Sumter to Joe Johnston's surrender at Bennett Place. With 112 pages and 73 of the Trust's signature maps, this volume will provide the perfect tool to study the major actions of the Western Theater from start to finish!
And now, you have the chance to make this one-of-a-kind collection of battle maps yours! With any donation of $50 or more, you will receive our Western Theater Map Book, hot off the presses! 
But beyond the calendar and the map book, I hope you also feel a deep sense of pride in knowing that your gift today will make a lasting impact on our country's history – thanks to you, we can protect our country's future by preserving its past.
Before I let you go, I want to say again just how grateful I am for your dedication to saving our nation's hallowed ground. The road may not always be easy — our battles may be hard fought, and as that citizen-soldier observed, some may even seem impossible. But with you by my side, I know we will continue victoriously in the fight to save our country's history for all time.
Will you send your most generous gift today to help us make the final push to save these 303 acres of hallowed ground, as well as advance our mission all across America? I thank you in advance. For the first time as your president, it is my honor to continue the pledge made by my friend and mentor Jim Lighthizer. I am yours in this work.
'Til the battle is won,
David N. Duncan, President
P.S. Remember, too, that your gift of any size will be matched $53-to-$1! It's hard to get more bang for your buck than that on these important Western Theater battlefields. To say it another way, we already have 98.1 % of the transaction value lined up for this preservation effort . . . we only need to raise the final 1.9% of the total purchase cost to secure these acres for future generations!
P.S.S. If you would like to donate securely online, please visit the special appeal page we have created on our website at www.battlefields.org/303tennesseeacres. Your most generous gift today will be making preservation history by saving the largest unprotected piece of land left to save at Lookout Mountain and one of the most historically significant unpreserved acres at Franklin. Act now to make sure the stories that unfolded on these two battlefields, as well as battlefields all across our nation are never lost!