News
American Battlefield Trust Elevates Preservation in the Old Dominion By 47 Acres
Preserved acreage at Cedar Creek and Cedar Mountain battlefields includes transfer to the National Park Service
Colleen Cheslak-Poulton, (202) 367-1861 x7234 
(Middletown, Va.) — The American Battlefield Trust's most recent preservation victory has amounted in the protection of 47 acres across the Cedar Creek Battlefield in the Shenandoah Valley and Cedar Mountain Battlefield in the Virginia Piedmont. With the assistance of the National Park Service, American Battlefield Protection Program, Shenandoah Valley Battlefields Foundation, Virginia Land Conservation Fund and determined Trust donors, this acreage now has the opportunity to be a place of learning and reflection for generations to come.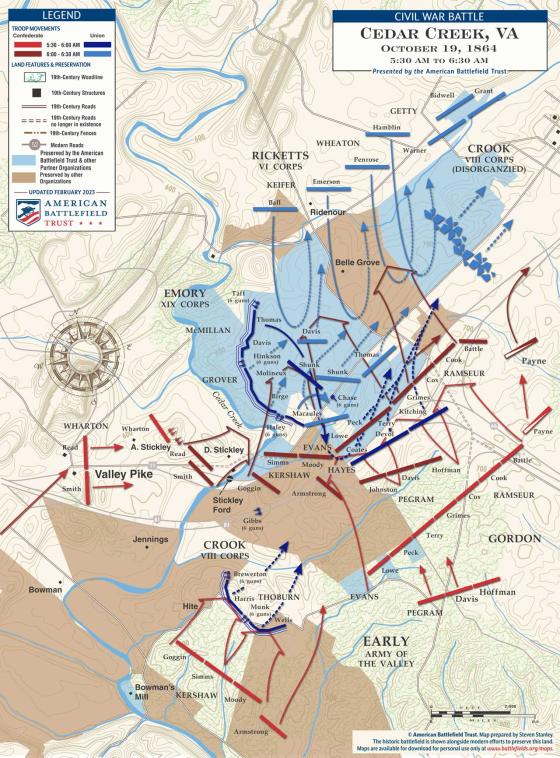 "Each parcel of hallowed ground we save presents a chance to further understand the history of our nation," said Trust President David Duncan. "At Cedar Creek, we not only saved this roughly two and a half-acre parcel but also transferred it to the National Park Service for integration into Cedar Creek and Belle Grove National Historical Park. It is always the Trust's intention to find responsible long-term stewards who can properly protect and maintain the land we save."  
The newly saved and transferred property at Cedar Creek is adjacent to park headquarters and on a central part of the battlefield, once touched by the determined actions of Union and Confederate troops on October 19, 1864, during the boldly executed Battle of Cedar Creek.  
Federals commanded by Colonels Rutherford B. Hayes and Howard Kitching — part of Maj. Gen. Philip Sheridan's Army of the Shenandoah — retreated across the ground, pursued by Confederate Maj. Gen. Stephen D. Ramseur's division in the early hours of the battle. While attempts were made to hold off Ramseur's attack, Union forces were hit, and the line collapsed. Blue-clad soldiers again retreated across the now-preserved property. The battle was ultimately won by Union forces, who rallied and launched a crushing counterattack. This victory extinguished any hope of further Confederate offensives in the Shenandoah Valley. 
"Preservation of the site means no additional residences in an area already-inundated with new construction around Middletown, plus preservation of the view of the Belle Grove manor house from the park's Morning Attack Trail," said Karen Beck-Herzog, site manager of Cedar Creek and Belle Grove National Historical Park. "Grounds preserved by the Trust have opened battlefield lands previously held privately, allowing visitors to interact with the park in a variety of ways as they walk in the footsteps of soldiers."  
More than 50 miles south of Cedar Creek, the Cedar Mountain Battlefield also benefitted from the battlefield preservation nonprofit's efforts, growing by nearly 45 newly-preserved acres. The feat was supported by the American Battlefield Protection Program and the Virginia Land Conservation Fund.  
The 1862 Battle of Cedar Mountain, which concluded in a Confederate victory, featured a determined Maj. Gen. Thomas "Stonewall" Jackson rallying his Confederate troops with the wielding of a rusted saber sheathed in its scabbard. While the Trust has already committed to a 1,700-acre donation of land across the Cedar Mountain and Brandy Station battlefields to create a new Virginia state park unit, Culpeper Battlefields State Park, the organization remains committed to bringing preservation to an even higher level at these significant sites. The Trust is currently fundraising to save another seven acres at Cedar Mountain, plus 97 acres at Brandy Station. To learn more about this opportunity, visit www.battlefields.org/104AcresVirginiaPiedmont.  
Both the Cedar Creek and Cedar Mountain battlefields will be participating in the Trust's annual Park Day clean-up effort on April 15. In its 27th year, Park Day has seen thousands of volunteers gather at battlefields and historic sites across the nation to keep our nation's heritage not only preserved, but pristine. Find details on this beloved tradition at www.battlefields.org/parkday.  
The American Battlefield Trust is dedicated to preserving America's hallowed battlegrounds and educating the public about what happened there and why it matters today. The nonprofit, nonpartisan organization has protected more than 56,000 acres associated with the Revolutionary War, War of 1812 and Civil War across 155 sites in 25 states. Learn more at www.battlefields.org.  
###