William Henry French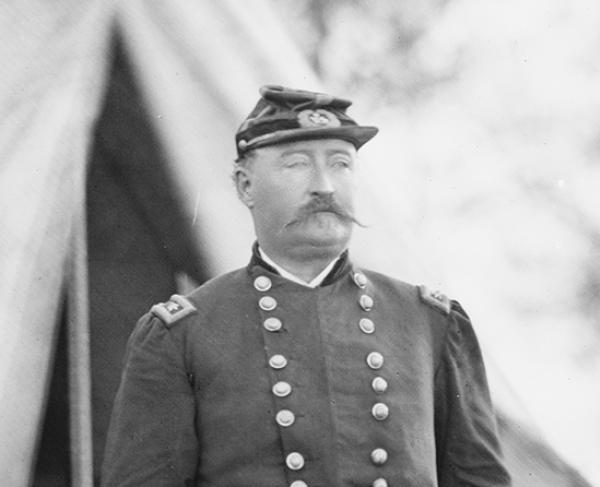 TitleMajor General
War & AffiliationCivil War / Union
Date of Birth - DeathJanuary 13, 1815 to May 20, 1881
William Henry French, a career military man, was born January 13, 1815, in Baltimore, Maryland. He graduated from the United States Military Academy at West Point in 1837, 22nd out of 50 in a class that included future generals John Sedgwick, Braxton Bragg, Joseph Hooker, Jubal Early, and John Pemberton. Before the outbreak of the Mexican War, French fought in the Seminole Wars in Florida and served on garrison duty along the Canadian border. After briefly resigning his commission, he rejoined the United States Army and participated in the Mexican Amerian War. In Mexico, French served under Gen. Franklin Pierce and was brevetted for his bravery at the battles of Cerro Gordo, Contreras, and Churubusco. After the war, French continued his military career, first serving on a court-martial board with fellow officer Thomas J. Jackson, and the heading Battery E, 1st United States Artillery at Fort Meade in Florida. Both French and Jackson served at Fort Meade, French as the commanding officer, and Jackson as his commissary and quartermaster officer. A rift between the two officers quickly opened, with Jackson leveling salacious charges against his commanding officer. The rift became a canyon as both Jackson and French leveled more and more accusations against one another, splitting the command apart from the inside. French was reassigned to Fort Myers, and his continued battle with army officials over the Jackson incident cost him that command, too. Eventually, William French was transferred to Fort Duncan, Texas when that state seceded from the Union. In the meantime, he helped to re-write the army's light artillery textbook.
A staunch Unionist, French was anything but indecisive, and rapidly led his command to the mouth of the Rio Grande, and then to Key West, where he stamped down on secessionist activities. On December 5, 1861, French was commissioned a brigadier general of United States Volunteers (the date of rank was September 28, 1861), and assumed command of the Third Brigade, Edwin V. Sumner's Division, Army of the Potomac. After leading his men ably during the Battle of Fair Oaks and the Seven Days battles, French was given command of the Third Division, II Corps. His men were at the center of the fighting at Antietam, suffering 1,700 casualties around the Roulette Farm and "Bloody Lane." He was promoted to major general in November and led his division against another sunken road below Marye's Heights at Fredericksburg. His division served near the Chancellor House at the Battle of Chancellorsville. French was stationed near Harper's Ferry, WV, during the Gettysburg Campaign. 
Shortly thereafter, on July 7, 1863, French succeeded the wounded Gen. Daniel Sickles to command of the III Corps. Unfortunately for French, his tenure as a corps commander was short-lived and fraught with controversy. During the Mine Run campaign of November, French's leadership was poor and his command blundered into battle at Payne's Farm and failed to reach its objective point. Army of the Potomac commander Gen. George G. Meade was furious. Reverting to his antebellum habits of quarreling with subordinates, the churlish French blamed his subordinates for his failures during the Mine Run Campaign. Meade had seen enough of French's behavior, and when the Army of the Potomac was reorganized and consolidated in the spring of 1864, French was mustered out and returned to Philadelphia to await orders. His war was over.
French lost his rank in the United States Volunteers, but retained his regular army rank. After the war. By 1872, French was serving in the San Fransisco area, and he finished his career as the commander of Fort McHenry in 1880. William French died on May 20, 1881, and is buried in Rock Creek Cemetery in Washington, DC.