William Carney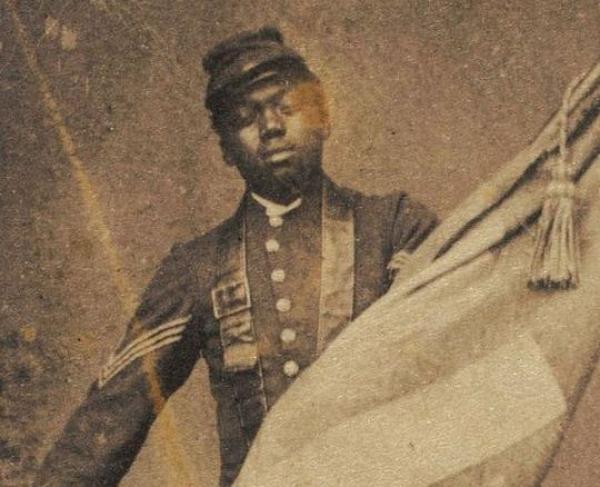 TitleSergeant
War & AffiliationCivil War / Union
Date of Birth - DeathFebruary 29, 1840 – December 9, 1908
Born into slavery in the Norfolk area of Virginia, William Carney escaped servitude as a young man on the Underground Railroad to join the rest of his family in Massachusetts. It was there that he eventually signed up to join the war effort in 1863, after President Lincoln signed a degree allowing African-Americans to serve in the Union Army. The regiment Carney joined was no less than the famous 54th Massachusetts.
The charge of the 54th Massachusetts Infantry, immortalized in the Academy Award–winning film Glory, was a seminal moment in the acceptance of African American soldiers as an effective fighting force. Although they were unable to seize the formidable defenses of Fort Wagner, on a barrier island in Charleston Harbor, the unit did crest the parapet. They stood in the vanguard of the assault, knowing that no quarter would be offered to them by their Confederate adversaries; indeed, the many fatalities, including the regiment's colonel, were buried in an unmarked mass grave.
Sgt. William Carney, the unit's final color bearer during the action — several having been shot down before he picked up the banner — survived the assault. The incredible valor he displayed under fire, planting the flag atop the walls of the fort and safeguarding its return to Union lines despite several wounds, represents the earliest action for which a black soldier was awarded the Medal of Honor. After making it to safety, Carney reportedly said, "Boys, I only did my duty; the old flag never touched the ground!" But Carney — born a slave — had to wait nearly 37 years to claim the honor. In all, 25 African American soldiers and sailors received the Medal of Honor during the Civil War.
After the war, Carney spent most of his life as a maintenance worker in New Bedford, Massachusetts. He passed away in 1908 at the age of 68 and currently lies interred at Oak Grove Cemetery in that city.
Citation in Medal of Honor Database: Find William Carney