Library of Congress
Delving into what the lives of Civil War Medal of Honor recipients were like once returning home and the sometimes circuitous routes they took to receiving our nation's honor.
Nearly half of the Medals of Honor that have been distributed since the award's inception in 1862 were bestowed for actions during the Civil War. A great deal is known about some of the events for which those men — and, in only one case, a woman — were recognized. But for all that has been written about the battle exploits of those brave men, their broader lives are often shrouded in obscurity. 
William Harvey Carney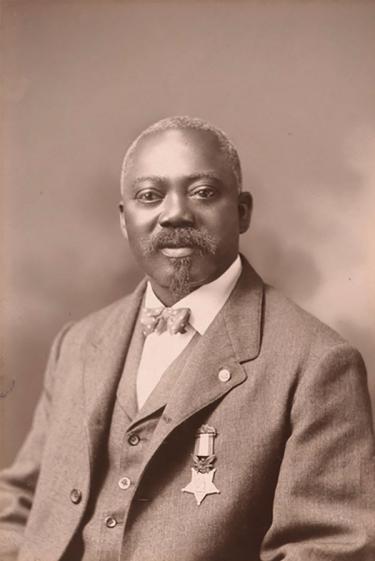 William Harvey Carney, one of the heroes of the 54th Massachusetts's attack on Battery Wagner was born into slavery in Norfolk, Va., escaping via the Underground and building a life in the Bay State. He left his studies for the ministry to enlist in the first African American regiment raised by the state as a sergeant, and marched off to war down Beacon Street on May 28, 1863, an event immortalized in the bronze Augustus Saint-Gaudens's memorial on Boston Common.
The experience of Carney's regiment was fictionalized and depicted in the 1989 film Glory, familiarizing many Americans with this dramatic engagement. Carney himself is not directly portrayed in the film, although his own experience in the engagement was suitably dramatic. When he watched the color bearer fall, fatally wounded, Carney took up the flag and carried it for the rest of the battle. He briefly planted it atop the parapets and brought it safely back to Union lines in retreat. In the process he was shot in the head, chest, legs and one arm. Despite this, he refused offers from men of other units to take the flag so he could receive medical aid, replying "No one but a member of the 54th should carry the colors!"
Help Save Fredericksburg
Help us preserve the memory of those brave Americans who sacrificed so much at Slaughter Pen Farm — scene of the most vicious hand-to-hand combat of...
Related Battles
Battle Facts
Gettysburg, PA | July 1, 1863
Result: Union Victory
Estimated Casualties
51,112
Battle Facts
Charleston, SC | July 18, 1863
Result: Confederate Victory
Estimated Casualties
1,689
Battle Facts
Fredericksburg, VA | December 11, 1862
Result: Confederate Victory
Estimated Casualties
18,500
Related to Medal of Honor