Humphrey Marshall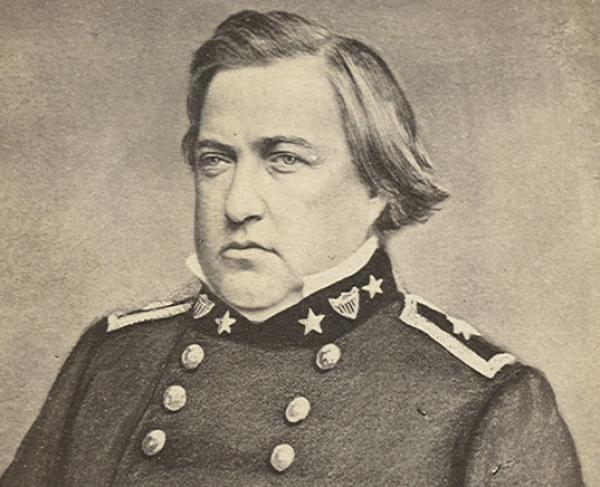 TitleBrigadier General
War & AffiliationCivil War / Confederate
Date of Birth - DeathJanuary 13, 1812 - March 28, 1872
Humphrey Marshall was born in Frankfort, Kentucky, on January 13, 1812, to a political Kentucky family. Marshall was a distant cousin to the First Chief Justice Of the Supreme Court, John Marshall. In 1828 Marshall was enrolled in West Point and graduated there four years later, forty-second in his class of forty-five. Following graduation, Marshall joined the mounted rangers, where he saw service in the first Black Hawk War in the 1830s. However, by 1833, Marshall resigned from his commission and studied law in Kentucky, where that same year, he was admitted to the bar. When the Mexican-American War began, Marshall was given command of the 1st Kentucky Cavalry and saw action at Buena Vista. Following the war, Marshall indulged in politics and, from the 1840s to the 1850s, represented Kentucky's 7th District. 
At the turn of the Civil War, Marshall sided with the Confederacy and mustered in as a brigadier general. After receiving his commission, Marshall was sent to the rugged mountains in Southwestern Virginia and Eastern Kentucky, where he was tasked with raising an army. In the winter of 1861, he moved into the Big Sandy Valley in Eastern Kentucky, where he tried to recruit for his army. In January of 1862, Federal forces under the command of James A. Garfield defeated Marshall in the Battle of Middle Creek, resulting in the Confederates retreating into Virginia and damaging his reputation. On May 16, 1862, Marshall's reputation was boosted when his newly named Army of Eastern Kentucky defeated Federals, under Jacob D. Cox, in the Battle of Princeton Court House, West Virginia, which saved the Virginia and Eastern Tennessee Railroad from falling into Union hands. 
Following his victory, Marshall resigned his commission but returned just in time for General Braxton Bragg's Kentucky Heartland Campaign in the fall. Marshall's small army moved through Eastern Kentucky, towards Mt. Sterling, and then to Camp Breckinridge. Following the Confederate defeat at Perryville, Marshall's command retreated into Eastern Kentucky. 
After spending the winter fighting pro-Union guerrillas, Marshall decided to launch a two-pronged raid into Kentucky to gain beef for the Confederacy and recruit more soldiers for his army. After getting support from his superiors, Marshall would first move his small mounted army into Kentucky, followed by John Peagram's cavalry column, advancing into the state further to the south near Somerset. On March 8, 1863, Marshall moved his 1,800-man army into the Commonwealth. By mid-March, Marshall's column made it to Ivyton, Kentucky, where local Home Guard Captain Reuben Patrick managed to capture Marshall's William's rapid-fire cannon, which was reported to shoot twenty rounds during the night a minute. After reaching Louisa, Kentucky, which held many valuable supplies, Marshall decided to fall back in the face of a Federal force defending the area. Once Marshall moved back into the state, he received word from Confederate officials that he either be relieved of his command or resign. The Kentuckian chose the latter. 
After his resignation, Marshall moved to Richmond, Virginia, where he practiced law and eventually represented the 8th congressional District of Kentucky in the Confederate Congress. After the war, Marshall fled to Texas and eventually moved back to Louisville, Kentucky, where he continued to practice law until he died in 1872.
Related Battles
Battle Facts
Floyd County, KY | January 10, 1862
Result: Union Victory