Jacob D. Cox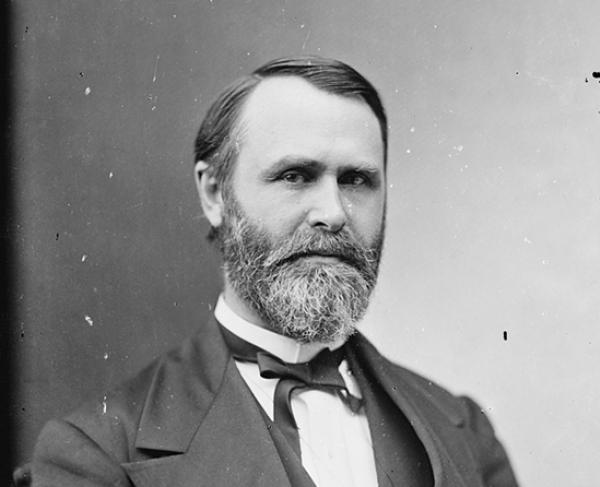 TitleMajor General
War & AffiliationCivil War / Union
Date of Birth - DeathOctober 27, 1828 - August 4, 1900
Though starting from humble beginnings and unable to afford an education, Jacob D. Cox became a major general for the Union Army, an abolitionist, an educator, and a polarizing political figure in American history. Born on October 27th of 1828 in Montreal, Canada to American parents, Cox was raised and educated in New York State. After working odd jobs as a legal clerk and banker, he moved to Ohio, enrolling at Oberlin College and graduating in 1851. While there, he married Helen Finney, the daughter of Oberlin's president, passed the bar examination in 1853, and began practicing law in Warren, OH.

Cox was an abolitionist sympathizer, and the environment at Oberlin and within his wife's family reinforced his beliefs. He was a supporter of the antislavery Whigs and Free Soil Party, and served as a delegate to the first Ohio Republican Party Convention in 1855. Elected to the Ohio State Senate in 1858, he joined forces with Senators James A. Garfield and James Monroe and together the three worked with governors of Ohio to promote legislation friendly to the Union.
Though his political star was on the rise, when war broke out in 1861, Cox entered the Union Army as a brigadier general of the Ohio Volunteers on April 23rd, 1861, and served under General George McClellan in the campaigns in western Virginia as they followed the rout of the Kanawha River. Cox's troops - the Kanawha Division - moved frequently, first advancing to Charleston in July of 1861, then rerouting to Gauley Bridge and battling General Henry Wise at the Battle of Scary Creek in West Virginia. Though technically a Confederate victory with heavy Union losses, Union troops were later able to take and hold the valley. Cox remained in the Kanawha Valley, fortifying it against repeated Confederate attacks during the winter of 1861-62.
After Confederate troops forces Cox's retreat out of the Shenandoah Valley in the spring of 1862, he redirected his soldiers to Washington D.C. to protect the capital, after which they fought at Monocacy Bridge. Joining forces with John Pope's Army of Virginia, Cox and his men went on to fight in the Maryland Campaign of 1862. Cox and his division were instrumental in the Battle of South Mountain on September 14th, the opening engagement of the Maryland Campaign. Cox, camped the closest to South Mountain, brought his division up to protect Fox's Gap, sending 3,000 of his men against the 1,000 Confederates stationed there. Though initially successful, Cox's men were exhausted, running low on ammunition, and had suffered high casualties. Reinforcements, however, failed to arrive, leaving the Kanawha Division to battle alone through the night. That night the Confederates withdrew, allowing Cox's men to seize Turner's Gap, a crucially important strategic point.

After Antietam, Cox returned to western Virginia, eliminating any remaining rebels. 1863 was a relatively quiet year for Cox; he was first assigned to command the District of Ohio, and then the District of Michigan, while he remained on the move, clearing out pockets of remaining Confederate resistance.
During the Atlanta Campaign of 1864, Cox commanded the 3rd Division of the Twenty-third Corps, using his troops as the main attack force at the Battle of Utoy Creek near Atlanta between August 4th and 7th, 1864. Cox and his division also protected the Union retreat from Pulaski to Columbia, engaged with Confederates at Spring Hill, and were at the center of the most violent fighting at the Battle of Franklin. After this demonstration of his ability to lead his troops well, Cox was appointed major general on December 7th, 1864. In 1865, Maj. Gen. Cox and his troops eliminated the threat of Fort Anderson outside of Wilmington, North Carolina, forcing Confederate soldiers out of the area and completing the Union blockade on ports used by the Confederate States.
Cox was elected as governor of Ohio in 1865 and served from 1866-67. As another term approached, the issue of black suffrage damaged his chances at reelection; Cox believed from his own observations during his time in the war that blacks and whites could not live together as equals. These views angered the constituents who had supported his previous policies, and he was not reelected. Cox then served as Secretary of the Interior in 1869 when Ulysses S. Grant was sworn in, though the two infamously did not agree on policy. Due to this and the corruption Cox believed inherent in the political system, he resigned in the fall of 1870. Cox was then elected to Congress in 18756, though his political career came to a close when he decided against seeking reelection in 1878. Cox became the Dean of the Cincinnati Law School, the president of the University of Cincinnati, and a trustee of Oberlin College. He retired in 1897 and became a prolific writer, discussing all manner of military topics concerned with the Civil War.
Cox died while on vacation in Massachusetts on August 4th, 1900. He is buried in Spring Grove Cemetery in Cincinnati.