John Pope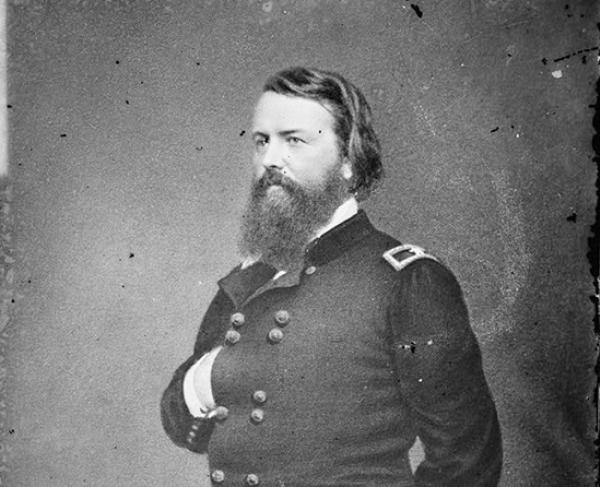 TitleMajor General
War & AffiliationCivil War / Union
Date of Birth - DeathMarch 16, 1822 – September 23, 1892
A career United States Army officer, John Pope was appointed on June 14, 1861 to brigadier general of volunteers by President Abraham Lincoln. Pope began the war in the Western Department with command of the District of North and Central Missouri.  In 1862, after relative success with a victory at Blackwater, Missouri, Major General Henry W. Halleck appointed Pope to command the Army of the Mississippi. Pope's orders were to clear the Mississippi River in order for easy Union movement.  On March 14th Pope and his army captured New Madrid, Missouri and on April 7th they captured the heavily fortified Island No. 10.  Pope's success in the Mississippi not only opened large portions of the Mississippi for the Union, but it also propelled Pope from brigadier general to major general.
In March of 1862 Pope was ordered to the East where he was placed in command of the Army of Virginia by President Lincoln.  In late August 1862 Pope met with Confederate General Robert E. Lee, General Thomas "Stonewall" Jackson, and General James Longstreet at the Second Battle of Manassas in Manassas Virginia. Pope and his men were able to survive the initial blows from Lee and Jackson; however, a final surprise attack by Longstreet proved to be too much. Pope's Army of Virginia lost at Manassas on August 30th, 1862. In September Pope was relieved of command, he was transferred to the Department of the Northwest for the remainder of the war.
Help Save Three Virginia Battlefields
Join us in protecting these 52 prime acres where young men fought and died for our country and freedom from big-tech companies with billions to spend.
Related Battles
Battle Facts
Prince William and Fairfax Counties, VA | August 28, 1862
Result: Confederate Victory
Estimated Casualties
21,849