Robert H. Milroy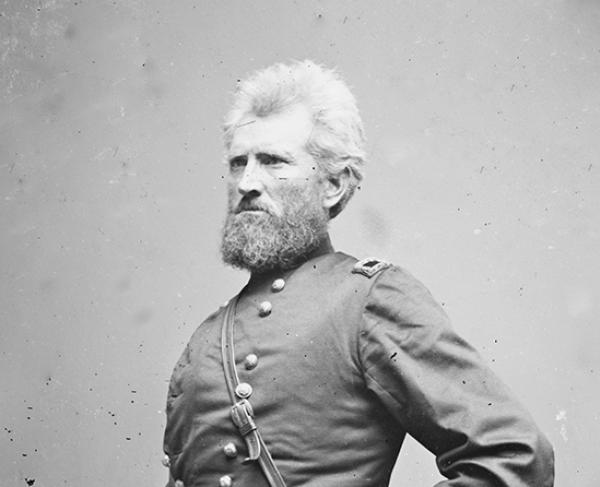 TitleMajor General
War & AffiliationCivil War / Union
Date of Birth - DeathJune 11, 1816 – March 29, 1890
Robert Huston Milroy was born in Washington County, Indiana, in 1816, the same year the state entered the Union. His father, Maj. Gen. Samuel Milroy, served with distinction in the Indiana militia during the War of 1812, and thus, from a very early age, young Robert had designs on following his father's footsteps in becoming a military hero -- and to do this, Milroy wanted to attend the United States Military Academy at West Point. However, his father would hear of no such thing; he believed a large standing army had no place in the republic and distrusted regular army officers. He instilled this hatred in his son, which could come to shape his own military career.
Without his parents' knowledge, Milroy attended Captain Alden Partridge's military academy, today known as Norwich University, in 1843.  He received degrees of Bachelor of Arts and Master of Military Science. Despite graduating first in his class, Milroy was frustrated when he was unable to obtain a commission in the U.S. Army, causing his resentment towards West Pointers to grow even further. Unable to make a career in the military, he returned to Indiana in 1844 to attend law school at the University of Indiana at Bloomington. The next year, he ran off to Texas and pledged allegiance to that fledgling republic. When war broke out with Mexico, he immediately volunteered his services as captain of the 1st Indiana Volunteers. He was frustrated when the 1st Indiana saw little action, only serving on guard duty. After the war ended, he resumed studying law, graduating in 1850. He was then admitted to the bar and served at the Constitutional Convention of 1850.  He quickly became an ardent Republican and abolitionist when the party rose to national prominence in the 1850s. He continued to practice law up until the outbreak of the Civil War.
Milroy's resentment of career soldiers, especially those from West Point, would shape his Civil War service. Once the war began, he was made a colonel of the 9th Indiana Infantry, which he led in the western Virginia Campaign of General George B. McClellan.  For his service, he was promoted to brigadier general on September 3, 1861. He commanded the Cheat Mountain district after his promotion and participated in the Shenandoah Valley Campaign of 1862 against Confederate General Thomas "Stonewall" Jackson, and commanded forces at the Battle of McDowell. During the battle, he was able to surprise Jackson's forces and had initial success, but he was unable to completely defeat the Confederate general. He then commanded a brigade of the Army of Virginia under General John Pope at the Battle of Second Manassas. On November 29, 1862, he was promoted to the rank of Major General. From February until June, Milroy commanded the 2nd Division of the VIII corps.  During the Battle of Second Winchester, Milroy was defeated after he decided not to withdrawal from Winchester, thinking that the fortification the town offered could withstand a Confederate attack.  Unfortunately, Milroy was overwhelmed by the 2nd Corps of the Army of Northern Virginia, led by Confederate General Richard Ewell.  Although Milroy and much of his staff escaped, Confederate forces captured 3,400 of his men, as well as all of his artillery and supply wagons. He was brought up before a court of inquiry, but was not found guilty of any major wrong-doing. He was inactive for a length of time until he was transferred to the Western Theatre. He served under General George Henry Thomas, recruiting soldiers for his army, and briefly commanded troops during the Nashville Campaign.  He resigned from the military on July 26, 1865.
After the war, Milroy served as a trustee of the Wabash and Erie Canal Company. From 1872 to 1875, he served as Superintendent of Indian Affairs in Washington Territory and served as an Indian agent for the next ten years. He passed away of heart failure in Olympia, Washington, on March 29, 1890.
Related Battles
Battle Facts
Highland County, VA | May 8, 1862
Result: Confederate Victory
Battle Facts
Prince William and Fairfax Counties, VA | August 28, 1862
Result: Confederate Victory
Estimated Casualties
21,849
Battle Facts
Frederick County, VA | June 13, 1863
Result: Confederate Victory
Estimated Casualties
4,709