The Old State House in Boston
An iconic building for the American Revolution Era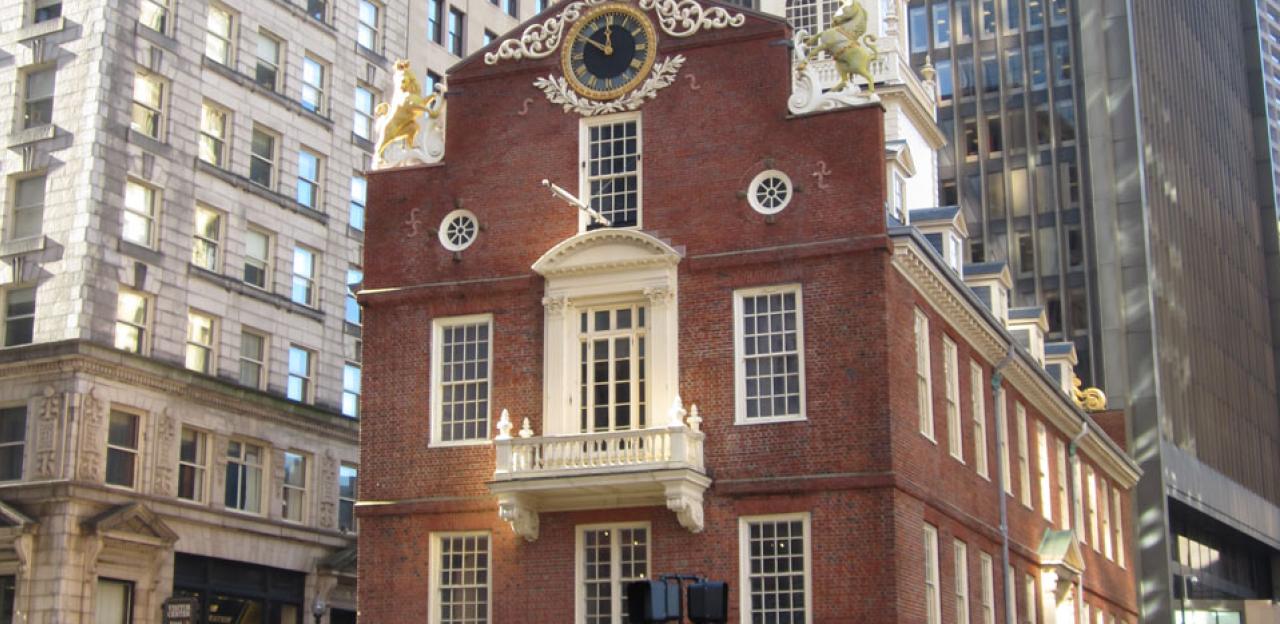 Perhaps the most iconic colonial building in Boston, the Old State House is one of the oldest public buildings in the United States.  The Old State House was originally built in 1713 and housed the colonial government in Boston. The first floor of the building housed a merchants' exchange and the second floor was used by the colonial government before the Revolution. The Royal Governor of the colony used this building as his office and would frequently issue declarations from the second story balcony. In addition to royal representatives using the building, the elected members of Massachusetts legislature also met in the building. Included in the room where they met was a public viewing gallery, the first of its kind. Also located in the building was the Supreme Judicial Court, where in 1761, patriot James Otis argued vehemently against the Writs of Assistance, a British law which many Bostonians believed allowed unlawful search and seizures. While the court upheld the law, John Adams believed that it was during Otis' passionate plea where "the child Independence was born."
As important as what occurred inside the State House was what happened just outside its doors. It was in front of the Old State House where the Boston Massacre occurred on March 5, 1770. Today a small ring of stones sits close to the location where eight British soldiers opened fire into a mob of colonists, killing five and wounding six. The event was important in garnering public support against British soldiers stationed in Boston. Following the event, patriot Paul Revere made an engraving a famous engraving of the event and situated prominently in the background of the image was the Old State House.
After the American army gained control of Boston from the British in March of 1776, the Old State House became the seat of government for the new state of Massachusetts. In July of 1776, the Declaration of Independence was reading to the city from the second story balcony. A lion and unicorn (symbols of Royal authority) that graced the edifice of the building were torn down and burned by the patriots.
The state government continued to use Old State House until 1798 when they moved to the New State House on Beacon Hill (where the Massachusetts government still meets to this day). After the government left, the building was used for offices and stores until 1881. For a period (from 1830 to 1841), it was used as Boston City Hall. However, by 1881, the city considered tearing down the building. In response, the Bostonian Society was formed to save the building and convert it to a museum. They restored the building to its pre-Revolutionary War appearance, including replicas of the lion and unicorn that were destroyed in 1776.
While the building was saved, the area around the State House was quickly built up. Today the Old State House, once the most prominent building in the area, is dwarfed by numerous skyscrapers and modern buildings and surrounded by busy streets. In 1904, a subway station was placed in the basement of the building, and it continues to be used by the Massachusetts Bay Transportation Authority (popularly known as "the T") to this very day.
The Old State House is today a popular tourist destination and still operated as a museum by a group called Revolutionary Spaces. It remains an important symbol of Boston's colonial history and is a stop on the Freedom Trail, a 2.5 mile trail which connects multiple Revolutionary War sites in Boston together.
Other Revolutionary War Sites