Paul Revere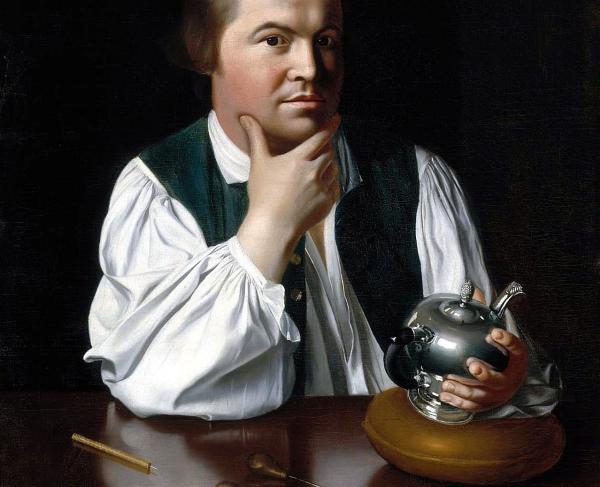 TitleLieutenant Colonel
War & AffiliationRevolutionary War / Patriot
Date of Birth - DeathJanuary 1, 1735 - May 10, 1818
Paul Revere was born January 1, 1735 in the North End of Boston to Apollos Rivoire, a French Huguenot who would soon anglicize his name to Paul Revere, and Deborah Hitchborn of a well-known Boston family. Paul Jr. was the third of twelve children. He spent his early life around the Hitchborn family, and therefore, he never learned his father's native language of French. At the age of thirteen, Paul left school to apprentice in the silversmith trade under his father.  His father died in 1754, but Paul was not old enough to inherit master of the silver shop, so he enlisted in the provincial army in 1756. Commissioned a second lieutenant in an artillery regiment, he spent time at Fort William Henry on the southern tip of Lake George. He did not stay in the army long and returned to Boston in 1757 to assume control of the silver shop in his name.
In 1765, British Parliament passed the Stamp Act, which taxed paper documents in the American colonies. This is when Revere first began his political involvement, especially with the Sons of Liberty. Revere often produced engravings, paintings, and other depictions with an anti-British theme. He created one of his best-known productions after the Boston Massacre in 1770 called The Bloody Massacre on King Street Boston which showed an organized line of British regulars firing into a crowd.
Along with producing propaganda for the Sons of Liberty and the Patriot cause, he also took a more direct approach when possible. When the merchant ship Dartmouth came into Boston Harbor carrying East India Company Tea in 1773, Revere and Joseph Warren organized a watch over the ship so that it could not be unloaded. Revere himself took his turn at guard duty. During the Boston Tea Party, he was one of the ring leaders when colonists boarded the ships in the harbor to dump the tea. After the tea party, Revere served as a courier for the Boston Committee of Public Safety.
In April 1775, after discovering that the British planned to march inland to capture Patriot leaders, weapons, and supplies, Revere and his cohorts sprang into action to spread a warning. On the night of April 18, Robert Newman put lantern signals in Boston's North Church, while Revere and William Dawes rode to Lexington and Concord. Though it soon become known as Paul Revere's Midnight Ride, both men rode that night, covering different routes. The war for American Independence began the next morning.
During the war years, Revere found ways to help the rebel cause. He manufactured gunpowder, which was in short supply during the early years of the war and eventually built a gunpowder mill in present day Canton, Massachusetts. Revere returned to Boston in April 1776, served as an officer in the Massachusetts militia until being transferred to artillery a month later and was stationed at Castle William defending Boston Harbor. He and his unit continued serving in numerous roles in New England during the war.
After the war, Revere remained in the metal industry, adding goldsmithing to his already thriving silversmith trade. He opened an iron foundry in Boston's North End in 1788 and was one of the first in the industry to hire wage laborers. In the 1790s, he expanded his business to include casting church bells, cannons, and other copper products. Thanks to the Second Great Awakening and the formation of the U.S. Army and Navy, Revere had plenty of work. He was also a Freemason, eventually rising to Grand Master of Freemasons of Massachusetts. Along with business, Revere remained politically active in the new United States.
Paul Revere's legacy is known well in American history, and his midnight right has been enshrined in poetry and legend. Revere died on May 10, 1818 at the age of 83 at his home in Boston. He was buried at the Granary Burying Ground.