Historic Boston Field Trip Itinerary for Educators
A field trip itinerary for touring Boston in one day or more.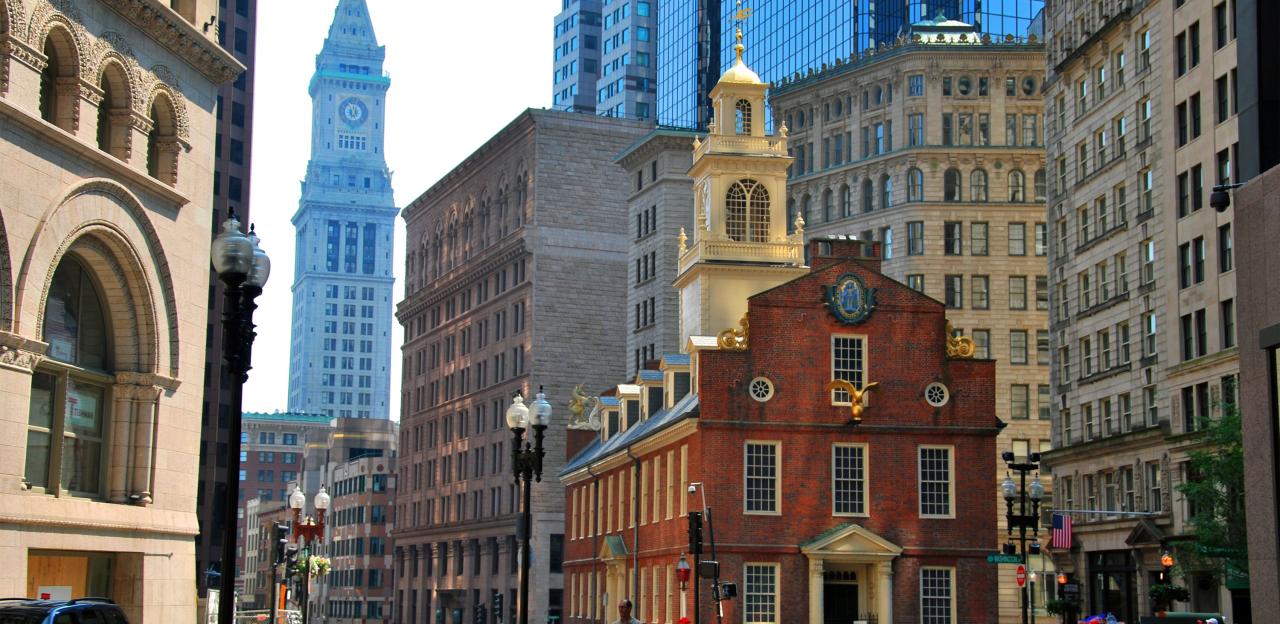 Download our PDF of the Boston Field Trip Itinerary for educators! 
Whether you go for one day or more, this itinerary will help you get the most out of your field trip to Boston, Massachusetts, a city rich with American history. Boston contains some of our Nation's most important Revolutionary War sites, from the location of the Boston Massacre to the Old North Church where the lanterns were lit to warn Patriots of the arrival of the British. Allow the American Battlefield Trust to guide you through Boston, introducing you and your students to some of our Nation's most treasured and historic locations.
Included in this itinerary are also safety precautions to prevent the spread of Covid-19.
Before You Go:
Covid-19 Precautions
Before Your Trip:
Each participant should limit contact with people outside of their household within 14 days of departure.
Limit visits to public places within 14 days of departure.
If an attendee becomes symptomatic of, or tests positive to Covid-19, they should not travel with the group.
During Your Trip:
Ensure that any adult or student on the trip that shows symptoms of Covid-19 gets tested for the virus and safely isolates from others.
Be sure to maintain excellent personal hygiene, set up open communication protocols, stay up to date on closures throughout Boston, and provide teachers and parents with safety plans to manage Covid -19 risks.
After Your Trip:
Each person who attended the trip should closely monitor their symptoms and follow all local, state and federal laws for returning home. 
Ideal Itinerary if You are Visiting for One Day
Ensure that you contact these locations prior to your trip and look at the National Parks Service website to inquire about openings, closures, and modified hours.
Check for tours and events on the National Park Service event calendar.
Time: 3-4 hours. Alternatively, you can book a guided tour along the Freedom Trail.
Places to Visit:
The Old State House and the Site of the Boston Massacre
For large groups, you will need to make a reservation and pay admission.
Email for questions about group bookings and tours.
206 Washington St, Boston, MA 02109 | 617-720-1713
For large groups, you will need to make a reservation and pay admission.
Email for questions about group bookings and tours.
310 Washington St, Boston, MA 02108 | 617-482-6439
Check in the Great Hall (second floor) to see if there are any ranger talks while you are there.
4 S Market St, Boston, MA 02109| 617-523-1300
Just across Dock Square from Faneuil Hall, Quincy Market is one of three granite building that make up Faneuil Marketplace.
Within the market are many shops and eateries where you can stop for a quick bite or some souvenirs.
206 S Market St, Boston, MA 02109 | 617-523-1300
Paul Revere House (Only open Wednesday through Sunday)
Check out their "Before You Arrive" page.
Book a tour ahead of time through email or by calling 617-523-2338
19 North Square, Boston MA 02113
Due to the popularity of this historic site, you are encouraged to make a reservation for your trip at least a few months in advance. Be sure to also check their events calendar.
Contact their Director of Education for specific questions or to tailor your visit to your specifications: 617-858-8231 ext. 106
193 Salem St, Boston, MA 02113
If You are Visiting for More Than One Day
Use the one-day itinerary for the first day in addition to the following:
Boston Tea Party Ships and Museum (Only open Thursday – Monday)
306 Congress Street, Boston, MA 02210 | 617-531-6241
Visit the FREE Bunker Hill Museum and the Bunker Hill Monument.
Check for modified hours and closures.
43 Monument Sq, Charlestown, MA 02129 | 617-242-7275
FREE passes available at the Park. Check for Ranger tours.
174 Liberty St, Concord, MA 01742 | 978-369-6993
45 Hull St, Boston, MA 02113 | 617-635-7361
---
Restaurants That Serve Groups:
Call ahead or visit their websites to make reservations and ensure that they can accommodate your group.
Regina Pizzeria (Food to Go)
Located in the Quincy Market Food Colonnade.
226 Faneuil Marketplace, Boston, MA 02109 | 617-742-1713
Check out other eateries in Quincy Market as well!
To inquire about group seating and tour packages, email brad@fajitasandritas.com.
25 West St, Boston MA 02111 | 617-426-1222
225 State St, Boston, MA 02109 | 617-742-5300
---
Contact the Local Travel Experts
Boston Visitor and Convention Bureau
2 Copley Pl, Boston MA 02116 | 617-536-4100
---
Hotels:
Be sure to inquire about Covid-19 restrictions at the hotels.
Complimentary Breakfast.
145 Beech St, Chelsea, MA 02150 | 617-660-9110
Holiday Inn & Suites, Boston-Peabody
1 Newbury St, Peabody, MA 01960 | 978-535-4600
40 Berkeley St, Boston, MA 02116 | 877-239-0882
Visit the Greater Boston Visitor and Convention Bureau website for additional lodging options.
Travel Tips
Renting a bus can be costly in the Boston area. Budget accordingly.
Bring comfortable walking shoes. The Freedom Trail is a 2.5-mile walking trail. In addition, much of historic Boston consists of cobblestone streets. Whether you are on the Freedom Trail itself or exploring historic Boston, you will be walking a lot.
Weather in Boston is unpredictable. Be sure to check the weather for the week that you are traveling to the city. Ensure that all travelers pack according to forecast for the days that you are traveling and bring different layering options.
Summer in Boston is the busiest time of year for tourists. Early Fall and late Spring tend to be the best time for field trip travel.
It is always a good idea to bring sunscreen and a hat to prepare for hot, sunny days – even in the Fall and Spring.
There are many places throughout the city to get a quick bite to eat or a drink of water, including the Food Colonnade in Quincy Market.
Download the FREE app for the Freedom Trail if you decide not to do a guided tour. The app will give you insights into the different sites that you visit.
To learn more about how the American Battlefield Trust can help you fund your school trip to Boston, Massachusetts, check out our History Field Trip Grant Program!
Related Battles
Battle Facts
Massachusetts | June 17, 1775
Result: British Victory
Estimated Casualties
1,532
Battle Facts
Massachusetts | April 19, 1775
Result: American Victory
Battle Facts
Massachusetts | April 19, 1775
Result: American Victory