The Nature of War
The Environmental Renaissance of Perryville
A battlefield can be many things — solemn memorial, outdoor classroom, heritage tourism destination. It can also be a thing of great beauty, a haven for native species and a case study in environmental conservation.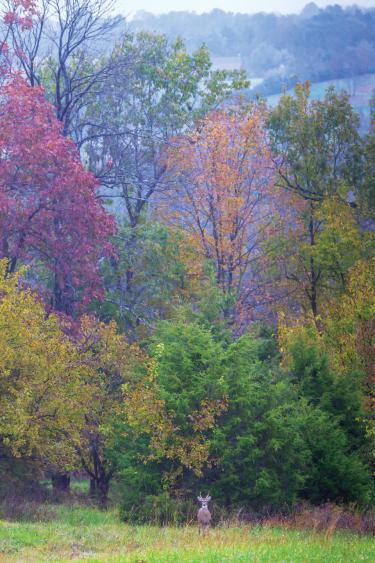 Cultural resources associated with the American Civil War are typically viewed through a modern lens, but the preservation of these landscapes has been a part of public discourse since the war ended. The fields upon which those battles raged have continued to be in the country's conscience. Although much of that has been lost, there are great preservation victories.
One of the true preservation success stories is the battlefield at Perryville. The sprawling battlefield courses over the Kentucky hills and weaves its way along creeks and up "hollers," where you can truly be transported to another time and place. It was a long journey to save this hallowed ground, and it required the help of dedicated people who had the ability to ask questions and then to act, guided by the convictions that the answers forced upon us.
Throughout this process, the basic question that kept reoccurring in our conversations was, "What is it that we are trying to preserve?" Of course, the simple answer was the battlefield. But the bigger answer is much more complex: Are we trying to preserve the land? A way of life? The nostalgic "simpler times" we all envision the "old days" to be?
How, we asked ourselves, do you pick a moment in time and freeze it? And, beyond that, should we? Certainly, we have no desire to exhibit the true horrible nature of battle, but we must be able to interpret the military actions that occurred upon the land. It is impossible, both financially and by manpower, to return the land to a picture of what was occurring just a few hours before the battle. And it is not appropriate to let the land go feral and let nature totally reclaim it and turn it into something that did not exist in its original state, rife with invasive insect and plant species.
A great responsibility comes to all who are charged with taking care of our great American places, those sites upon which our culture was founded and oftentimes tried in a violent crucible. As many passionate discussions took place, it gradually became very clear where we needed to look for the answers. We must look to the opinion of those who purchased that history with the greatest sacrifices, who are sometimes too easy for us to talk and write about. What is it that the Civil War soldier wanted for his battlefields?
"A battlefield," said one veteran, should not be a "park for health seekers, for esthetics or pleasure-seekers, with fine drives and shady walks." Those who most intimately possessed the trauma of battle were laying claim to control over the landscape of death, which they argued shouldn't be prettified and improved. It appears that those who fought the battles wanted them to remain as "a landscape so detached from the ordinary hodgepodge of suburbia that is has an almost mystical power to inspire emotion and curiosity."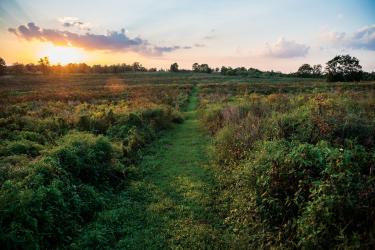 There it is — the AHA moment! The land should hold us and give us time to pause and think. We must, of course, interpret the battlefield as the battle moved across it. That means we have to clear certain viewsheds and do our best to make sure that if a Civil War soldier, through the great fantasy of time travel, returned, he would say, "I know this place; it is Perryville." We can, in a basic way, do that. But what else? Well, we can cut hay off the fields, which keeps it "mowed," and we can take out this tree line or that tree line and we can replant trees where we know woodlands were. But what more?
If I had all the money in the world, what I couldn't do for Perryville Battlefield! But I don't have all the money in the world; in fact, I don't have a lot of money at all! So the first thing that had to be done was recruiting an incredibly dedicated, almost fanatical, group of people who really loved the place. (That wasn't too hard, and in all honesty, I married one of them! I met him at the battlefield and then married him some 20 years later at the park.) Then we set about building a group of people who would really make a difference in things. That group became the Friends of Perryville Battlefield. That is not a very fancy name, but boy, have they really had an impact! They are dedicated to making sure we have funding for what is needed, and then they show up to put boots on the ground to make it happen. All that has happened at Perryville would have been impossible without them.
Nor can one begin to talk about successes at Perryville without discussing the importance of the American Battlefield Trust. The Trust has been the driving force behind the land acquisitions that continue at Perryville. I hear the same sentiment constantly from the old hands who have worked here year in and year out: "I could never have imagined this 25 years ago." It simply would not have happened without the Trust and its commitment! Thankfully, Perryville does not face the great development pressures of Northern Virginia or Middle Tennessee. But together with the Trust, we have helped the preserved battlefield grow by leaps and bounds while this area of Kentucky remains rural.
We now have about 80 percent of the core battlefield preserved. That is a lot of land to get very quickly. So what next?
Another Remarkable Transformation
A few years ago, we planted a small patch of native grasses on the battlefield. The process of putting the land back as Mother Nature once had it is very costly and fairly labor intensive. But, as the grass grew within those 20 acres, something incredible was happening. Birds, butterflies and other native plants were visibly plentiful, marking a notable increase in the diversity of the wildlife. We were thrilled with our experiment, but extending the habitat across the park was cost prohibitive.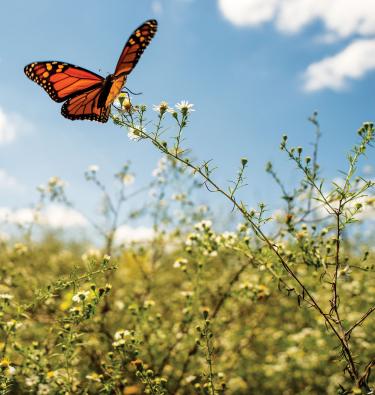 A few years later, the Kentucky Department of Fish and Wildlife (KDFW) called. It seemed there had been some changes in the rules governing several federal conservation programs, and KDFW was interested in working with our Friends group in establishing areas designed to increase the population of the North American quail. Suddenly, there was federal funding to realize our vision! After several long and complicated meetings, the Friends of Perryville agreed to manage large tracts of land, which made the group eligible to receive the funding that the state government could not.
It is intimidating to sign a $380,000 grant from the government of the United States of America, especially with the understanding that if any of the plantings failed, you would be financially responsible for replanting them. But sign the Friends did, and then the hard work started.
The first thing we had to do was kill all the fescue grasses that covered the landscape, inescapably meaning the park was going to look like a vast brown wasteland for a time. Complicating matters was the fact that we were hosting a national Civil War reenactment for the battle anniversary in October. Expecting several thousand reenactors and tens of thousands visitors to the park during the event, we were aware that our work would debut on a massive stage.
After an intense process to decide where to place the habitat, spraying began. We waited anxiously with our barren landscape until Roundstone Seed Company descended on the park with an army of tractors and seed drills. Within a few weeks, a green cast was obvious on the fields. By the time our guests arrived for the reenactment, they were greeted by fields filled with fast-growing flowers carefully selected to bloom in late summer and early fall.
We are now three years into the project, and this summer the native grasses and perennial flowers really put on a show. They are beautiful, no doubt, but the amazing thing is the wildlife that is flourishing in the park.
One day during the late fall a couple years ago, I was driving around looking at fields to see what needed to be done, and came upon this odd-looking bird. When it flushed up, I first thought it was a red-tailed hawk that had made a kill, but it wasn't — it was a northern short-eared owl. Apparently, its family group made a home at Perryville, and now they return every winter and can be seen gliding over the fields. Knowing nothing about these birds, I had posted the sighting on several bird-watching sites to seek information. Suddenly, and in the middle of the winter, the battlefield was hopping with visitors toting giant cameras in search of these owls. Birding and nature groups are now visiting the park with regularity to see some of the rare grassland birds that have returned to Perryville.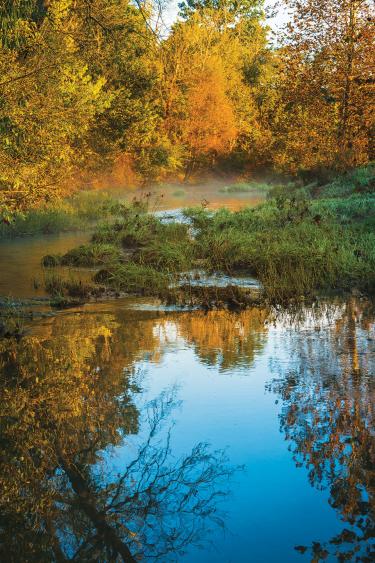 When I was a kid, the song of Mr. Bobwhite could be heard all across Kentucky's hills. I only rarely heard it as an adult — until our restoration work at Perryville. Wildlife has exploded at the park. You can now see mink, bobcats, deer and any number of rare bird species. In the fall of 2016, we were getting ready for the big reenactment and as part of my preparation, I headed to where the Boy Scouts were camping, just to make sure that we had enough wood. As I drove along a treeline, hundreds of monarch butterflies exploded out of the trees. I had never seen anything like it and quickly called the Monarch Watch. I learned we had hosted a "gathering." The butterflies were nectaring in our fields and waiting in the trees to catch the southern breeze to continue their migration south.
Within that moment, I understood what it meant to stop and pause and be swept away from the intense grind of my responsibilities. It occurred to me that was what the Civil War veterans meant — the field was transformed by an unforgettable experience that imprinted on my very soul the true importance of that place.
Preservation and conservation: What an incredible marriage! I often tell people that it is my evil plan. If you come to look at the natural beauty of the place, you cannot leave without understanding the importance that it played in our nation's history. It then becomes a very important and worthy place for preservation for a whole new set of people. We strive, as preservationists, to imprint upon people the importance of these places, and we must be open to any device that accomplishes that without compromising the historic story we are trying to tell.
The habitat project has been widely accepted by visitors and locals alike. Of course, I've heard a few rounds of "Why are you planting flowers all over the battlefield? It wasn't like that during the battle." Certainly, the occasional comment comes up that we should be cutting the hay off the park like we used to. But I can honestly say that the habitat planting has not interfered with our ability to tell the story of the battle and of those men who fought here. I believe we succeeded in our effort to create "a landscape so detached from the ordinary hodgepodge of suburbia that is has an almost mystical power to inspire emotion and curiosity."
One day after a particularly long spell on the tractor in the late-June heat, I dragged myself back into the office to check e-mail. There was a message from one of our board members, a retired marine not given to sentimentality. As he rarely e-mails, I opened his note first. "I drove through the park today," he wrote, "And just wanted you to know that the flowers are beautiful. The battlefield is wrapped in a living wreath and I cannot think of anything more appropriate to the men who fought here."
That was it. I shut off the computer and went home — you cannot hope to do better than that!
This article appeared in the Winter 2018 issue of Hallowed Ground magazine.
Related Battles
Battle Facts
Boyle County, KY | October 8, 1862
Result: Union Victory
Estimated Casualties
7,612
Explore Hallowed Grounds Magazine