Battle of Logan's Fort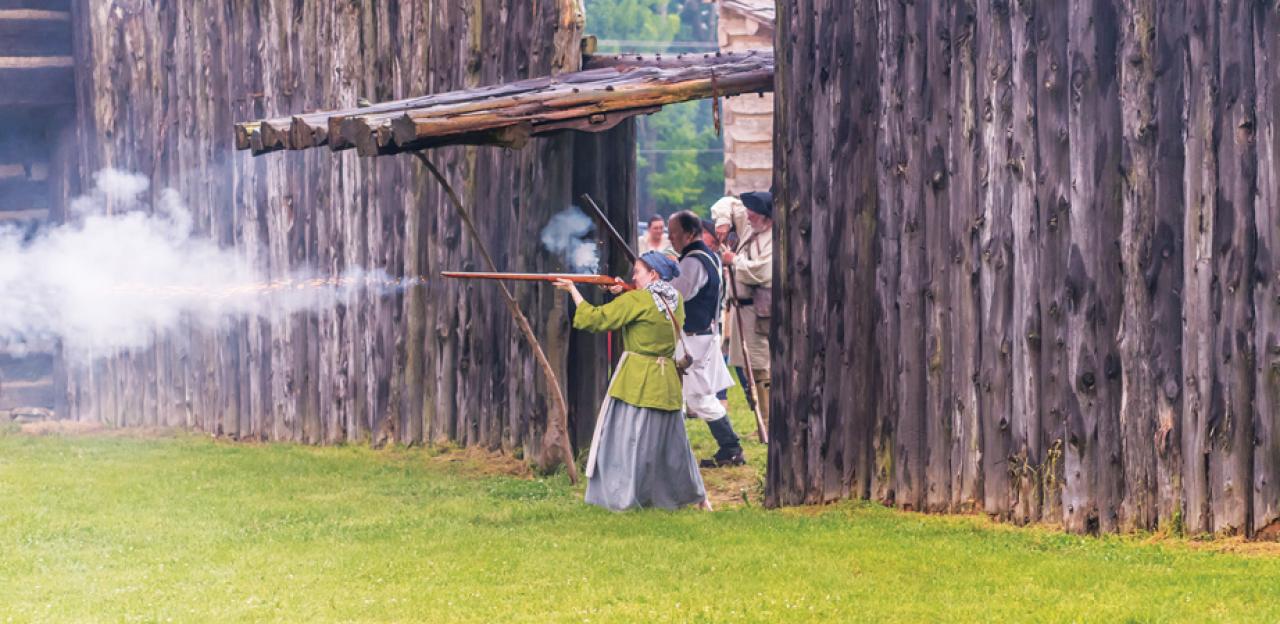 Two decades before it became the 15th state, the Kentucky frontier was in a state of upheaval — and that's before the Revolutionary War arrived.
Early settlers of Kentucky often referred to the year 1777 as the "Bloody Sevens." If the major defensive outposts on the frontier had not survived that year of attack from British-allied Indians — particularly those led by Chillicothe Shawnee war chief Blackfish — the early history of the state would have been greatly altered.
Logan's Fort was the first line of defense against any British threat coming from the south. It began when Benjamin Logan arrived in Kentucky with a survey party led by John Floyd on May 1, 1775, and erected "a little town," they named St. Asaph's. Logan built a cabin and planted a crop of corn, which he would later use as proof to make his claim to 400 acres and a preemption for 1,000 acres, despite returning to Virginia and not returning until March 1776 with his family.
Following the July 1776 capture and rescue of three girls from Boonesborough — an incident that contributed to the notoriety of frontiersman Daniel Boone, whose daughter, Jemima, was among those abducted — Logan began appealing to other area settlers to join him in building a fort. Logan's cabin was the first structure completed and occupied by February 1777.
The original log fort sat on a slight elevation about 50 yards west of the small spring at St. Asaph's. It was 90 x 150 feet in size, with gates at each end that were lowered and raised by leather tongs. The main gate faced east. On the south side, two blockhouses were built on each end with three cabins between. There was one blockhouse on the northwest corner, adjoined by four cabins, while the northeast corner was occupied by a conventional cabin. According to a sketch done by a Captain Briggs, the cabins were occupied by families, while six single men occupied the blockhouses. The fort had two notable comforts: a spring accessible by tunnel even during a siege and a gristmill built on the south side along St. Asaph's branch, providing bread for inhabitants.
Due to signs of Indians in the area and attacks on Fort Harrod and Fort Boonesborough in early spring of 1777, Benjamin Logan made preparations for an attack:
"Capt. Ben Logan made great preparation against the Indians. He dug a deep ditch from the fort to the spring, and covered it all over so that water could be got in a pinch. He told the women and children immediately to hustle themselves and bring into the fort last year's pumpkins, fill their vessels all full of water. He said there was but little doubt but that the Indians would come to our fort."
Indians were spotted by scouts near Logan's Fort on May 18, 1777. Twelve days later, the hammer fell.
"Early on Friday morning the 30th of May, though confident that Indians were about, Mrs. Ann Logan, Mrs. Whitley and a Negro woman ventured out of the fort to milk the cows, guarded by William Hudson, Burr Harrison, John Kennedy and James Craig. They were fired upon by their stealthy foe, and Hudson, shot through the head and killed instantly, while Harrison was shot down and Kennedy, though wounded with four balls, reached the fort as did also Craig, and the women uninjured. The Indians were 57 in number, who kept up a constant fire on the fort until evening, screened behind trees and banks, while the 12 uninjured men in the garrison made such a defense as deterred the enemy from too near an approach to the stockade."
To arm the defenders, some of the women began melting their pewter plates and fashioning them into bullets.
As firing ceased in the evening, eagle-eyed Whitley noticed Burr Harrison, who had been left beyond the fort and assumed dead in the initial sortie, move. After further communication confirmed Harrison to be alive, Logan ventured out to bring him to safety, using a bag of wool to shield himself on the approach and running back with Harrison in his arms.
According to the Draper Manuscripts, "The Indians, now renewed the attack and continued it until sometime in the night, during which they killed all the cattle and hogs they could find. They hovered around the fort, though (they) kept quiet till Sunday morning [June 1], when they departed." 
Low on munitions, Logan departed for the Holston Settlement on June 6, returning three weeks later. Colonel John Bowman and his 100 militiamen arrived at Logan's Fort on July 28, 1777, under orders from the Virginia governor to escort settlers back across the mountains if he felt they could not be adequately defended. Had Logan's Fort (or the other strongholds at Fort Harrod or Fort Boonsborough) fallen — either in May or during a second attack in late August — it is likely Bowman would have exercised that option, extracting Kentucky's population back to the east. Instead, Kentucky became the 15th state to join the Union in 1792.
Although small, the fort's important historical significance continued well beyond the 1777 battle. Additional militia, under the command of Major George Rogers Clark, were stationed there in March 1778 in preparation for an offensive campaign into the Illinois Country, and the fort became a major center for provisions. In a 12-week span that summer and autumn, the fort's quartermaster sergeant recorded incoming supplies, either bought or acquired by hunting, amounting to 84 bushels of corn, 724 pounds of pork, 2,779 pounds of tame beef and 2,820 pounds of buffalo beef. Logan's Fort played host to the court martial of Daniel Boone, who was accused of treason following the September 1778 siege at Boonesborough. Boone was ultimately acquitted of the charge, which had been brought by Richard Calloway and supported by Benjamin Logan.
In October, 1779, the Virginia Land Commission opened its first office at Logan's Fort, offering settlers their first opportunity to claim the land they had struggled to defend. Those homesteads that had been established and made to the land prior to October 14, 1779, were entitled to settlement rights. Settlers could travel to Logan's Fort and, with satisfactory proof, claim 400 acres of land and could be eligible for a preemption of 1,000 acres.
The location of Logan's Fort gave the settlement great significance throughout this era. The Cumberland Trace, which led to Nashville, Tenn., began at Logan's Fort. The Great Road (also known as the Wilderness Road), Hogan's Trace, which led to the Kentucky River and many other lesser known paths all merged on this little outpost in the wilderness. One could be safe in saying that all roads leading into Kentucky from the south, save Boone's old Trace, passed through Logan's Fort. Citing the convenience of its location, the Lincoln County (Virginia) Court was moved to Logan's Fort in March 1781, following two sessions held at Fort Harrod.
In its Revolutionary War and War of 1812 preservation study, the National Park Service's American Battlefield Protection Program ranked the Battle of Logan's Fort as second in relative historical significance among Kentucky's Revolutionary War battlefields. It is exciting to know that, as we prepare to celebrate the 250th anniversary of America's fight for independence, the importance of this chapter in that struggle will receive increased focus and attention.
This article appeared in the Winter 2018 issue of Hallowed Ground magazine.
Explore Hallowed Grounds Magazine