History of Service Academies
Timeline of United States military academies

Library of Congress
Explore our timeline of significant events in the history of America's service academies, from establishing the military academy at West Point to the first United States Air Force Academy graduates who moved into U.S. Space Force.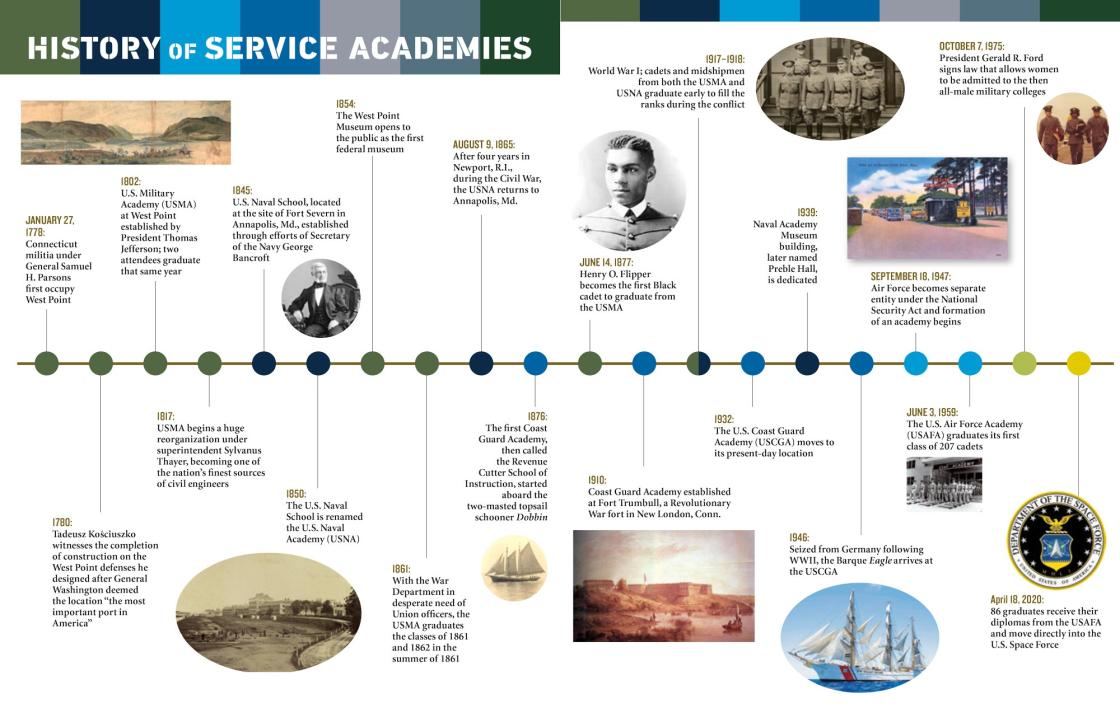 1778
1780
Tadeusz Kosciuszko witnesses the completion of construction on the West Point defenses he designed after General Washington deemed the location "the most important port in America"
1802
1817
USMA begins a huge reorganization under superintendent Sylvanus Thayer, becoming one of the nation's finest sources of civil engineers
1845
U.S. Naval School, located at the site of Fort Severn in Annapolis, Md., established through efforts of Secretary of the Navy George Bancroft
1854
The West Point Museum opens to the public as the first federal museum
1861 
With the War Department in desperate need of Union officers, the USMA graduates the classes of 1861 and 1862 in the summer of 1861
1865
August 9 - After four years in Newport, R.I., during the Civil War, the USNA returns to Annapolis, Md.
1876
The first Coast Guard Academy, then called the Revenue Cutter School of  Instruction, started aboard the two-masted topsail schooner Dobbin
1877
June 14 - Henry O. Flipper becomes the first Black cadet to graduate from  the USMA
1910 
Coast Guard Academy established at Fort Trumbull, a Revolutionary War fort in New London, Conn.
1917-1918
World War I; cadets and midshipmen from both the USMA and USNA graduate early to fill the  ranks during the conflict
1932
The U.S. Coast Guard Academy (USCGA) moves to its present-day location
1939
Naval Academy Museum building, later named Preble Hall, is dedicated
1946
Seized from Germany following WWII, the Barque Eagle arrives at the USCGA
1947
September 18 - Air Force becomes separate entity under the National Security Act and formation of an academy begins
1959
June 3 - The U.S. Air Force Academy (USAFA) graduates its first class of 207 cadets
1975
October 7 - President Gerald R. Ford signs law that allows women to be admitted to the then all-male military colleges
2020
April 18 - 86 graduates receive their diplomas from the USAFA and move directly into the U.S. Space Force