The U.S. Military Academy at West Point, N.Y.
Before, During and After the Civil War

Elizabeth Woodruff, USMA
As part of a series on military service academies, John Waugh, author of The Class of 1846 — which explores the legendary West Point class of 1846 — writes about how the brotherhood formed at the U.S. Military Academy at West Point, N.Y., was tested by the Civil War.
When "the glorious Union" was plunging past a collapsing compromise over slavery toward inevitable civil war in the 1850s, one of the last national institutions to split openly North and South was the U.S. Military Academy at West Point.
Its graduates and cadets came from every state in the Union to train as engineers and officers. They knew they would be called on to command armies against one another in such a war, the only ones with the education, competence, background and experience to command armies on such a huge scale. Yet they were brothers, not by blood, but by constant association and shared experience at West Point — and on assignments beyond, including two years of war against Mexico. And because they understood what the gathering storm meant most keenly, they dreaded it most deeply.
Historian Stephen E. Ambrose tells us how such an iron brotherhood is formed: Isolate them together on a flat granite hilltop in the middle of the Hudson River for four years of intense study and training under stress. The certain result, Ambrose wrote, "[W]as a feeling of comradeship stronger than that in most college fraternities, and it overcame nearly all social, religious, and political differences." Could it also overcome a bloody, fratricidal war?
Southerners had more to lose in a war of brothers. In those times, allegiance to states trumped allegiance to the Union. If their state — their home, their people — seceded, most of them believed, they must secede with it. They would resign or be dismissed for refusing to take an oath of allegiance to the Union. If war came, they would fight for their states against the Union they now served, destroying their careers in the process.
Cadet Pierce Young of Georgia wrote his parents, "You and the others down there don't realize the sacrifice resignation means." But every Southern cadet and West Point graduate knew the cost. Cadet Edward Anderson of Virginia, who refused to take the oath of allegiance to the Union and was therefore dismissed, wrote his mother, "I actually cried … I knew well that I resign everything." Another Virginia cadet, Tom Rowland, captured the Southern despair in a letter to his father: "What is to become of our glorious Union? Everyone seems to despair of its perpetuation, but I cannot give it up. I will catch at the last straw, and stand by the Union until all is hopelessly lost. Then we must cast our lot with Virginia and hope for the best."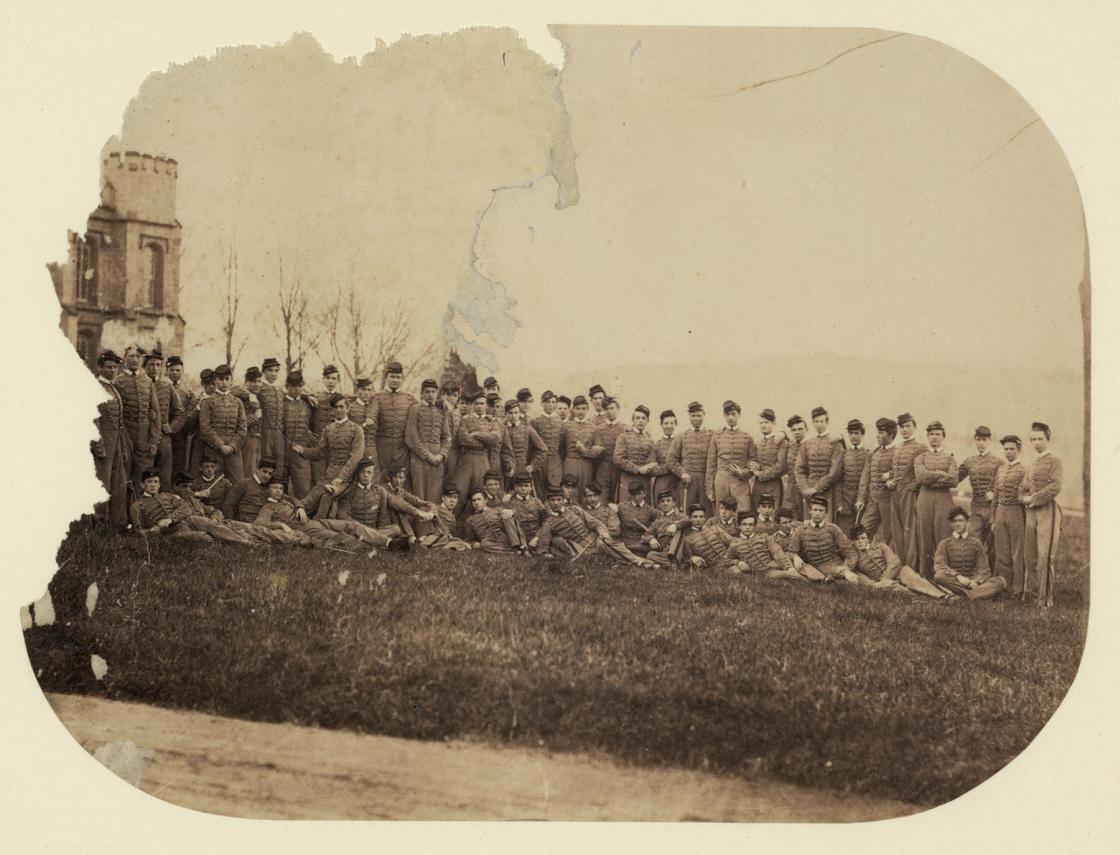 The anguish over the coming war hit Southern graduates who were now officers in the regular army just as hard as it did cadets. Richard Stoddert Ewell, a Virginian from the class of 1840, noted army Indian fighter in the Arizona Territory and future lieutenant general in the Confederate Army of Northern Virginia, said that the war was "sacrificing every earthly hope," that "it was like death for me."
During the nearly six decades since the Academy's founding in 1802, there had been little sign that the North-South split over slavery was cracking the West Point brotherhood as it was the rest of the country. James Ewell Brown Stuart, who graduated in the class of 1854 and become Robert E. Lee's cavalry commander in the Army of Northern Virginia, explained: "There seems," he said, "to be a sentiment of mutual forbearance."
This forbearance was shattered when hot-blooded abolitionist John Brown launched his ill-starred raid on the Harpers Ferry armory on October 16, 1859, to seize arms and incite a slave rebellion. Brown went to the gallows, and sectionalism arrived at the Academy, with the North-South split now raging openly at West Point as it did everywhere else.
Arguments, challenges and fights broke out between Northern and Southern cadets. When Abraham Lincoln was elected president in early November 1860, tensions hit the ceiling. In a letter to their local Columbia Guardian, a group of South Carolina cadets wrote, "We cannot so stifle our convictions of duty as to serve under such a man as Mr. Lincoln as our commander-in-chief."
Henry Dupont, a cadet from Delaware, confessed, "There is an insane spirit here rampant on the secession question." Another Northerner, Cadet William Harris, said, sorrowfully, "It seems inevitable that we must lose some of the finest fellows in our class."
The loss began on November 19, 1860, when red-haired secessionist firebrand cadet Henry S. Farley departed a month and a day before his native South Carolina seceded. Many other Southern cadets were baffled about when to jump. For those who did decide when, and prepared to jump, the enduring brotherhood kicked back in. The acrimony over slavery and secession that had followed John Brown's raid at Harpers Ferry gave way to fond farewells, with departing cadets carried to the boat landing on the shoulders of those remaining.
By April 12, 1861, Confederate cannon ringed Fort Sumter in Charleston Harbor, waiting to fire and thus end Southern cadet bafflement. By the end of April, 65 of the 68 Southern cadets had left West Point, either of their own accord or having been dismissed for refusing to take an oath of support for the Union.
Not all Southern West Point cadets or graduates jumped. Among them were a handful of high-ranking officers, including George Thomas, who graduated in the class of 1840 with Ewell. Thomas, one of the best Union generals in the war, suffered bleak isolation from his home in Virginia and angry, unforgiving scorn from his three sisters. They turned their brother's picture to the wall, destroyed his letters, refused to acknowledge his existence and never forgave him for his disloyalty to his state.
Where the waters of the Hudson River crash against West Point's granite face is universally regarded as one of the most beautiful natural vistas in the world. Cadets since the Academy's founding had appreciated its dazzling beauty, but had not realized its isolation, particularly as civil war raged out in the country. Cadet Cullum Bryant wrote his father early in the war, "We are almost completely secluded and shut out from the rest of the world."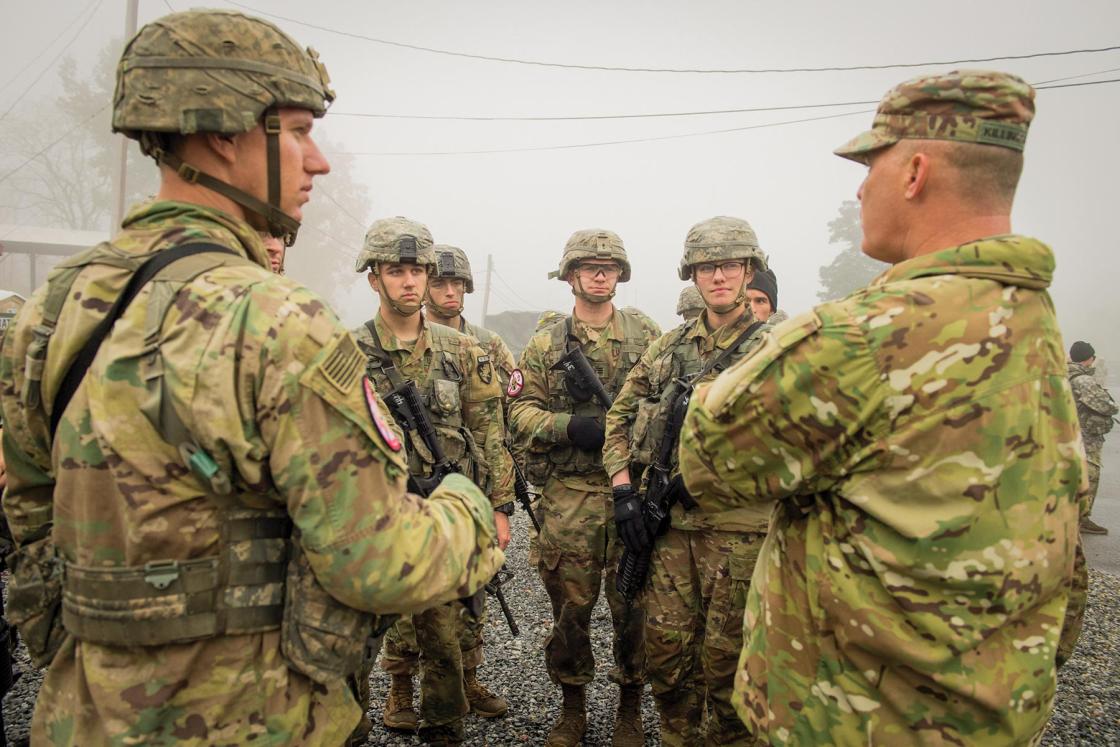 Many West Point graduates had seen a part of that world, and readied themselves to command in the Civil War, during the Mexican-American War in 1846–48. In one of the most stunning successes in U.S. military history, former West Pointers had fought under Maj. Gen. Winfield Scott, one of the finest battlefield commanders in American military history, and distinguished themselves.
Not an Academy graduate himself, Scott said of them, "I give it as my fixed opinion, that but for our graduated cadets, the war between the United States and Mexico might, and probably would, have lasted some four or five years, with, in its half, more defeats than victories falling to our share; whereas in less than two campaigns, we conquered a great country and a peace, without the loss of a single battle or skirmish."
In this new war, the graduated cadets mentored by Scott, as expected, began immediately assuming high command on both sides. There was irony in this: If the Mexican conflict was kept short because of their competence, the Civil War would stretch across four long, wrenching years because of the same talent. All had been trained in the same military and engineering rooms at West Point, graduated with the same knowledge and skill set and marched on the plain and taken fire together.
These equally trained officers monopolized high command throughout the war. In its 60 major battles, 55 were commanded on both sides by West Pointers. In the other five, one of the commanders was also a West Pointer.
One of the results of that near-total monopoly of leadership was an "equilibrium of competence" that frequently stopped one side from utterly destroying the other and seriously elongated the time it took for one side to win. In the Civil War, 217 Academy graduates became general officers in the Union armies, 146 in the Confederate armies. One hundred five graduates were killed in the war — 60 Union and 45 Confederate — and another 151 wounded, a total figure that amounted to 25 percent of all graduates becoming casualties.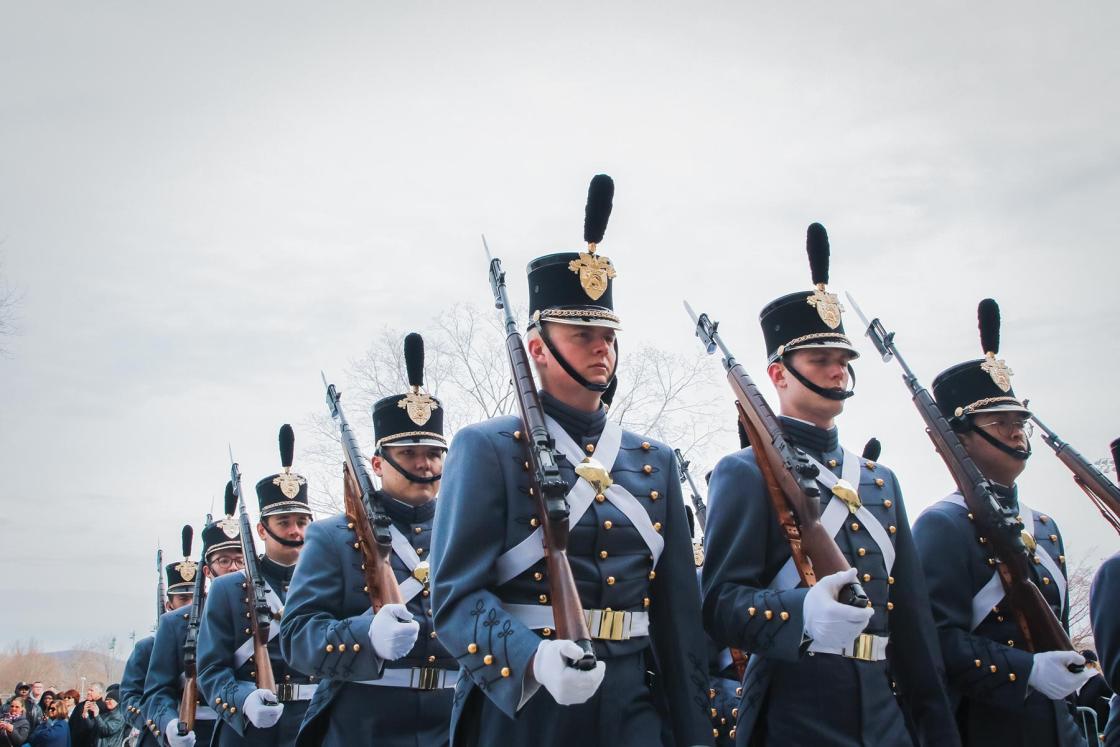 Even before the war ended, the brotherhood of West Pointers had begun to mend. Several graduates, generals from both armies, gathered peacefully the morning of April 9, 1865, on the Appomattox Court House steps, even as Grant and Lee met in Wilmer McLean's parlor agreeing to surrender terms. It was a happy reunion of enemies and brothers at the courthouse, with welcoming hugs and handshakes all around.
In the wake of the war, the Academy worked to restore what it had been in the antebellum years, and over the coming decades it made stunning changes to broaden its curriculum and to the composition of its cadet corps. Cadets from the Confederate States arrived again as their states were folded back into the Union.
Ten percent of Union armies had ultimately been made up of U.S. Colored Troops units, and after the war, West Point began to reflect this diversity, although it was not an easy transition, given the virulent racism at the Academy and everywhere in the country. The first African American cadet to overcome the never-ending discrimination, hostility and abuse and graduate was Henry O. Flipper, a former slave from Georgia, in the class of 1877. Today, Black cadets comprise 9 percent of the cadet corps.
In 1976, the Academy made the most contentious move in its history, enrolling 119 women in its first coeducational class. Despite male cadet resentment and harassment, 62 female cadets graduated in the class of 1980, as fully trained and competent as the men. Forty-five years later, women make up 15 percent of the cadet corps and have held top leadership ranks. 
Douglas McArthur, a 1903 graduate and a superintendent of the Academy from 1919 to 1922, summed up what West Point is all about. "Upon the fields of friendly strife [West Point]," McArthur said, "are sown the seeds that, upon other fields on other days, will bear the fruits of victory."
The truth of that was seen clearly in the Civil War. Though there was only one victor, the Union, the seeds sown on West Point's fields were just as evident on the losing Confederate side. That indeed was a reason the war lasted so long.